Veterinary Support Assistant
About the Level 3 Veterinary Support Assistant Certificate
Veterinary support assistants play a vital role in the running of a veterinary surgery. They work alongside veterinary nurses and surgeons to ensure the health and wellbeing of their animal patients. As a veterinary care assistant, your role would include grooming and feeding the animals, preparing the theatre, record keeping and monitoring the inpatients.
While you are studying towards this distance learning qualification you will quickly learn to use the appropriate medical terminology. The veterinary assistant training will also cover topics such as handling animals, small animal anatomy, euthanasia, infection control and animal safety and welfare. Altogether there are 16 modules to complete before you can embark on your new career.
Who should study this course?
This veterinary assistant course is aimed at individuals who want to become veterinary support assistants. It is also suitable for students planning to progress towards a career in veterinary nursing or even veterinary surgeons. Individuals with a passion for animals are also welcome to apply.
There are no prerequisites for any of our home study courses. All we ask is that you have access to our online portal, and interest in veterinary practices and that you are comfortable working through your distance learning course independently.
What happens after the course?
If you enjoyed studying towards this qualification, you may be interested in studying to a higher level. Many students go on to study veterinary nursing at university. Some people may even choose to progress to a degree in veterinary science.
On completion of your veterinary nurse qualifications you will be awarded a Level 3 certificate accredited by ABC Awards. This certificate should put you in good stance when applying for your first role as an animal nursing assistant. Alternative careers which may interest you include:
Animal care worker
Pet behaviour counsellor
Kennel worker
For more information about this course, give us a call on this number: 0121 392 8288
On completion of your course, you will receive two certificates:
Certificate 1 is issued by Stonebridge Associated Colleges: Veterinary Support Assistant Diploma
Veterinary Support Assistant Diploma issued by Stonebridge Associated Colleges, to view a sample of the college's award, please click here.
Certificate 2 is issued by ABC Awards: Level 3 Veterinary Support Assistant Certificate of Achievement
At the end of this course successful learners will receive a Certificate of Achievement by ABC Awards and a Learner Unit Summary (which lists the details of all the units you have completed as part of your course).
The course has been endorsed under the ABC Awards' Quality Licence Scheme. This means that Stonebridge Associated Colleges have undergone an external quality check to ensure that the organisation and the courses it offers, meet certain quality criteria. The completion of this course alone does not lead to an Ofqual regulated qualification but may be used as evidence of knowledge and skills towards regulated qualifications in the future. The unit summary can be used as evidence towards Recognition of Prior Learning if you wish to progress your studies in this sector. To this end the learning outcomes of the course have been benchmarked at Level 3 against level descriptors published by Ofqual, to indicate the depth of study and level of difficulty involved in successful completion by the learner.
The course itself has been designed by Stonebridge Associated Colleges to meet specific learners' or employers' requirements. ABC Awards' endorsement involves a robust and rigorous quality audit by external inspectors to ensure quality is consistently met. A regular review of courses is carried out as part of the endorsement process.
To view a sample of the ABC Certificate of Achievement, please click here.
To view a sample of the ABC Learner Unit Summary, please click here.
Requirements for Entry
There is no experience or previous qualifications required for enrolment on this course. It is available to all students, of all academic backgrounds.
Who are ABC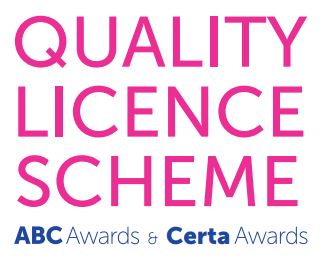 ABC Awards is a leading national Awarding Organisation, regulated by Ofqual, and the Welsh Government[1]. They have a comprehensive portfolio of over 650 Ofqual regulated qualifications on the national Qualifications and Credit framework (QCF). It has a long-established reputation for developing and awarding high quality vocational qualifications across a wide range of industries. As a registered charity, ABC Awards combines 180 years of examination and assessment expertise but also implements a responsive, flexible and innovative approach to the needs of our customers.
Renowned for excellent customer service, and quality standards, ABC Awards also offers over 600 Ofqual regulated qualifications for all ages and abilities post-14; all are developed with the support of relevant stakeholders to ensure that they meet the needs and standards of employers across the UK.
For more info on our awarding body, ABC awards, click here
Professional Membership
On completion of this course you will be eligible to join the following Professional Associations(s):
Anyone who is studying for or has completed a course endorsed by an Ofqual approved awarding body is eligible to join Qualifications Register. The Qualifications Register (QR) is an independent register that aims to serve both members of the public and those professionals who hold recognised qualifications.
QR's primary aim is to provide transparency to members of the public and employers. The QR is a searchable database that allows them to find a practitioner and view the relevant qualification and endorsements the practitioner holds. The member of the public is then able to make an informed decision in relation to the suitability of the practitioner. QR also tracks whether practitioners have insurance, again something that is useful for members of the public. QR can also help professionals gain insurance or find professional indemnity cover. Click here to find out more.
Members of the public can check an independent source with complete confidence that the practitioner has the qualification(s) they claim to have and that any additional CPD the practitioner has, is verified and quality assured to make sure that the CPD is being done on a regular basis. QR tracks a practitioners endorsed CPD (in unison with our CPD accreditation partner Lifetime Awarding) and other key signals to help members of the public and employers to come to a more informed decision about the professional they intend to use. This is an enormously valuable signal that's increasingly important as business becomes more deregulated and privatised.
For practitioners QR helps you market your skills, endorsements and feedback transparently to a wider audience. It also gives you access to a community to help make you more able to progress and succeed in your field of expertise. Click here to find out more.
Lesson 1: Welcome to the course and Preparing for Employment

The learning outcomes for this unit are:

Introduction and course structure
Benefits of this course and getting the most out of this course
Veterinary Nurses and Nursing Assistants
Preparing for employment

Lesson 2: Veterinary Medical Terminology

The learning outcomes for this unit are:

Veterinary words in easy bites
Abbreviations and Acronyms
Glossary of veterinary terms

Lesson 3: Basic Small animal Anatomy and Physiology part one

The learning outcomes for this unit are:

Cardiovascular system
Major body cavities
Skeletal structure
Tissue structure and shape

Lesson 4: Basic Small animal Anatomy and Physiology part two

The learning outcomes for this unit are:

Digestive and excretory systems
Respiratory systems
Endocrine glands
Nervous system

Lesson 5: Handling animals

The learning outcomes for this unit are:

Approaching an animal
Typical restraints and handling equipment
Behaviour
Correct dog and cat handling methods
Exotic handling

Lesson 6: Animal diet and nutrition

The learning outcomes for this unit are:

Importance of nutrition
Types of food
Nutrients
Stages of life
Nutritional support

Lesson 7: Animal disease part one

The learning outcomes for this unit are:

Cancer
Heart disease
Liver disease
Kidney disease

Lesson 8: Animal disease part two

The learning outcomes for this unit are:

Skeletal diseases
Skin diseases and parasites
Infectious diseases
Other common illnesses

Lesson 9: Small animal Emergency nursing part one

The learning outcomes for this unit are:

Aims
Assessment
Animal first aid kit
ABC and CPR
Handling a first aid patient
Shock

Lesson 10: Small animal Emergency nursing part two

The learning outcomes for this unit are:

Fractures
Bites and stings
Wounds and burns
Poisoning and fitting
Diarrhoea and vomiting
Hyperthermia and Hypothermia

Lesson 11: Infection control

The learning outcomes for this unit are:

Importance of infection control
Personal protective equipment
Cleaning and Disinfection
Sterilisation
Hand Hygiene
Isolation of an infecious animal
Waste

Lesson 12: Diagnostic Tests used by Vets

The learning outcomes for this unit are:

Radiography
Ultrasound
Radiography or ultrasound?
MRI scanning in animals
Blood Tests
Urine Tests

Lesson 13: Care of Ill Animals

The learning outcomes for this unit are:

Monitoring
Temperature, Pulse and Respiration
Basic care of inpatients
How do vets give animals medicine?
Giving oral,ear and eye medication
How vets manage fluid levels

Lesson 14: Operation Care

The learning outcomes for this unit are:

Veterinary anaesthesia
Common veterinary surgical procedures
Schedule 3 Procedures
Sterile Field
Surgical instruments
Pre op preparation
Post op care

Lesson 15: Euthanasia

The learning outcomes for this unit are:

Reasons for euthanasia
Making the decision
Euthanasia process
Euthanasia of exotic pets
Signs of a dying animal
Signs of death
Burial and cremation
The animals left behind

Lesson 16: Safety and welfare

The learning outcomes for this unit are:

Health and Safety laws and regulations
Hazards
Signs
Zoonosis
Safety tips
Animal rescue and welfare organisations
A veterinary nurses code of conduct
What's Included
All study materials
Study Guide
Full Tutor and Admin support
The course fee includes the awarding body registration and certification fee (valued at up to £30.00).