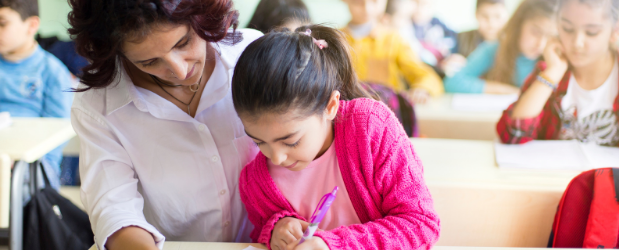 With each year, the number of teaching assistants in UK schools grows as we realise the valuable service they provide.
By hiring a workforce solely dedicated to improving the way pupils receive education, schools improve their performance. Having a positive rippling effect throughout the community as it draws more people to the area and increases employment potential.
But the competition for teaching assistant positions is high. Meaning you have to really stand out from the crowd to be considered for a role. So, you need to be able to sell yourself as having the desired skills and qualities schools are looking for. Which can be tricky if you don't know what they are.
So, from good to best, here are the qualities that make a great teaching assistant.
Good Teaching Assistant Qualities
These are the must-have skills for being a teaching assistant. Schools need these as a minimum, so make sure your CV and application reflect each of the below. But, be sure not to lie or stretch the truth. It's easy for employers to spot when applicants are making things up. Be ready to back each point up with examples of how you demonstrate these skills.
Organisation
Teaching assistants must be organised and prepared so they can deliver the best possible support to pupils. Regularly chatting with the teacher beforehand, so you know what the plan is for the week ahead.
This allows you to make your own plans for each lesson and consider alternate ways of communicating the concepts. You'll work with students who receive information better in visual ways, through activities or by relating it somehow to them.
By taking the time to get organised, you'll be armed with a variety of lesson alternatives. Helping you to get the best out of the pupils you work with.
Understanding Subjects enough to Explain them effectively
There is a difference between knowing a subject and knowing it well enough to explain it effectively to children. Explaining how to read, write and use arithmetic, for instance, can be quite challenging. You need to look past what you know and understand and articulate the why behind each subject.
Children can ask very direct questions. You need to be prepared to give them considered answers they'll understand.
Friendly and Approachable
Being good with children is essential. But more than this you need to have a demeanour that they feel comfortable around. It's no use trying to help a pupil who sees you as intimidating or cold. They won't let their guard down or approach you for help when they need it.
Teaching assistants need to be seen as an ally in the classroom. You need to give off a friendly and approachable vibe, so pupils feel comfortable looking to you for help. The warmer you are, the easier it'll be to create a bond and figure out what they need from you.
The Best Teaching Assistant Qualities
If you can demonstrate these qualities when applying for roles, you'll position yourself as a great hire to employers. The below qualities require intuition, quick-thinking and attention to detail. Skills which will help you provide a higher level of assistance to the schools, teachers and pupils you work with.
Unfazed by Change
Teaching assistants who can think on their feet and adapt to a changing environment are a prized asset in schools. No two days are the same in the classroom. And as well thought out as lessons may be, they don't always go to plan. Since much of the class is dictated by the questions of pupils, they often change direction depending on their needs.
So, you need to be unfazed by change and able to move away from your notes. Being creative in coming up with ideas on the spot when you're thrown a curveball by pupils. This could be challenging behaviour that needs to be handled. Or answering questions on an avenue of the topic that you weren't expecting.
Whatever the reason, you need to react quickly and adapt to any scenario.
Identifying individual Needs
Teaching assistants need to work in partnership with teachers to make sure each lesson meets the needs of the class. Teachers do a great job of educating the class as a whole. However, it can be a stretch at times for them to recognise the individual needs of pupils as they evolve.
It's your job to help them in this and check in more frequently with each child. As you tend to work with smaller numbers, it's easier for you to see how each of them is doing.
By identifying their proficiency in different subjects, you can give more accurate feedback to teachers. This allows them to create lesson plans that help to bring pupils up to speed in areas they are struggling.
Knowing When to Help
In this role, you are expected to continually multitask in a fast-moving environment. Keeping pace with the narrative of the lesson and stopping to assist pupils who need things explained differently.
This would be made easier if every pupil was comfortable asking for help. However, many shy away from asking questions. Often keeping quiet, which can hinder their understanding of the rest of the lesson and ones to follow.
You need to be the eyes and ears of the classroom. So, while you listen to the teacher, you need to keep focus on the children. Watching their expression and recognising when they become confused. By doing so, you will know when to act and intervene. Helping them to understand the concept, so they take everything in.
Additional Skills and Qualifications
The more relevant skills and qualifications you have, the more value schools will place on you as an employee.
Schools teach children of all backgrounds and abilities. Many with requirements outside of education.
You might speak additional languages or have language-related qualifications. In this case, you can help pupils of different cultures fit into their new lives. If children have medical requirements, or medical emergencies take place, having first aid and CPR certifications will prove highly beneficial. Additionally, the school may teach children with special educational needs whereby SEN qualifications will be very valuable.
There are so many additional skills and qualifications you can add to your arsenal. By continuing to learn, you can position yourself as the perfect hire for teaching assistant opportunities. Paving the way for a challenging and rewarding career where you can make a real difference to young peoples lives.
If you're reading this as an aspiring teaching assistant, you can gain all the skills you need online. Stonebridge Associated Colleges is a leading UK distance learning provider. With many teaching assistant courses and complementary qualifications to help you get on track to your ideal career.
Click to browse these in more detail below or read more of our blogs on becoming a teaching assistant.