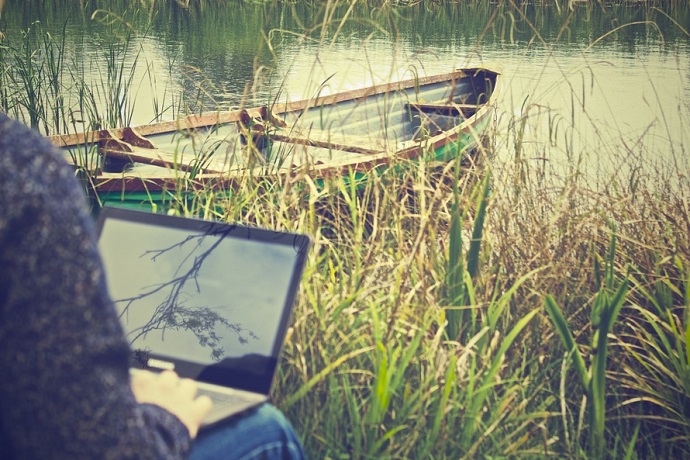 One of the best things about distance learning is the flexibility it gives you to choose when and where you study. You aren't tied to a desk in a classroom, so you have the opportunity to find a study space that suits you.
What makes the perfect study space?
The right chair
Research has shown that sitting for long periods of time is bad for our health. It's now recommended that when sitting at a desk studying, we take a break to walk around every 30 minutes.
So what about standing up whilst you study? Standing desks became popular in the 18th and 19th centuries and Winston Churchill was known for using a standing desk. It might not be practical for long periods of time, but putting your laptop on the kitchen counter, or on top of a box, can help your concentration.
An ergonomic chair is a chair that fits someone's size, desk and the type of work they are doing. If you're looking for a chair that will minimise back pain, check that it has an adjustable seat and lower back support, with a backrest that can be raised and angled. It's important that you don't have too much room at the front of the seat, to prevent you leaning forwards and your feet should be able to comfortably rest flat on the floor.
The right room
Studying in your bedroom late at night, or on your bed, can be a bad idea. You associate your bedroom with sleeping and it's likely that you'll become drowsy quickly. Studying in the lounge can come with distractions like the sound of the TV, or your family. Working at the kitchen table can also be full of temptations like food in the fridge and the smell of cooking.
The key is to think about what works for you. Does background noise help you to concentrate on your work, or does watching TV and working help you get things done? You know how you work and the right room will be different for everyone. Mixing it up can also help you to keep motivated. Break your study routine and you might find you work more effectively.
The right light
If there's not enough light in your study space, your eyes will strain and it's easier to start feeling tired and call it a night. Working by natural light can create a better study space, but sitting right by a window can make looking outside and daydreaming a lot more appealing than working.
If you're working in the evenings, the lighting in a room can also affect how productive you are. A light that's too bright will see you squinting, so you should choose a lamp that illuminates the room, rather than just the desk area. If you're spending hours looking at a computer screen, it's a good idea to take regular breaks and rest your eyes.
The right lighting can improve your posture, because you're not constantly leaning forwards to read something and it can also improve your mood. If you work under harsh office lighting, a softer glow for studying at home can make you feel more comfortable.
The right storage
The perfect study space needs to be somewhere you can call your own, even if it's just a corner of a room. You need places to put your pens, paper, notes with ideas on and your textbooks. If you have to keep packing everything away when you've finished studying, ideas can be lost and it will feel like more effort starting up again the next day.
Write something you're stuck on down and keep it visible, so you can come back to it during the day. If you keep your study space set out, you can also do a bit of work before you go out for the evening, or type a few sentences whilst dinner is cooking. Your study space should be about you, what you like and what inspires you. Stick motivational quotes up, invest in some nice stationary and get organised. Try making studying part of your day and part of your home.
The right environment
Studying at home can be distracting and stop you from relaxing when you have finished for the evening. If studying in your house just isn't working for you, finding a new study space can give you some fresh ideas.
Working in the library, in the park, on a train, or in your garden can be great for getting through your assignments. Even taking your laptop down to a local coffee shop can give you new perspectives, help you get through writer's block and stop studying from feeling like a chore.
A good tip is to keep a pen and paper handy, or make notes on your phone, so even if you don't have your laptop with you, you can still come up with ideas away from home.