301 Student reviews
Video Library

Improve Your Career
Gain a recognised qualification....enjoy success!
Ruth's Story
Click here to watch how we helped Ruth realise her dreams!
Benefits of Home Study
Study what you want when you want with Stonebridge Colleges.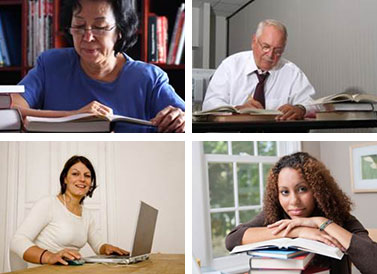 41,720 Students!
Are currently enjoying distance learning courses
with us here at STONEBRIDGE.
So you can trust us to deliver your
chosen course with...
Authentic, current content
Excellent presentation
Easy to understand lessons
Superb tutor support
Interest-free payments
Over 600 Home Study Courses to Choose From
With our extensive list of course categories, you can enjoy studying a wide variety of courses at home; courses that are accredited by NCFE, CACHE, Active IQ and others.
You will find:
Fast Track A-Levels
BTEC (HND)s
NVQs
QCF listed diplomas
Accredited Diplomas, Awards and Certificates
The category titles themselves give you a feel for the vast variety of home study courses at your disposal. Choose your category on the left hand side of this page and click on its headline to display titles of the many courses that have been meticulously compiled, accredited and prepared for home study.
Be assured of the rigorously high standards maintained by Stonebridge Home Study College
Stonebridge is one of the largest distance learning colleges with over 41,000 students currently enrolled. Our extensive experience means your distance learning course is easy to understand, effective and pleasurable.
Indeed, many students return to study with Stonebridge time and again in order to:
Obtain recognised qualifications for a new job
Progress in their current career
Feel more secure in their current job
Gain entrance to University or College
Study a subject that has always intrigued them
Gain proficiency in a hobby, craft or art
Simply enjoy the buzz of learning something new
Why a home study course is so attractive
Because you can study:-
At your own pace
In the comfort of your own home
At a time that suites you and fits around your other commitments
And there's more . . . with Stonebridge there are:
No completion deadlines
Interest-free payment plans
Friendly tutors to access by email and telephone
No prior qualifications needed for most courses
Do not delay . . .
Choose your category now, browse through the course titles, scrutinise your selected course and then enrol without delay. You are sure to enjoy the experience. And who knows, it could be life changing!
Most Recent Student Reviews
18th Oct 2013
---
What is/was the best thing about your course?
In my opinion, the Psychology Advanced Level 4 course is a great course overall. It covers a wide scope, and is a good starting point for people interested in the subject of psychology and who want to figure out which area they want to specialise in. There were some assignments that required research outside of the course material provided, which is good as it encourages people to take the initiative to find out the information for themselves and, by doing so, learn more in the process. Assignments were marked and returned by the tutor promptly. I found the process to be very efficient and well organised.
Other comments?
I enjoyed this course and believe that I'll definitely be able to use the knowledge I've gained in everyday life. Thank you!
Written By Paula Tuck
22nd May 2013
---
What is/was the best thing about your course?
This course was fantastic- with the added advantage of studying at home with a very flexible time limit (needed with a toddler!), the course covers a wide range of things related to Child Psychology.
Other comments?
I found the course challenging at times, but I view that as a positive, especially with the help of a tutor so readily available. I feel any knowledge about child psychology is not needed when taking this course and as I am now hoping to study again with Stonebridge doing a Teaching Assistant course, I will have the added bonus of having the dimploma in child psychology while applying for jobs. I cannot recommend Stonebridge and this course high enough. Thank you!
Written By Jasmine Gullett
20th May 2013
---
What is/was the best thing about your course?
I enjoyed learning about the health and behaviour of dogs.
Other comments?
Having knowledge of dogs or just being a dog owner would be a bonus but not essential. its great to work at your own pace. I have progressed to level 4 advanced diploma in Dog Grooming professional so i can offer more to dogs in my care and their owners. tutors and other staff were very helpful and quick to email any answers to questions. the course was not easy and challenging in some places but very enjoyable, lots of information and very rewarding. looking forward to starting my mobile dog grooming business later this year.
Written By Sarah Freeman
Load More