If you have ambitions of working in education as a teacher, most people tend to either go down the secondary school route or the primary school route. In most instances, teachers tend to spend the rest of their careers in either secondary or primary education, but what about those who want to switch?
If you are considering moving from secondary to primary teaching, then continue reading! We have outlined the route to teaching as well as what you need to do when moving from secondary to primary teaching. We also delve into the pay scales of the two types of teaching and if they differ.
Teaching is one of the most important professions as you will be helping shape the lives of children and young people through academic learning. If you have spent most of your career working in a secondary school and believe that you can transfer your skills to primary education, then there are steps you can take.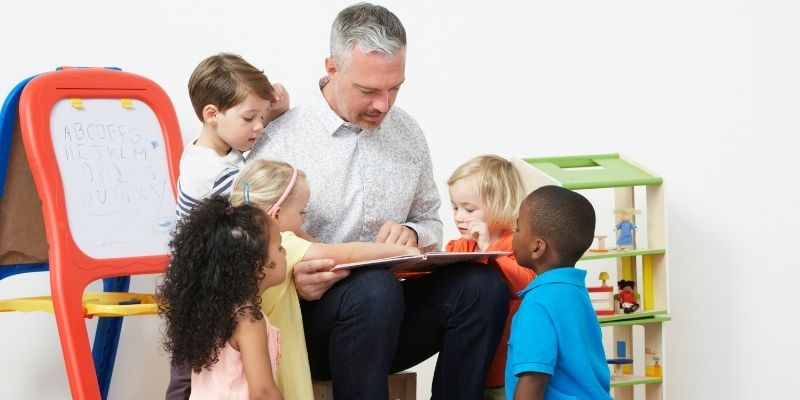 Your Route to Teaching
There are various routes you can take to become a qualified teacher, so before you even think about moving from secondary to primary teaching, you need to achieve Qualified Teacher Status (QTS). To do this, you will have to meet the following criteria:
GCSEs at grade C/4 or above in English, Maths and Science
An undergraduate degree
A pass in professional skills tests
Teacher training
Experience working with young children or in schools
A background check
In terms of your academic path, you will need certain qualifications, of which we have outlined below. These apply to both secondary teachers and primary teachers.
GCSEs or Functional Skills
Before you can consider studying a teaching degree, you need the basics first! Both secondary teachers and primary teachers will need grades C/4 or above in English, Maths and Science. If you did not achieve these during your school years, then you have an opportunity to do so with Stonebridge Associated Colleges.
We provide a range of GCSE courses that can be completed online. Upon successful completion, you will be issued with a nationally recognised qualification. Alternatively, you can gain the qualifications you need through Level 2 Functional Skills courses.
A Levels or Access to Higher Education Diplomas
The next step towards becoming a secondary teacher or a primary teacher is to achieve A Levels or Level 3 equivalent qualifications. You will need these qualifications to apply for a degree at university, with many establishments requiring 3 A Levels.
Those of you later in life who have not obtained A Levels can do so by studying our range of A Level courses online. Alternatively, you may want to consider opting for another route. Access to Higher Education Diplomas are widely recognised as the equivalent to 3 A Levels, with most universities accepting them as part of their entry requirements.
Please note, however, that you should check with your chosen university before applying for a position. One of the many great things about studying for an Access to Higher Education Diploma with Stonebridge Associated Colleges is that you can do it from the comfort of your own home. This is because they are taught 100% online.
The Access to Higher Education Diploma (Education) will provide you with a foundational knowledge in education, as well as study skills that will prepare you for university. Generally, those interested in becoming primary teachers will benefit from the knowledge gained from studying this course. This is because the modules focus on education as a whole rather than a specific subject.
Secondary teachers specialise in specific subject areas. For example, if you want to teach Geography or History in a secondary school, then studying a degree in those subjects is beneficial. Primary teachers, on the other hand, teach a broad curriculum rather than specialisms.
Undergraduate Degree
Once you have secured a place at university, you will embark on degree-level study. If you want to start at a secondary school, then as mentioned, you can specialise in one subject. Primary teachers may want to study a core subject, such as English or Maths.
PGCE
To push you towards Qualified Teacher Status (QTS), you should consider taking a Postgraduate Certificate in Education (PGCE) course. This is especially beneficial for those of you who have studied a degree that does not include QTS. In around one year, you should complete the course and be one step closer to working in a secondary or primary school.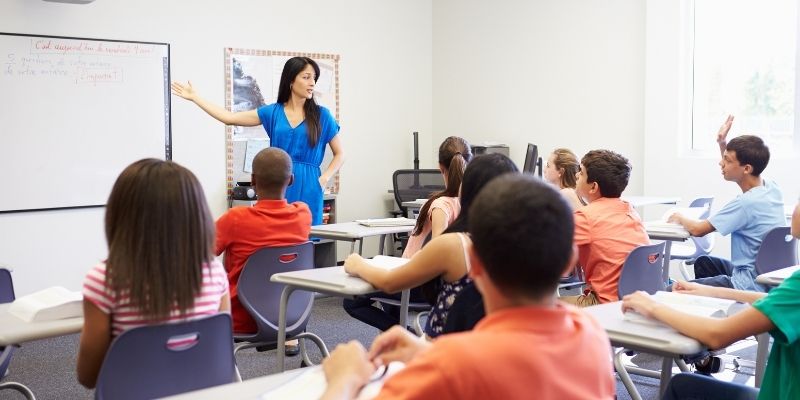 How Do Primary and Secondary Teaching Differ?
There are significant differences between primary and secondary education, which means that the teaching methods are also different. The main differences between the two are:
Ages
One of the main differences between the two settings is the age of the students. Primary teachers teach children aged between 5 and 11, while secondary teachers oversee the academic development of students aged between 11 and 16.
Subjects
In primary schools, teachers focus on the emotional and behavioural development of children. Rather than teach a wealth of subjects, they predominantly cover:
Literacy
Numeracy
Science
The purpose is for children to develop language skills and gain confidence using the written and spoken word. They will also learn basic mathematical skills as well as begin understanding the natural and manmade world around them.
When it comes to secondary education, the subjects are much more diverse and varied. Generally, students will learn core subjects as well as the option to learn specialised subjects, such as:
Geography
History
Religious Studies
Languages and more
Purpose
One of the biggest differences between primary and secondary teaching is the purpose and intent. At primary level, the purpose is to develop the emotional, behavioural, and cognitive abilities of children. Secondary level, on the other hand, focuses on academic progression and preparing students for GCSEs and higher education.
How Do Secondary Teachers Move to Primary?
If you embark on a career as a secondary school teacher, then there may come a point when you ask yourself 'can secondary teachers teach primary?' Well, the answer is yes, as long as you build up experience in primary education.
It is rare for teachers to move from secondary to primary teaching, but it is not entirely unheard of. Progressing from primary to secondary is a more natural progression as you will be able to enhance your broad knowledge and focus it into a specialism. However, if you are moving from secondary to primary, then you will have to familiarise yourself with an entire curriculum.
Switching from secondary to primary teaching will require you to gain some form of primary education experience. There are a few options you can take, but the most common would be to do the following:
Get experience as a teaching assistant (TA)
Work as a supply teacher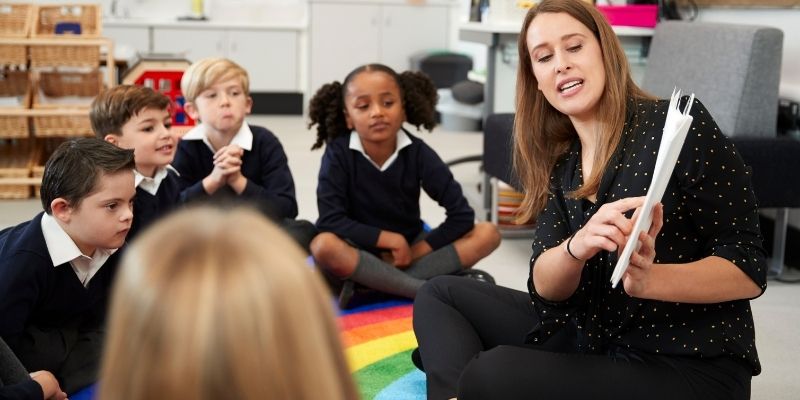 Is there a Difference in Pay Between Primary and Secondary Teachers?
All teachers, whether in primary or secondary education, are part of the same pay scale. Every QTS teacher will start off on a base salary and then will likely move up the pay scale when they demonstrate strong performances. You can also earn a higher salary if you progress to senior roles within the teaching framework.
Essentially, though, there are main and upper pay ranges across the UK:
England (excluding London) and Wales - £25,714 to £41,604
London - £26,948 to £42,780 (fringes), £29,915 to £45,766 (outskirts), £32,157 to £50,935 (inner)
Scotland - £32,994 to £41,412
Northern Ireland - £22,243 to £37,870
Get in Touch
If you are interested in moving from secondary to primary education, then there are routes you can take to achieve this. Alternatively, if you are keen to work towards a professional career as a teacher, but don't have the qualifications, you can gain them through online study with Stonebridge Associated Colleges.
To find out more information about your options, speak to one of our Course Executives on 0121 392 8288 or contact us online. Take charge of your career today!