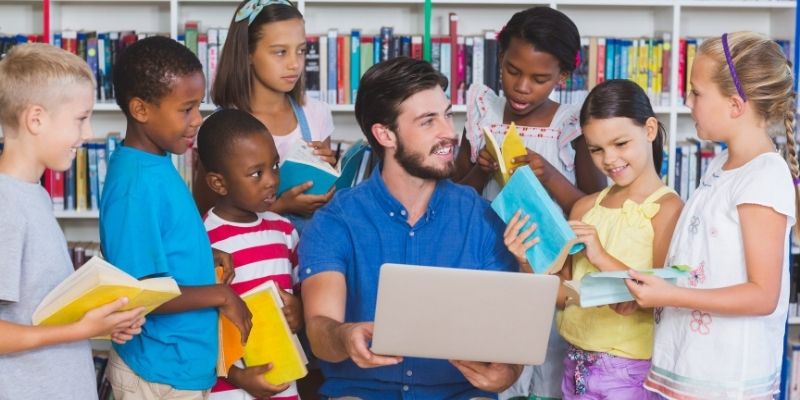 A primary school teacher makes a significant impact on the lives of children going through crucial emotional and behavioural development. It is the first time children experience structure and learn about social dynamics and peer groups. They are also exposed to the basics of Maths, English and Science.
Becoming a primary school teacher is an opportunity to make a lasting difference to the lives of hundreds of children. You will be guiding them through their academic journey and teaching them vital life lessons along the way. Not only that, but primary school teacher jobs can lead to deputy head or headteacher roles.
There are quite a few routes into teaching depending on your current circumstances. So, if you are wondering how to become a primary school teacher, whatever stage you're at in life and no matter your previous experience, it's possible to start your career. Below, we have outlined the qualifications needed to become a primary school teacher and the path you can take.
What Qualifications Do I Need to be a Primary School Teacher?
To become a primary school teacher, you will need to be educated to degree level. This can either be an undergraduate degree in a subject of your choice followed by a Postgraduate Certificate in Education (PGCE). Alternatively, becoming a primary school teacher can involve studying an Initial Teacher Education or Training (ITET) with Qualified Teacher Status (QTS).
PGCE
The PGCE route is most used for secondary education. This is because the subject of your degree generally determines what you'll teach when you are qualified. However, that's not to say it isn't useful for those seeking to get into primary education.
Having extensive knowledge in a specific subject can be of real value to primary schools and opens up opportunities to be a subject lead at your school.
Bachelor of Education Degree
This route is more common for primary school education as it shaves off a year from your studies. This is because you only need an undergraduate degree and won't have to do an extra year for the PGCE.
The Bachelor of Arts (BA) and Bachelor of Science (BSc) education degrees with QTS are just as useful. This is especially the case if you have a specific subject in mind that you want to teach. 
Minimum Requirements for University
You'll need a range of qualifications to prove you're capable of working at degree level to become a primary school teacher. Most universities will look for their applicants to have:
Maths and English GCSE grade C/4 or above, or Functional Skills equivalent
At least two A Levels
An Access to HE Diploma in Education as an alternative to A Levels
Each university can set its own requirements, so this may vary, but most commonly this is what is asked for. We advise that you check the criteria of your chosen university before applying.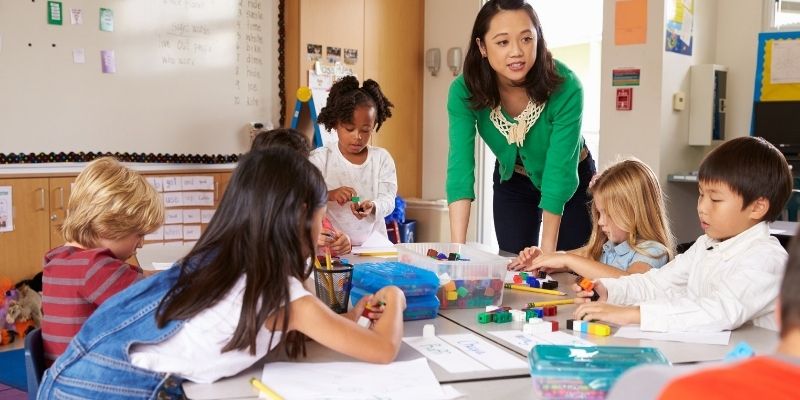 What is an Access to Higher Education Diploma?
An Access to Higher Education Diploma (Education) is equivalent to 3 A Levels and specifically designed for those looking to get into Bachelor of Education degrees. These nationally recognised courses are ideal for those aged 19 and over who want to gain entry into university but do not possess the A Level qualifications to do so.
It is also a faster route than taking multiple A Levels as you'll only have to do the one course. You have one year to complete it, but most students achieve their Diploma in around 9-12 months. 
If you are interested in becoming a primary school teacher, then studying the Access to Higher Education Diploma (Education) will be beneficial as you will cover the following topics:
Roles and responsibilities in education
Child development
Psychology of learning
Nutrition
Disability and Special Educational Needs
Managing behaviour and much more
The purpose of your Access to HE Diploma is to not only give you foundational knowledge of education, but also to prepare you for degree-level study.
Is Being a Primary School Teacher Right for Me?
There are many attributes you need to succeed in primary school teacher jobs, and we have outlined the aspects you should be aware of:
Sensitive and understanding – As a primary school teacher, you could potentially be teaching children as young as five years old depending on your year group. Therefore, you need to have the patience to teach and provide the best learning experience for them
Working with others – Becoming a primary school teacher means becoming part of the school faculty. You will need to work alongside other members of staff, including teaching assistants. You will also have to report back to the head of departments on your classes progress and development
Adaptable – No two days will be the same when working in primary education and you need to be able to adapt. Children are unpredictable, so you must be flexible when it comes to their needs. Lessons might not always go to plan and you need to be able to adapt
Communication skills – You will also need excellent verbal communication skills, not only with your class but with staff and parents too. You need to be able to clearly express what is required of your class and how they're progressing, as well as what your aims are for their learning in the future
Organised – Being a primary school teacher requires a lot of planning and administration too. So, you must be able to use current software and programmes to keep records up to date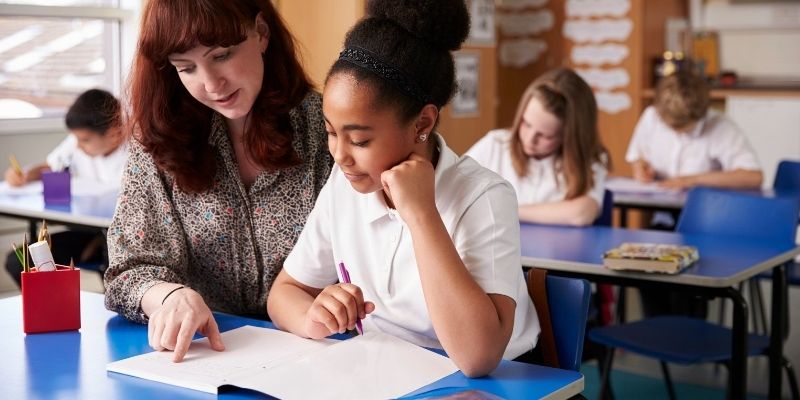 What Will I Do as a Primary School Teacher?
Primary school teacher jobs involve a range of roles and responsibilities, and if you progress into this field, you may have to carry out the following:
Planning lessons
Preparing teaching materials
Setting up classrooms
Organising displays
Mark and assess each child's work
Monitor behaviour
Arrange trips and activities
Ensure health and safety guidelines as well as safeguarding procedures are followed
Is there Career Progression?
Some professionals choose to work as a primary school teacher for the rest of their careers but becoming a primary school teacher does not have to end there. You could work towards a more senior role in the education sector, such as:
Deputy Headteacher
Headteacher
Advanced Skills Teacher (AST)
As a primary school teacher, you will build up skills and techniques that can be used as transferrable skills in other industries. For example, you could embark on further study and pursue the following:
Management
Social Work
Leadership Roles
Communications
Get Your Career Off the Ground Today!
Whatever route you decide to go down, Stonebridge Associated Colleges can help you on your way to a rewarding career. We are one of the UK's leading online learning providers, offering a range of courses from A Levels to Access to Higher Education Diplomas and more.
All our courses are guided by experienced tutors who support you throughout your learning experience. We also have flexible payment options to help you spread the cost if needs be.
For more information on how to prepare for your online learning experience, call our Course Executives on 0121 392 8288 or contact us online. Otherwise, you can click below to learn more!