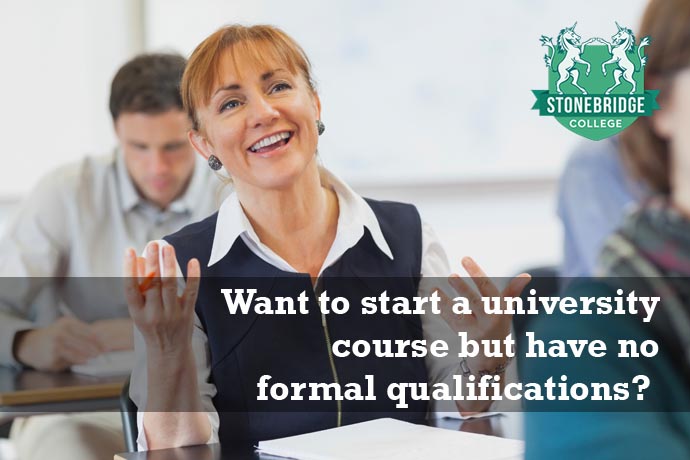 Think University isn't for you? Think again!
With an Access to Higher Education Diploma, your dream of studying at university could become reality very soon. There's no age or time limit – it's never too late to apply for a course at university.
For many people university seems like an impossible goal. It may well be that you left school with few qualifications, or no A-levels for many reasons. Perhaps you needed to get a job, you decided to start a family early, or you just didn't feel ready to continue studying. Whatever the reason, it doesn't matter now as you can enrol on one of our Access to Higher Education Diplomas today.
What is an Access to Higher Education course?
These courses have been specifically designed for people who don't have the qualifications to apply for university. Each course is designed to follow a different pathway into higher education, for example medicine, education, business or law (Stonebridge is developing many different Access to Higher Education Diplomas to cover many fields).
The course will prepare you to study at university on the course of your choice. You don't need to take A-levels, as the Access to Higher Education Diploma is considered as the equivalent of having five A-Levels. Most UK universities accept the Diploma instead of A-levels and many actively encourage applications from students qualified with the Access to Higher Education Diploma.
How will I study?
This is a distance learning course, so you don't have to attend classes; all your studying can be done in the comfort of your own home and at your own pace. You can start and finish the course when you wish, so you can plan your studies to suit you and there are no fixed start and end dates.
You decide whether you want to study online, or receive a paper-based copy of the course. Once you enrol (which can be done at any time of the year) you'll receive your course materials, either through online access, or in the post and you can start studying for your new future immediately.
You'll also have your own dedicated personal tutor to guide you every step of the way on your path to higher education, so you'll never be alone. You can ask them questions as you work through the course and you will send them regular assignments for marking, so you can see your progress.
How long does the course take?
The beauty of this course is that it can be studied in less than a year, as opposed to the usual two years for A-levels – great news if you want to study while you're working, have a young family, or you're just looking for a new challenge.
Who is Access to Higher Education for?
Anyone who wants to apply for a university course which accepts the Access to Higher Education Diploma (and that's most UK universities). You may not have studied for a while and feel university is beyond your capabilities, you may have left school with few qualifications and thought you weren't 'clever' enough for university, or you may want to become qualified at university to further your current career.
You can pay for your course with a 19+ Learner Loan, so you'll only need to start paying back in affordable monthly installments, once you're earning over £21,000 a year
There are many reasons why students choose to study an Access to Higher Education Diploma at different stages of their lives. The important thing to remember is that if you have the dedication and commitment to achieve your goal of studying at university, then you're the perfect candidate for an Access to Higher Education Diploma. Click here to view the Access to Higher Education Diplomas at Stonebridge.