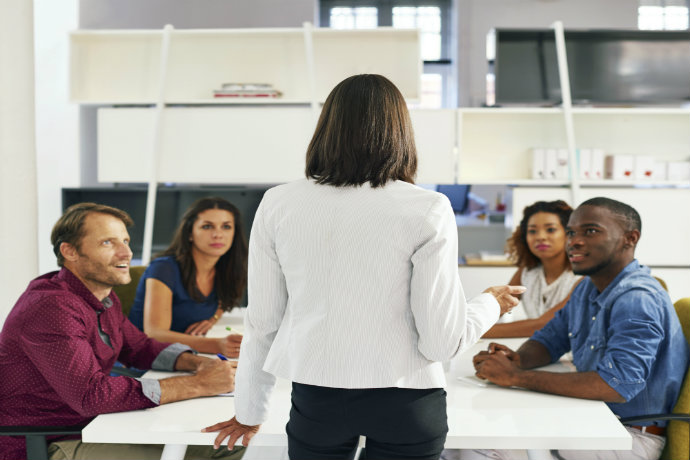 If you decide to take our Sales and Marketing Course (QCF), you'll learn the laws and ethics of selling and handling objections.
You'll also learn the important elements of delivering a sales presentation and making sure that it's a roaring success.
What is a Sales Presentation?
A sales presentation is a selling technique where you devise a presentation to either sell a product or service in order to increase sales and move the process forward. It could either be an informal presentation within a relaxed setting or a formal presentation in front of a group of decision makers.
Giving an excellent sales presentation is highly necessary in order to be able to close sales. From a persuasive pitch to showing the benefits of a product or service and the challenges, it's important to really generate interest and improve your chances.
An effective sales presentation will help you stand out from your competition and motivate your audience into buying your product. It'll help to boost your confidence and push your business in the right direction.
How to Deliver a Sales Presentation
Planning
First of all, an instinct for knowing exactly what an audience wants is a key aspect of the planning process. It's important to really know your target audience, their interests and why they would be interested in the product and/or service that you're selling.
Think about what makes your product or service stand out from your competitors and how you're going to go about creating interest. Make sure you practise a lot beforehand. Lots of practise will help you ensure the fluidity of the presentation and it'll also help you memorise the key points.
Structure
Make sure that you're clear on the key points that you're going to discuss in your sales presentation. Make sure you structure a logical argument, along with supporting evidence and accompanying visuals that will make it more appealing and highly convincing to the audience.
Stick with a simple structure – an introduction, main body and conclusion then take questions from the audience. Be straight to the point. Avoid unnecessarily waffling on and make your key points very clear in your presentation.
Delivery
Glowing with enthusiasm and bursting with knowledge is really important in making customers take interest in your product or service. Make sure your enthusiasm is demonstrated through your body language, tone of voice and make sure you're energetic.
You have to believe in yourself and believe in the product that you're selling. If you don't have it in you to be enthusiastic about your product, then you can't expect your audience to be excited.
Feedback is vital to a sales presentation. When you finish delivering your sales presentation, it's really important to engage with the audience and encourage feedback. By doing this, you'll need to decide the best way to deal with questions that you're asked at the end of your sales presentation.
Overall, a sales presentation holds so many advantages. For example, studying this module on our course will teach you how to meet the needs of your customer and how to close sales.
Are you interested in a career in sales and marketing? What are your top tips for an effective sales presentation? You can find out more about our course here…