Becoming a nursery teacher means you'll be part of the first step in a child's journey through education. You'll teach infants and children from as young as a couple of months through to 5 years old.
Early years teachers need to have genuine care for children and a passion for education. The life lessons and skills you'll teach through play are essential in their development.
From teaching children manners and the ability to share, to basic addition and literacy skills. What may seem simple for us, are big strides for young children in their journey towards formal education.
And it is rewarding seeing the children in your care developing skills and further their accomplishments.
No matter what stage you're at in life, becoming a nursery teacher is still possible. There are various options depending on your previous experience and qualifications that could suit your needs.
All of which could lead you to a fulfilling career as a nursery teacher.
Responsibilities of a nursey teacher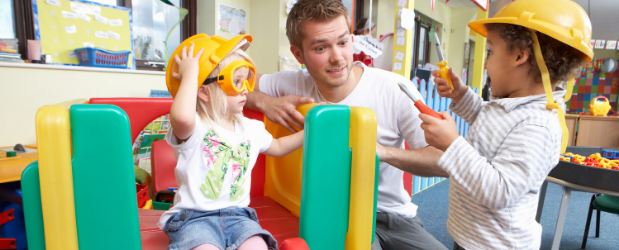 No two days are the same when working in early years education. Working with children can be unpredictable so you need to be able to adapt to their needs. Children require a lot of patience and nurturing especially at this stage of their development.
Early years education helps prepare children for primary education and develops skills that they'll carry with them for life.
As a nursery teacher it is your responsibility to motivate children to learn and encourage them to develop social skills and build friendships.
You'll need to support the children's development socially, physically and personally. As well as improve their literacy and numeracy abilities through play.
Whilst the child is in your care you will be constantly observing, assessing and recording their progress. This will then be passed onto their primary teachers to help gauge what level their pupils will be at.
Despite education being your primary focus, it's also your responsibility to provide pastoral care. This could include working alongside social care professionals and maintaining a safe learning environment.
Getting Qualified
To become a nursery teacher, you will need to be educated up to degree level. As well as GCSEs in maths, English and science. You will also have to take a numeracy and literacy test.
Assuming you pass you will then need to gain an early year's Initial Teacher Training (ITT) qualification. This will demonstrate that you've met the Teachers' Standards (Early Years).
Training Routes
There are several routes to complete your ITT qualification to become a nursery teacher. And whichever one you choose will gain you early years teacher status (EYTS).
It just depends on what's right for you and your current circumstance.
Graduate Entry
Upon completing your degree you would then need to study full-time for an additional year to get qualified. A £7,000 grant is available to cover course fees and a range of bursaries depending on your degree grade. Up to £9,000 is available for graduates with first-class degrees, £4,000 for graduates with 2:1 degrees and £2,000 for those with a 2:2.
School Direct (Early Years) graduate entry
This option allows you to gain hands-on experience at schools or nurseries whilst completing your EYTS. It may be required that you stay on for a year after completing your training before moving on to other schools or nurseries.
Graduate employment-based
This is a part-time option for graduates working in an early years setting who require further training. You'll combine your studies with your employment and work towards your EYTS. There is funding of up to £14,000 available for this route. Up to £7,000 covers the course fees and the remaining amount is from your employer. They will contribute the rest of the funds so you're able to supply cover or as a salary enhancement.
Undergraduate
This is a full-time three to four-year undergraduate degree course which leads to EYTS. This route is available for those studying early childhood-related degree subjects. You can get your tuition fees covered by Student Finance England.
Assessment Only
This route is self-funded and takes three months to complete. This is an ideal option for graduates who have experience working with young children and meet the EYTS. For example, nursery teachers from overseas that require no further training.
Getting into university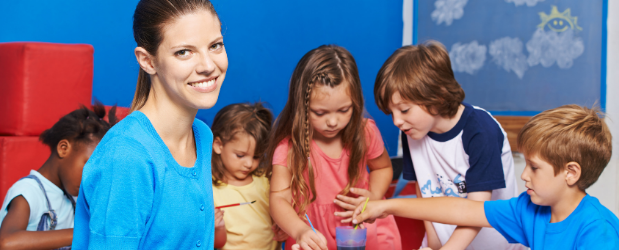 If you don't have a degree, then you'll need to get into university to complete one. Most universities will ask for GCSE English, maths and science as well as 2/3 A Levels in relevant subjects.
Alternatively, you could bypass the need for A Levels with an equivalent level 3 qualification in early years and playwork. Or an Access to Higher Education Diploma (Education) online course could also be an option.
Universities set their own entry requirements so always double-check before enrolling if you have an institute in mind.
You may need a combination of early years or playwork diplomas depending on what the entry requirements are. However, you will only need the one Access to HE Diploma.
Depending on the diploma or course you choose and where you enrol, you won't need previous experience or qualifications. There is also the option to complete these courses through online learning providers.
Online learning providers enable you to engage with your studies around your other commitments. Whether you have care responsibilities or a full-time job, you're able to decide when the time is right to learn.
However, if you're taking GCSEs or A Levels to fill the gaps in your knowledge then it's important to consider exams. GCSE exams are usually in January with A Level exams in May/June.
Make sure you give yourself enough time to work through each module in time for your exam.
By the end of your studies you'll have a nationally recognised qualification. And then you'll be able to take the next step of your journey to becoming a nursery teacher.
Getting Started
Whichever route you choose to take Stonebridge Associated College can help you reach your goals.
Stonebridge Associated College is one of the UK's leading online course providers. Offering a range of A Levels and Access to HE Diplomas to suit your needs.
We offer flexible payment options to help you spread the cost and a dedicated tutor to support your learning. They'll provide you with constructive feedback and any extra assistance where needed throughout as you study your online course.
To learn more on how to prepare for online learning visit our blog here.
If you're ready to take steps towards your exciting new career get in touch or enrol online today.