Animal Communication
About the Level 3 Animal Communication Certificate
You may not be able to talk to animals like Dr. Dolittle, but at Stonebridge College, we believe that there are other ways we can effectively communicate with our furry friends. This course offers students a mind-opening experience. Through self-reflection and study, they will quickly learn to understand and interpret certain animal behaviours.
This distance learning course is made up of eight fascinating modules. These units cover a whole range of topics ranging from shamanic animal communication and the animal human psychology connection, to animal therapy, ethics and legalities. Altogether, this course should take around 80 hours to complete, but we advise our students to work at their own pace.
Who should study this course?
This course is ideal for animal lovers of all kinds. Whether you want to work in animal care or you want to get closer to your own pets, this home study experience will help you on your way. This course is also suitable for those who already work with animals and want to develop their skills.
If you want to enrol on this home learning course, you will need to be able to access our online portal. You will also need a passion for animals and the drive to complete your study independently. You will not need any prior qualifications or experience.
What happens after the course?
There are plenty of opportunities available for people who are good with animals. If you enjoyed studying this home study course, you may decide to go on to study more animal related qualifications. At Stonebridge we have a number of animal behaviour courses available.
If you already work with animals, this course may lead to a promotion or greater job satisfaction. If you are looking for a new career in animal care, you could be eligible to apply for a number of jobs like an animal behaviourist or pet behaviourist. Other options include:
Animal counsellor
Dog trainer
Zoo keeper
For more information about this course, give us a call on this number: 0121 392 8288
On completion of your course, you will receive two certificates:
Certificate 1 is issued by Stonebridge Associated Colleges: Animal Communication Diploma
Animal Communication Diploma issued by Stonebridge Associated Colleges, to view a sample of the college's award, please click here.
Certificate 2 is issued by ABC Awards: Level 3 Animal Communication Certificate of Achievement
At the end of this course successful learners will receive a Certificate of Achievement from ABC Awards and Certa Awards and a Learner Unit Summary (which lists the components the learner has completed as part of the course).
The course has been endorsed under the ABC Awards and Certa Awards Quality Licence Scheme. This means that Stonebridge Associated Colleges has undergone an external quality check to ensure that the organisation and the courses it offers, meet defined quality criteria. The completion of this course alone does not lead to a regulated qualification* but may be used as evidence of knowledge and skills gained. The Learner Unit Summary may be used as evidence towards Recognition of Prior Learning if you wish to progress your studies in this subject. To this end the learning outcomes of the course have been benchmarked at Level 3 against level descriptors published by Ofqual, to indicate the depth of study and level of demand/complexity involved in successful completion by the learner.
The course itself has been designed by Stonebridge Associated Colleges to meet specific learners' and/or employers' requirements which cannot be satisfied through current regulated qualifications. ABC Awards & Certa Awards endorsement involves robust and rigorous quality audits by external auditors to ensure quality is continually met. A review of courses is carried out as part of the endorsement process.
*Regulated qualification refers to those qualifications that are regulated by Ofqual / CCEA / Qualification Wales
To view a sample of the ABC Certificate of Achievement, please click here.
Requirements for Entry
There is no experience or previous qualifications required for enrolment on this course. It is available to all students, of all academic backgrounds.
Who are ABC Awards and Certa Awards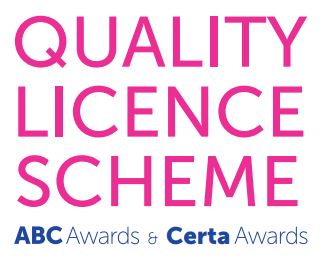 ABC Awards and Certa Awards have long-established reputations for providing high quality vocational qualifications across a wide range of industries. ABC Awards and Certa Awards combine over 180 years of expertise combined with a responsive, flexible and innovative approach to the needs of our customers.
Renowned for excellent customer service, and quality standards, ABC Awards and Certa Awards also offer regulated qualifications for all ages and abilities post-14; all are developed with the support of relevant stakeholders to ensure that they meet the needs and standards of employers across the UK.
Professional Membership
On completion of this course you will be eligible to join the following Professional Associations(s):
Anyone who is studying for or has completed a course endorsed by an Ofqual approved awarding body is eligible to join Qualifications Register. The Qualifications Register (QR) is an independent register that aims to serve both members of the public and those professionals who hold recognised qualifications.
QR's primary aim is to provide transparency to members of the public and employers. The QR is a searchable database that allows them to find a practitioner and view the relevant qualification and endorsements the practitioner holds. The member of the public is then able to make an informed decision in relation to the suitability of the practitioner. QR also tracks whether practitioners have insurance, again something that is useful for members of the public. QR can also help professionals gain insurance or find professional indemnity cover. Click here to find out more.
Members of the public can check an independent source with complete confidence that the practitioner has the qualification(s) they claim to have and that any additional CPD the practitioner has, is verified and quality assured to make sure that the CPD is being done on a regular basis. QR tracks a practitioners endorsed CPD (in unison with our CPD accreditation partner Lifetime Awarding) and other key signals to help members of the public and employers to come to a more informed decision about the professional they intend to use. This is an enormously valuable signal that's increasingly important as business becomes more deregulated and privatised.
For practitioners QR helps you market your skills, endorsements and feedback transparently to a wider audience. It also gives you access to a community to help make you more able to progress and succeed in your field of expertise. Click here to find out more.
"The Affiliation of Ethical & Professional Therapists is dedicated in assisting you as a member, in the promotion and growth of your practice. Your profile will be entered onto our website and each month you will receive a free e-zine full of business tips and valuable information".
For further details please visit, www.aept.co.uk
What is animal communication?
Shamanic animal communication
Transpersonal interspecies communication
Quietening the mind
Clearing negative thought patterns
The negative ego
Note about meditation
The ancient self
The belief system
Clairaudience, clairsentience, clairvoyance
The animal/human connection
What we know to be true
How we change
Pure clarity
Going with feel
Selfless love
What animals know
What is the animal?
How animals react to request
How the animal receives information
The animal human psychology connection
When animals lie
The reluctant animal
Approaching the animal
How to interpret
When something doesn't feel right
Animal emotions at cellular level
Non violent communication/training methods
Conducting a session
All thought is energy
Taking a case study
Recording a session
When animals don't want to get well
Munchausen by proxy
When animals die
Lost and stolen animals
Disassociation
Body scanning
Mental tools
The chakras
The aura
Feeling the physical
Seeing the imbalances
Scanning animal tack and equipment
Symbolic signs
Earth energies
Spiritual problems
Behaviour problems
The owners influence
The animal as a mirror
What are we really telling them
The second heart chakra
Animals in therapy
Ethics and legalities
Permission
Working with the medical profession
Business sense and balance
Dealing with the client
When clients don't like what they hear
The sceptic
The challenge
The animals prayer
The animals life path
Past-life memories and injuries
The animal guide
Giving thanks
For a more detailed syllabus on this course, click here
Assessment Method
After each lesson there will be a question paper, which needs to be completed and submitted to your personal tutor for marking. This method of continual assessment ensures that your personal tutor can consistently monitor your progress and provide you with assistance throughout the duration of the course.
What's Included
All study materials
Study Guide
Full Tutor and Admin support
The course fee includes the awarding body registration and certification fee (valued at up to £30.00).
What's Included
All study materials
Study Guide
Full Tutor and Admin support
The course fee includes the awarding body registration and certification fee (valued at up to £30.00).