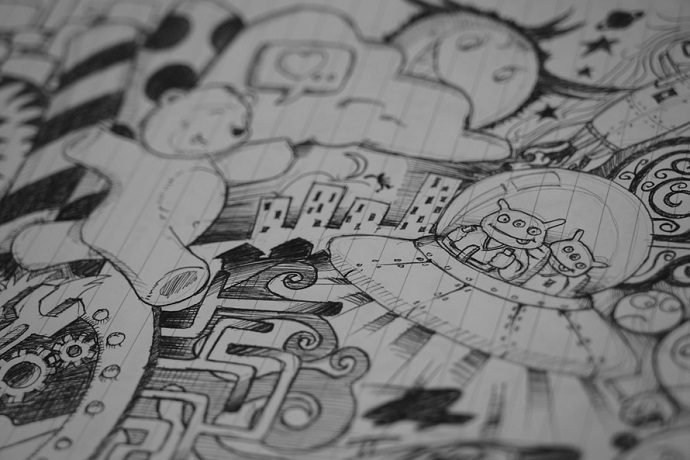 Is it time to give your brain a workout?
Studies suggest that exercising your mind can slow the progress of memory loss and dementia. To keep your brain active, you need to challenge yourself and learn new things.
Brain training has become a huge industry and we often see advertisements for apps and games that claim to make us smarter and mentally sharper. You don't need to rely on technology to give yourself a mental workout. We've come up with 10 simple ideas that will give your brain a workout and best of all, they won't cost you a penny.
Draw a picture
Drawing pictures may be something that we generally associate with children, but drawing as an adult is great for your mind. You don't need to be good at drawing, to get the benefits from it. Drawing lets you be creative, and it also encourages communication between different parts of the brain. Drawing pictures can make your memories stronger, more vivid and easier for you to reach, so it's a fantastic way to engage with your thoughts.
Other benefits to getting your colouring pencils out, are that your intuition improves and you become more aware of things around you. You don't need to plan what you're going to draw, just see what comes out. Scribble, doodle and colour and you'll find your brain thanks you for it.
Complete a puzzle
Working on a jigsaw might be something that you also haven't done since childhood, but it will give your brain a workout. When you're working on a puzzle, you're using both sides of your brain. You need to focus on tiny details, picture how shapes can be turned to fit into spaces and use your hands to move pieces. Jigsaws also help you to visualise how small pieces can make up a whole.
Working on a jigsaw can help your concentration and keep you alert. Most of us have a jigsaw stashed away somewhere at home, or we have a parent that does. Make sure you test yourself with a box containing over 500 pieces. Work on a jigsaw for half an hour a day and you could see a difference.
Write things down
When we write something, we coordinate both sides of our brain. Writing can be a great way to keep you mentally stimulated and to prevent your cognitive skills from deteriorating. Writing a story uses our creativity and writing something out by hand can even improve our memory. Scientists think that things we write down using a pen and paper, stay in the mind longer than things we have typed out.
The movement of writing stimulates areas of our brain that relate to memory, language and thought. Studies have even suggested that writing can have the same effect as meditation exercises, because of the activity it stimulates in certain areas of our brains.
Learn something new
When we learn something new, change happens in our brains. Learning a new skill, or taking up a new hobby, can be far more effective for keeping your mind sharp, than your average brain trainer technology. Research suggests that challenging ourselves to understand something, makes connections in the brain stronger. The more you do something, the easier it becomes and the more automatic your actions will become.
Learning something new will also have long-term benefits, including your memory getting better and your language skills improving. The more you learn, the more you will develop.
Test your memory
We all have moments when we forget what we came into a room for, or put something down and don't remember where we put it. As we age, our memory becomes worse, so keeping our mind active is important. Testing yourself can be a great way to stay feeling young. Answering quizzes, taking tests and filling out crosswords, are easy ways to test your memory and give your brain a workout.
Repeating things to yourself can help them stick in your mind. Memory exercises, like challenging yourself to remember what you had for dinner this time last month, or trying to remember what date an event happened on, are easy ways to keep your mind fresh.
Pick up a foreign language
The brain finds understanding language difficult, so learning a second language will strengthen your mind. Scientists believe that learning a foreign language can increase the size of your brain. Speaking more than one language also makes us more aware of things around us, other cultures and points of view.
Studies have shown that people that can speak more than one language, have better memories. They are also more creative, think in a more flexible way and see improvements in their ability to focus. Research suggests that learning a second language can slow dementia by over 4 years, so picking up a new language at any age is a smart idea.
Knit
Knitting isn't just something elderly women do and in recent years it's become popular with celebrities. Like completing puzzles, knitting is thought to be not only relaxing, but also useful for keeping you mentally healthy. Knitting may look like a simple activity, but it actually stimulates almost all of your brain. You need to focus, plan what you're doing, use visual information and time your movements.
Knitting can boost your cognitive function and keep your memory sharp. Research suggests that arts and crafts can help to prevent a reduction in brain function. Protect your mind against the effects of aging and make something for family and friends at the same time.
Exercise
One of the best ways to keep your mind healthy, is to keep your body healthy through exercise. Studies have shown that exercising for just a few hours a week, can help you to remember things, multitask and make plans. Exercise increases the size of the area of your brain that affects learning.
Exercise can also make you less likely to feel anxious and stressed, factors which can play a part in cognitive problems. Scientists think that any exercise that gets your heart pumping is likely to benefit you mentally. Try to exercise for at least half an hour a day, even if it's just taking a brisk walk to the shops, or walking around the block.
Be social
Social interactions are important, not only for our emotional wellbeing, but also to make sure our minds stay active. Talking to other people helps us to maintain cognitive functions. Being social is good for our brains, because it requires us to keep our attention on the person we are talking to and use our memory to recall information. By using these functions regularly, we can make sure we don't get out of practice as we age.
Maintaining social connections is more important the older we get. Taking the time to talk to an elderly relative and keeping them mentally active, is something we should all do.
Laugh
Did you know that laughing for 15 minutes can burn up to 50 calories? Laughing is also good for your mind. Laughing has been shown to boost your short-term memory, which means you'll stay sharper for longer.
Meet a friend you haven't seen in a long time, or take half an hour to watch some stand-up comedy on YouTube. Keeping laughter in your life will give your brain a workout on a daily basis. Laughter releases endorphins, which means that you feel the effects of stress less. Stress reduces memory, so laughter can make sure you're always ready to learn new things and remember them.
You may, or may not, buy into the latest brain training gadgets, but scientists do know that we need to take care of our minds as we get older. Keep yourself mentally happy and healthy with just a few small changes that anyone can try. What are your tips for keeping your brain in shape? Let us know.
Learn something new and test your memory with online courses. Study with Stonebridge and you can learn from home, in your own time.