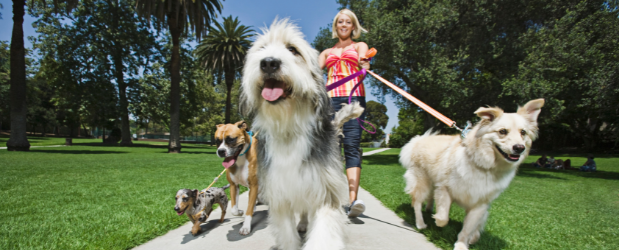 If you're considering starting a dog walking business, one of the key things you need to do is promote your offering. Dog walkers are becoming a more popular and utilised service. But if people don't know you exist then they won't be able to contact you to enlist your services.
This is something individuals with new dog walking services can leave until the last minute. As oftentimes business owners don't realise the groundwork you need to put in and the time it takes to get your business name out there.
It takes a combination of tactics to make sure dog owners in your area find your business. You need to cater to the different ways people receive information, as well as have your brand name positioned in places that dog owners are likely to frequent.
But rest assured, with a little bit of forward planning, you can easily raise your brand awareness. And in a way that provides prospective clients with everything they need to make an informed decision on your services.
To help, we've listed some of the best ways you can promote your dog walking business. So you have the best chance of success when you're starting out and reap the rewards of self-employment.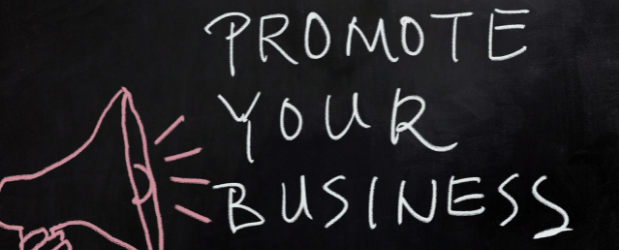 Build a Website
An easy to use, mobile-friendly website with clear and concise information about what you do is highly beneficial. It doesn't have to be incredibly fancy or designed by a professional web developer to provide leads for your business. Content management systems like WordPress provide inexpensive, easy to use website building tools.
These are automatically set to be optimised for mobile which is a prerequisite for websites today. They also have multiple customisation options so you can style it how you want it.
Besides its appearance, it needs to communicate certain things about your business clearly:
Your area of operation
Services offered
Rates for these services
Your contact information
Any insurances you have
The qualifications and certificates you hold
These website tools also enable you to list any client testimonials you've received online. That way, other people new to your business can see the good service you're providing in your area. Enhancing your credibility and making them more confident in their decision to hire you themselves.
Be aware, the free version of WordPress will populate your site with 'relevant' ads. This can impact the professional look you're going for. So it might be worth spending a bit of money to have those ads removed.
You'll also need to pay a small some each year to have the domain you choose (website address) mapped to your site. This will benefit the website's performance considerably and make you look more professional.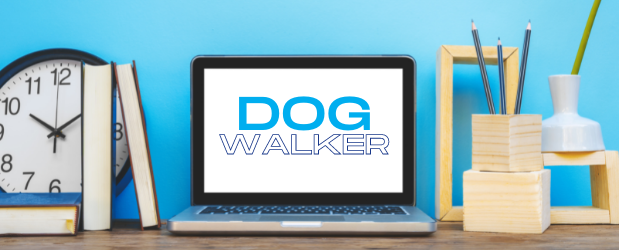 Create Business Listings
Creating a business listing is a useful way to provide detailed business information that will appear in search engine results. Google My Business and Yelp are a great place to start and will help people searching online find out more about you. They are free to use and will help boost your visibility in the local area.
If you have a website for your business, a Google My Business page is an essential component to your business being seen when people search for dog walking services in your area.
Use Social Media
Social media is the preferred method of networking, advertising and promotion for many businesses. Facebook is a great place to start by setting up a company Facebook page. You can use their paid advertising options to reach a wider targeted audience. Or you can promote yourself for free by engaging with users in community groups in your local area.
To start, search for dog related groups in your area and those aimed at connecting people within the local community. These often have rules for participation, so check to make sure how often if at all they allow you to promote your business. Typically they allow for a limited number of posts per month. But, generally, they are happy to help a local business.
You can set up a page for your business itself, but it's also worth interacting as yourself too. Many people incorporate their business into their name like 'John "The Dog Walker" Smith' which can help raise awareness. And being able to put a face to a business name helps build trust and recognition with local dog owners.
On both pages, you can upload pictures of yourself and the dogs you've worked with. Evidencing to those who are looking that you are actively providing dog walking services to others in the area.
Do Flyer Drops
Flyers are a great way to communicate information directly with prospective clients, especially those who don't go online often. And they provide the opportunity to get across important details, as well as give people a feel for your brand identity.
Besides dropping these in letterboxes, you can leave them in places that will have high traffic from your target market. You can visit businesses like veterinary practices, dog grooming parlours, pet supply stores and dog training facilities. Speaking with team members about what you do and asking if they will display some leaflets for you.
You can also pin them up on notice boards at dog parks, within grocery stores and coffee shops. Always check with the owner of the business before leaving flyers.
While flyers are a relatively cheap way of getting your name out there, it's more or less impossible to measure how successful they are. Which means you don't know if the money you've spent has actually generated any business.
The way round this is to include a promotion. Something like 10% off the first month if a code printed on the flyer is quoted at time of booking (remember to include an expiry date). This allows you to track the up take compared to the number of flyers you've distributed.
A simple calacuation to work out the profitability of any campaign you've carried out is as follows:
Cost of printed materials + your time spent distributing flyers multiplied by your hourly rate. This will give you the initial costs. You will also need to factor in any discount you've offered. You can do this either by taking an average or calculating the total discounts given once the offer has expired.
Deduct this from the revenue the campaign generates and that will give you the total revenue generated from that campaign.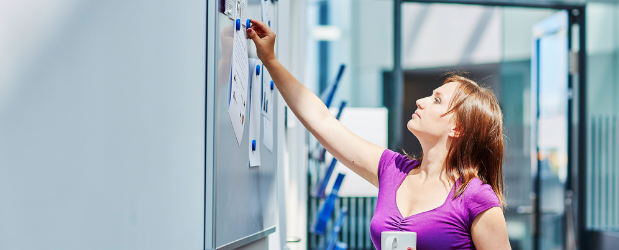 Speak to Other Dog Walkers
This is something new dog walkers don't think of, but speaking with the competition can actually help your new business.
With around 14,800 Google searches a month for "dog walker" in the UK, the demand is high for professionals. The established dog walkers in your area will likely have to refuse new clients when they're at capacity. They will also need someone to cover for them if they're away on holiday or if they are unwell.
Contact the other dog walkers in your area and offer your services should they ever need you. You'll be surprised at how much business this could lead to down the line.
Attend Events
A quick search online will highlight how many dog related events there are in your area. Whether it's dog festivals, humane society fundraisers, dog agility events or costume contests, dog owners will be there in abundance.
You could become an official vendor or sponsor and have a booth or a table set up. That way you can speak to passers-by and have signage that allows them to see what you do from afar. You could also provide coupons and discount vouchers for your services that could be included in goodie bags. Outside of this, you could simply go along and strike up conversations with the people in attendance.
Stalls at events – even without the goodie bags – are often prohibitively expensive. Before you sign up to a stand at any event, make sure you have an idea of average attendance/foot fall. And if possible get any and all sales data they capture so you know that if you invest, you'll get it back and then some.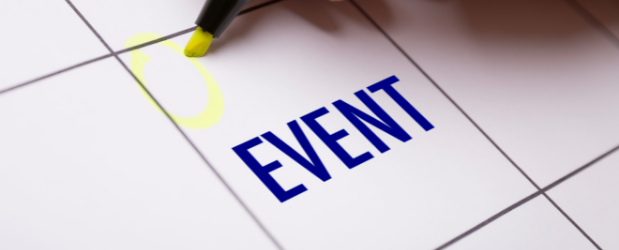 Get Started Online
If you're considering making the move to set up a dog walking business, we can help.
Our online Dog Walking and Pet Sitting for Professionals course is a Level 3 Ofqual and CCEA regulated qualification. Which is perfect for anybody wishing to work with canines in a dog walking or pet-sitting capacity.
You'll learn about the responsibilities of a professional dog walker and the legislation requirements for providing a professional dog service. The modules also cover small business best practice and the basic principles of canine behaviour. Before diving into the requirements of setting up a regulated small animal business and the financial, marketing and operational requirements for a dog walking business.
What's more, the course is studied entirely online. So you can get prepared for your new business venture outside of your current work commitments. You can also spread the cost of your learning with flexible payment options. And you'll receive professional tutor support throughout your learning.
Stonebridge Associated Colleges is one of the leading UK distance learning providers. With many online courses to help you start and add to your dog walking business.
Find out more about how our course can help you get business launch ready by clicking below.