Basic Maths
This course deals with a number of basic mathematical concepts that will be used during your study and/or work life. When you have worked through this unit you will be able to:
Understand the number system and relationships between sizes of objects
Appreciate and work with some basic elements in algebra and algebraic manipulation
Solve simple and simultaneous equations and transpose equations
Apply rounding rules to the results of calculations
Calculate binomial coefficients
Use an extended set of calculator functions
On completion of your course, you will receive two certificates:
Certificate 1 is issued by Stonebridge Associated Colleges: Basic Maths Certificate
Basic Maths Certificate issued by Stonebridge Associated Colleges, to view a sample of the college's award, please click here.
Certificate 2 is issued by ABC Awards: Level 2 Basic Maths Certificate of Achievement
At the end of this course successful learners will receive a Certificate of Achievement from ABC Awards and Certa Awards and a Learner Unit Summary (which lists the components the learner has completed as part of the course).
The course has been endorsed under the ABC Awards and Certa Awards Quality Licence Scheme. This means that Stonebridge Associated Colleges has undergone an external quality check to ensure that the organisation and the courses it offers, meet defined quality criteria. The completion of this course alone does not lead to a regulated qualification* but may be used as evidence of knowledge and skills gained. The Learner Unit Summary may be used as evidence towards Recognition of Prior Learning if you wish to progress your studies in this subject. To this end the learning outcomes of the course have been benchmarked at Level 2 against level descriptors published by Ofqual, to indicate the depth of study and level of demand/complexity involved in successful completion by the learner.
The course itself has been designed by Stonebridge Associated Colleges to meet specific learners' and/or employers' requirements which cannot be satisfied through current regulated qualifications. ABC Awards & Certa Awards endorsement involves robust and rigorous quality audits by external auditors to ensure quality is continually met. A review of courses is carried out as part of the endorsement process.
*Regulated qualification refers to those qualifications that are regulated by Ofqual / CCEA / Qualification Wales
To view a sample of the ABC Certificate of Achievement, please click here.
Requirements for Entry
There is no experience or previous qualifications required for enrolment on this course. It is available to all students, of all academic backgrounds.
Who are ABC Awards and Certa Awards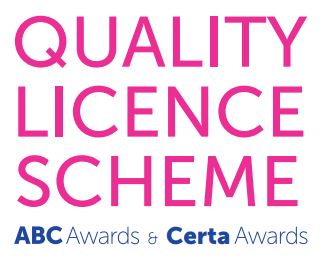 ABC Awards and Certa Awards have long-established reputations for providing high quality vocational qualifications across a wide range of industries. ABC Awards and Certa Awards combine over 180 years of expertise combined with a responsive, flexible and innovative approach to the needs of our customers.
Renowned for excellent customer service, and quality standards, ABC Awards and Certa Awards also offer regulated qualifications for all ages and abilities post-14; all are developed with the support of relevant stakeholders to ensure that they meet the needs and standards of employers across the UK.
Professional Membership
On completion of this course you will be eligible to join the following Professional Associations(s):
Stonebridge is a full BILD Member
The BILD exists to promote quality and best practice in open, flexible and distance forms of learning throughout the education and training sectors of the UK. It is the national cross sector association for open learning drawing its membership from the key areas of open and flexible learning.
The BILD is recognised as one of the leading organisations promoting quality and best practice in open learning in the UK.
Visit the BILD website at www.thebild.org
Stonebridge Associated Colleges is an Organisation Member of the Association for Coaching

The Association for Coaching is an independent non profit organisation with the goal to promote best practice, raise awareness and standards across the Coaching industry, while providing value added benefits to its members - whether they are professional Coaches or Organisations involved in Coaching.
Association for Coaching
66 Church Road
London W7 1LB
United Kingdom
Visit their website at
www.associationforcoaching.com.
Anyone who is studying for or has completed a course endorsed by an Ofqual approved awarding body is eligible to join Qualifications Register. The Qualifications Register (QR) is an independent register that aims to serve both members of the public and those professionals who hold recognised qualifications.
QR's primary aim is to provide transparency to members of the public and employers. The QR is a searchable database that allows them to find a practitioner and view the relevant qualification and endorsements the practitioner holds. The member of the public is then able to make an informed decision in relation to the suitability of the practitioner. QR also tracks whether practitioners have insurance, again something that is useful for members of the public. QR can also help professionals gain insurance or find professional indemnity cover. Click here to find out more.
Members of the public can check an independent source with complete confidence that the practitioner has the qualification(s) they claim to have and that any additional CPD the practitioner has, is verified and quality assured to make sure that the CPD is being done on a regular basis. QR tracks a practitioners endorsed CPD (in unison with our CPD accreditation partner Lifetime Awarding) and other key signals to help members of the public and employers to come to a more informed decision about the professional they intend to use. This is an enormously valuable signal that's increasingly important as business becomes more deregulated and privatised.
For practitioners QR helps you market your skills, endorsements and feedback transparently to a wider audience. It also gives you access to a community to help make you more able to progress and succeed in your field of expertise. Click here to find out more.
Section 1 - Numbers
Our Number System
The Number Line
Counting Numbers
Parts of Counting Numbers
Rounding
Comparisons of Numbers
Percentages
Summary
Section 2 - Algebra
Letters for Numbers
Indices, Powers and Exponents
Basic Rules for Products Involving Indices
Sequence of Operations
Directed (or Signed) Numbers
Manipulating Arithmetic Fractions
Multiplication and Division in Algebra
Use of Brackets
Summary
Section 3 - Equations and Coefficients
Simple Equations
Changing the Subject of a Formula
Simultaneous Equations
Expanding Brackets
Coefficients
Inequalities
Summary
Section 4 - Using a Calculator
Basic Calculations
The Square Root Function
The Square Function
The General Power Function
The Factorial Function
The Scientific Notation
Use of the Memory Facility
Combination of Functions
Summary
What's Included
All study materials
Study Guide
Full Tutor and Admin support
The course fee includes the awarding body registration and certification fee (valued at up to £30.00).