Beauty Therapist Level 3 - Principles
"How long you live rests largely in your own hands. So does how well you live, how much vitality you have and how good you will look in twenty years' time." Leslie Kenton, Ageless Ageing - The Natural Way to Stay Young.
About Beauty Therapy
Beauty therapy is the art and science of making people look and feel better. Beauty therapists use a variety of face and body treatments and techniques to make their clients feel good and look their best. Today's high standards of technology used in the production of beauty products mean that real improvements can be made.
About Our Beauty Therapist Course
The beauty therapist with the correct qualifications will be able to advise clients about skin and body care. Our Beauty Therapist course covers the knowledge essential to being a professional and effective beauty therapist; from anatomy and physiology to hygiene, and from consultation procedures to techniques and treatments.
What Could I Do After Taking This Beauty Therapy Course?
Beauty therapists are "redundancy proof" and always in demand with plenty of opportunity to continue professional development and take up other related therapies. Our beauty training courses will set you on the right path.
Build your career. If you wish to build your beauty therapy career, you could continue your training and education to become a fully qualified beauty therapist, earning an average of £19,000*/year. You could even work toward opening your own beauty salon.
*Source: totaljobs.com, Oct. 2012
On completion of your course, you will receive two certificates:
Certificate 1 is issued by Stonebridge Associated Colleges: Beauty Therapist Level 3 - Principles Diploma
Beauty Therapist Level 3 - Principles Diploma issued by Stonebridge Associated Colleges, to view a sample of the college's award, please click here.
Certificate 2 is issued by ABC Awards: Level 3 Beauty Therapist Level 3 - Principles Certificate of Achievement
At the end of this course successful learners will receive a Certificate of Achievement from ABC Awards and Certa Awards and a Learner Unit Summary (which lists the components the learner has completed as part of the course).
The course has been endorsed under the ABC Awards and Certa Awards Quality Licence Scheme. This means that Stonebridge Associated Colleges has undergone an external quality check to ensure that the organisation and the courses it offers, meet defined quality criteria. The completion of this course alone does not lead to a regulated qualification* but may be used as evidence of knowledge and skills gained. The Learner Unit Summary may be used as evidence towards Recognition of Prior Learning if you wish to progress your studies in this subject. To this end the learning outcomes of the course have been benchmarked at Level 3 against level descriptors published by Ofqual, to indicate the depth of study and level of demand/complexity involved in successful completion by the learner.
The course itself has been designed by Stonebridge Associated Colleges to meet specific learners' and/or employers' requirements which cannot be satisfied through current regulated qualifications. ABC Awards & Certa Awards endorsement involves robust and rigorous quality audits by external auditors to ensure quality is continually met. A review of courses is carried out as part of the endorsement process.
*Regulated qualification refers to those qualifications that are regulated by Ofqual / CCEA / Qualification Wales
To view a sample of the ABC Certificate of Achievement, please click here.
Requirements for Entry
There is no experience or previous qualifications required for enrolment on this course. It is available to all students, of all academic backgrounds.
Who are ABC Awards and Certa Awards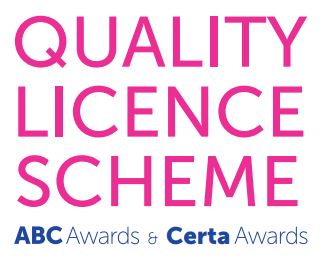 ABC Awards and Certa Awards have long-established reputations for providing high quality vocational qualifications across a wide range of industries. ABC Awards and Certa Awards combine over 180 years of expertise combined with a responsive, flexible and innovative approach to the needs of our customers.
Renowned for excellent customer service, and quality standards, ABC Awards and Certa Awards also offer regulated qualifications for all ages and abilities post-14; all are developed with the support of relevant stakeholders to ensure that they meet the needs and standards of employers across the UK.
Professional Membership
On completion of this course you will be eligible to join the following Professional Associations(s):
Stonebridge Associated Colleges is a CMA Registered Centre of Excellence.
Visit the CMA website by clicking here.
Anyone who is studying for or has completed a course endorsed by an Ofqual approved awarding body is eligible to join Qualifications Register. The Qualifications Register (QR) is an independent register that aims to serve both members of the public and those professionals who hold recognised qualifications.
QR's primary aim is to provide transparency to members of the public and employers. The QR is a searchable database that allows them to find a practitioner and view the relevant qualification and endorsements the practitioner holds. The member of the public is then able to make an informed decision in relation to the suitability of the practitioner. QR also tracks whether practitioners have insurance, again something that is useful for members of the public. QR can also help professionals gain insurance or find professional indemnity cover. Click here to find out more.
Members of the public can check an independent source with complete confidence that the practitioner has the qualification(s) they claim to have and that any additional CPD the practitioner has, is verified and quality assured to make sure that the CPD is being done on a regular basis. QR tracks a practitioners endorsed CPD (in unison with our CPD accreditation partner Lifetime Awarding) and other key signals to help members of the public and employers to come to a more informed decision about the professional they intend to use. This is an enormously valuable signal that's increasingly important as business becomes more deregulated and privatised.
For practitioners QR helps you market your skills, endorsements and feedback transparently to a wider audience. It also gives you access to a community to help make you more able to progress and succeed in your field of expertise. Click here to find out more.
"The Affiliation of Ethical & Professional Therapists is dedicated in assisting you as a member, in the promotion and growth of your practice. Your profile will be entered onto our website and each month you will receive a free e-zine full of business tips and valuable information".
For further details please visit, www.aept.co.uk
Unit 1: Anatomy and Physiology - Body Systems
Learning Outcomes:
Explore the body systems and organs of the human body
Investigate the functions of the skin
Evaluate cells and tissues with regard to sweat glands and maintenance of body temperature
Unit 2: Anatomy and Physiology - Skin, Cells and Tissues
Learning Outcomes:
Describe the main function and Structure of cells and Tissues
Describe the contents of the two main layers of the skin
Analyse the functions of nerve endings
Unit 3: The Beauty Gateway
Learning Outcomes:
Understand the Total Beauty Business structure and strategies for success
Examine the power of promotion and welcoming growth opportunities
Understand how to establish unique points of difference
Understand the Importance of effective team performance
Unit 4: Service Experience
Learning Outcomes:
Understand how to effectively care for clients
Identify essential service standards and adapt to clients expectations
Understand positive communication and body language
Explain the Client Journey and the personalised experience approach
Unit 5: Interesting Consultations
Learning Outcomes:
Understand the purpose of the consultation process
Outline how to conduct a beauty and Lifestyle consultation
Summarise a Dietary and Figure Diagnosis
Understand completion and recommendation possibilities following a consultation
Unit 6: Advanced Body Massage
Learning Outcomes:
Explore the major principles of massage
Analyse the benefits of massage
Describe the classifications of massage and advanced massage manipulations
Unit 7: Diet and Lifestyle
Learning Outcomes:
Understand the principles of Nutrition and the basic metabolic rate
Outline the importance of vitamins to the body
Explain the functions of fat and water soluble vitamins
Unit 8: Nutrition
Learning Outcomes:
Understand the importance of water for the human body
Explore the uses of Calcium and Phosphorus
Demonstrate the importance of Sodium
Unit 9: Advanced Skin Care
Learning Outcomes:
Understand the stages of the skin care routine
Examine the benefits of a professional facial
Understand product selection for skin condition improvement
Unit 10: The Anti-Ageing Process
Learning Outcomes:
Describe the ageing process
Analyse the effects of a range of factors that speed up the ageing process
Analyse the effects of a range of factors that slow down the ageing process
Unit 11: The Holistic Approach
Learning Outcomes:
Understand the meaning of the term Holistic
Understand how to create a holistic environment
Describe how to encourage holistic practices in the workplace
Unit 12: The Spa Experience
Learning Outcomes:
Understand the benefits of heat experiences before spa services
Describe the stages of spa treatment design
Understand the business benefits of creating spa services
Unit 13: Advanced Service Awareness
Learning Outcomes:
Understand Service Standards
Summarise preparation procedures for welcoming a client and avoiding disappointment
Understand the process of complaint management
Unit 14: Advanced Therapies
Learning Outcomes:
Understand electro therapy face and body service benefits
Explain benefits of having alternative healing therapies knowledge
Understand how to promote experience treatments
Unit 15: Sterilisation
Learning Outcomes:
Understand the autoclave sterilisation method
Explore the use of ultra-violet rays as a sterilisation method
Investigate chemical methods used for sterilisation
Unit 16: Starting Your Business
Learning Outcomes:
Investigate strategies that can be used to exploit business growth areas
Explore the factors that need to be considered when determining whether or not to set up a practice
Describe how to objectively assess the evaluation
What's Included
All study materials
Study Guide
Full Tutor and Admin support
The course fee includes the awarding body registration and certification fee (valued at up to £30.00).