Business Economics Professional
What is economics about? Economics is the problem of using the available resources as efficiently as possible so as to achieve the maximum fulfilment of society's unlimited demand for goods and services. The ultimate purpose of economic endeavour is to satisfy human wants for goods and services.
The problem is that whereas wants are virtually without limit, the resources - natural resources, labour and capital (machinery) - available at any one time to produce goods and services are limited in supply. Resources are scarce. This fact of scarcity means that we must always be making choices about what to produce, how to produce it and for whom.
Decisions must be made so that these scarce resources are allocated optimally or efficiently to their end use. This implies they could not be used more beneficially elsewhere. This is the criterion economists use to judge many economic phenomenon and is the focus of our study of the economic approaches to organisations.
On completion of your course, you will receive two certificates:
Certificate 1 is issued by Stonebridge Associated Colleges: Business Economics Professional Diploma
Business Economics Professional Diploma issued by Stonebridge Associated Colleges, to view a sample of the college's award, please click here.
Certificate 2 is issued by ABC Awards: Level 4 Business Economics Professional Certificate of Achievement
At the end of this course successful learners will receive a Certificate of Achievement by ABC Awards and a Learner Unit Summary (which lists the details of all the units you have completed as part of your course).
The course has been endorsed under the ABC Awards' Quality Licence Scheme. This means that Stonebridge Associated Colleges have undergone an external quality check to ensure that the organisation and the courses it offers, meet certain quality criteria. The completion of this course alone does not lead to an Ofqual regulated qualification but may be used as evidence of knowledge and skills towards regulated qualifications in the future. The unit summary can be used as evidence towards Recognition of Prior Learning if you wish to progress your studies in this sector. To this end the learning outcomes of the course have been benchmarked at Level 4 against level descriptors published by Ofqual, to indicate the depth of study and level of difficulty involved in successful completion by the learner.
The course itself has been designed by Stonebridge Associated Colleges to meet specific learners' or employers' requirements. ABC Awards' endorsement involves a robust and rigorous quality audit by external inspectors to ensure quality is consistently met. A regular review of courses is carried out as part of the endorsement process.
To view a sample of the ABC Certificate of Achievement, please click here.
To view a sample of the ABC Learner Unit Summary, please click here.
Requirements for Entry
There is no experience or previous qualifications required for enrolment on this course. It is available to all students, of all academic backgrounds.
Who are ABC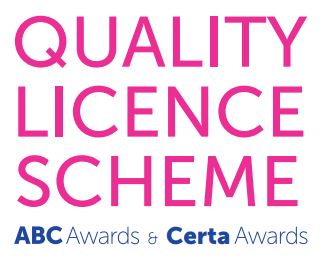 ABC Awards is a leading national Awarding Organisation, regulated by Ofqual, and the Welsh Government[1]. They have a comprehensive portfolio of over 650 Ofqual regulated qualifications on the national Qualifications and Credit framework (QCF). It has a long-established reputation for developing and awarding high quality vocational qualifications across a wide range of industries. As a registered charity, ABC Awards combines 180 years of examination and assessment expertise but also implements a responsive, flexible and innovative approach to the needs of our customers.
Renowned for excellent customer service, and quality standards, ABC Awards also offers over 600 Ofqual regulated qualifications for all ages and abilities post-14; all are developed with the support of relevant stakeholders to ensure that they meet the needs and standards of employers across the UK.
For more info on our awarding body, ABC awards, click here
Professional Membership
On completion of this course you will be eligible to join the following Professional Associations(s):
Anyone who is studying for or has completed a course endorsed by an Ofqual approved awarding body is eligible to join Qualifications Register. The Qualifications Register (QR) is an independent register that aims to serve both members of the public and those professionals who hold recognised qualifications.
QR's primary aim is to provide transparency to members of the public and employers. The QR is a searchable database that allows them to find a practitioner and view the relevant qualification and endorsements the practitioner holds. The member of the public is then able to make an informed decision in relation to the suitability of the practitioner. QR also tracks whether practitioners have insurance, again something that is useful for members of the public. QR can also help professionals gain insurance or find professional indemnity cover. Click here to find out more.
Members of the public can check an independent source with complete confidence that the practitioner has the qualification(s) they claim to have and that any additional CPD the practitioner has, is verified and quality assured to make sure that the CPD is being done on a regular basis. QR tracks a practitioners endorsed CPD (in unison with our CPD accreditation partner Lifetime Awarding) and other key signals to help members of the public and employers to come to a more informed decision about the professional they intend to use. This is an enormously valuable signal that's increasingly important as business becomes more deregulated and privatised.
For practitioners QR helps you market your skills, endorsements and feedback transparently to a wider audience. It also gives you access to a community to help make you more able to progress and succeed in your field of expertise. Click here to find out more.
Unit 1: Perspectives on the Economic Approaches to Organisation
Introduction
Objectives
The economic problem
The basic concepts
Markets and organisations
Information
Summary
References
Further reading
Unit 2: Co-ordination through the Market Mechanism
Introduction
Objectives
Determinants of demand
Determinants of supply
Theory of demand
Theory of production
Microeconomic theory
Market failure
Summary
References
Further reading
Unit 3: Organisational Co-ordination
Introduction
Objectives
The firm
Organisational co-ordination
Organisational configurations
Review activity
Summary
References
Further reading
Unit 4: Information and Co-ordination Mechanisms
Introduction
Objectives
Co-ordination and information
Uncertainty and contracting
Informational asymmetry
Adverse selection and moral hazard
Value of information
Summary
References
Further reading
Unit 5: Game Theory
Introduction
Objectives
Methodological backdrop
One- and two-shot games
Auctions
The prisoner's dilemma: single stage
Repeated games in the prisoner's dilemma
Review activity
Summary
References
Further reading
Unit 6: Agency Theory
Introduction
Objectives
A firm's relationships
Positive theory of agency
Entrepreneurial firms and team production
The firm as a nexus of contracts
Theory of principal and agent
The agency contract
Second-best efficient contract
Modifications to the principal-agent model
Summary
References
Further reading
Unit 7: Transaction Cost Economics
Introduction
Objectives
Markets and organisations
An example of transaction cost economics
Transaction costs
Critical dimensions of transactions
Fundamental transformation and the hold-up problem
Organisational structures
Complex hierarchies
Markets and hierarchies: is that all?
Hybrid forms of co-ordination
Summary
References
Further reading
For a more detailed syllabus on this course, click here
What's Included
All study materials
Study Guide
Full Tutor and Admin support
The course fee includes the awarding body registration and certification fee (valued at up to £30.00).