Child Psychology
Child psychologist courses are a field of psychology that specialises in understanding the development and mental health of children. Using common psychology theories to describe child development, and exploring tactics suitable to addressing mental health issues, this course is an excellent option for anyone looking for a career in youth counselling, child development, child health and well-being, or child psychology.
This child psychology course is a rich resource that will allow you to gain insight into some of the most popular psychological concepts, such as the theory of attachment, Piaget's theory of cognitive development, Freud's psycho-dynamic theory, forms of play and learning theory. It also explores more practical concepts like principles in research methods, data collection and interpretation and applicable methods to drive behavioural changes.
Who should study this course?
An online child psychology course is an ideal home-learning option for any parent or professional in childcare who has an interest in healthy child development. It is just as good of an option for practising therapists who would like to add child psychology to their area of interest.
There are no prior requirements for this online course. You can enrol and start studying child psychology straight away, regardless of your academic qualifications or professional background.
What happens after the course?
By the end of this course, you will have a great understanding of child psychology and its theoretical background, as well as the practical insight of how to apply these notions in real-life counselling.
You can choose to complement your learning with other psychology or counselling courses, or you can choose an Access to HE Diploma in Social Sciences with a psychology pathway, which will prepare you for a degree in child psychology.
Typical career paths in the field of child psychology include:
Educational and Child Psychologist
Clinical Family Therapist
Specialised Child and Adolescent Psychologist
On completion of your course, you will receive two certificates:
Certificate 1 is issued by Stonebridge Associated Colleges: Child Psychology Diploma
Child Psychology Diploma issued by Stonebridge Associated Colleges, to view a sample of the college's award, please click here.
Certificate 2 is issued by ABC Awards: Level 4 Child Psychology Certificate of Achievement
At the end of this course successful learners will receive a Certificate of Achievement from ABC Awards and Certa Awards and a Learner Unit Summary (which lists the components the learner has completed as part of the course).
The course has been endorsed under the ABC Awards and Certa Awards Quality Licence Scheme. This means that Stonebridge Associated Colleges has undergone an external quality check to ensure that the organisation and the courses it offers, meet defined quality criteria. The completion of this course alone does not lead to a regulated qualification* but may be used as evidence of knowledge and skills gained. The Learner Unit Summary may be used as evidence towards Recognition of Prior Learning if you wish to progress your studies in this subject. To this end the learning outcomes of the course have been benchmarked at Level 4 against level descriptors published by Ofqual, to indicate the depth of study and level of demand/complexity involved in successful completion by the learner.
The course itself has been designed by Stonebridge Associated Colleges to meet specific learners' and/or employers' requirements which cannot be satisfied through current regulated qualifications. ABC Awards & Certa Awards endorsement involves robust and rigorous quality audits by external auditors to ensure quality is continually met. A review of courses is carried out as part of the endorsement process.
*Regulated qualification refers to those qualifications that are regulated by Ofqual / CCEA / Qualification Wales
To view a sample of the ABC Certificate of Achievement, please click here.
Requirements for Entry
There is no experience or previous qualifications required for enrolment on this course. It is available to all students, of all academic backgrounds.
Who are ABC Awards and Certa Awards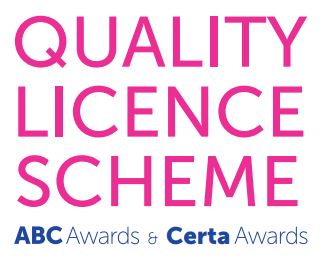 ABC Awards and Certa Awards have long-established reputations for providing high quality vocational qualifications across a wide range of industries. ABC Awards and Certa Awards combine over 180 years of expertise combined with a responsive, flexible and innovative approach to the needs of our customers.
Renowned for excellent customer service, and quality standards, ABC Awards and Certa Awards also offer regulated qualifications for all ages and abilities post-14; all are developed with the support of relevant stakeholders to ensure that they meet the needs and standards of employers across the UK.
Professional Membership
On completion of this course you will be eligible to join the following Professional Associations(s):
Anyone who is studying for or has completed a course endorsed by an Ofqual approved awarding body is eligible to join Qualifications Register. The Qualifications Register (QR) is an independent register that aims to serve both members of the public and those professionals who hold recognised qualifications.
QR's primary aim is to provide transparency to members of the public and employers. The QR is a searchable database that allows them to find a practitioner and view the relevant qualification and endorsements the practitioner holds. The member of the public is then able to make an informed decision in relation to the suitability of the practitioner. QR also tracks whether practitioners have insurance, again something that is useful for members of the public. QR can also help professionals gain insurance or find professional indemnity cover. Click here to find out more.
Members of the public can check an independent source with complete confidence that the practitioner has the qualification(s) they claim to have and that any additional CPD the practitioner has, is verified and quality assured to make sure that the CPD is being done on a regular basis. QR tracks a practitioners endorsed CPD (in unison with our CPD accreditation partner Lifetime Awarding) and other key signals to help members of the public and employers to come to a more informed decision about the professional they intend to use. This is an enormously valuable signal that's increasingly important as business becomes more deregulated and privatised.
For practitioners QR helps you market your skills, endorsements and feedback transparently to a wider audience. It also gives you access to a community to help make you more able to progress and succeed in your field of expertise. Click here to find out more.
Module One Major Developmental Issues
Unit One: The First Year of Life
Infant reflexes; Social development during the first year of life including the social smile and onset of fear of strangers.
Unit Two: The Formation of Attachments
Imprinting; Attachment (Bowlby) including cross-cultural studies; Harlow and surrogate mothers; Relevance of animal studies in child development.
Unit Three: Consequences of Breakdowns in Attachments
Maternal deprivation; Implications of theories of attachment and maternal deprivation when placing children with surrogates.
Unit Four: The Home, Family and School
Group vs family care and studies of effects of maternal employment and father absent families; Importance of peers and siblings.
Unit Five: Basic Principles of Research Methods
Nature and purpose of research, what is an experiment, supporting and refuting hypotheses, independent and dependent variables, control of variables, standardised instructions and procedures, methods of sampling, design of investigations.
Unit Six: The Development of Visual Perception
Introduction to the nature/nurture debate on visual perception; Fantz - form perception; Gibson and Walk - depth perception; how the physiology of the human visual system helps us judge depth and distance; Bower - size constancy; animal experiments on early sensory deprivation.
Unit Seven: The Development of Language and Communication
Development of non-verbal communication in humans, gestures etc; comparisons with non-human primates; outline of language development in humans; including naturalistic observational in humans; including naturalistic observational studies and criticisms of these; Innate and reinforcement theories.
Unit Eight: Intelligence and Intelligence Testing
Definitions of intelligence; mental age and IQ; Tests of intelligence; Advantages and disadvantages of IQ testing.
Unit Nine: The Nature/Nurture Debate in the Study of Intelligence
Twins studies; stability of IQ; Are early experiences decisive for later development?
Unit Ten: Data Collection and Interpretation
Tables and histograms, correlation and scattergrams; Mean; Range; Drawing conclusions from data.
Module Two The Child as an Individual
Unit Eleven: How Children Think
Piaget's theory of cognitive development; including studies of egocentrism and criticisms of his work.
Unit Twelve: Learning Theory - How Behaviour is Acquired
Learning and conditioning - classical conditioning and operant conditioning; including explanations of extinction, discrimination and generalisation; positive and negative reinforcement; Social Learning Theory and criticisms.
Unit Thirteen: Freud's Psychodynamic Theory - An Alternative Approach
Personality structure, 5 stage theory, criticisms.
Unit Fourteen: Moral Development
Definition in psychological terms; investigation of moral behaviour, moral feelings and moral judgement.
Unit Fifteen: The Development of Gender Roles
Sex-typing; Gender identity; Biological, social and cultural theories.
Unit Sixteen: Aggression in Children
Biological basis of aggression; Psychological theory and aggression; Aggression as a learned response;
Imitation of aggression; viewing violence; Punishment for aggression; sex differences in aggression.
Unit Seventeen: Methods Used in Child Development Research
Observational, Survey, Correlational, Experimental - advantages and disadvantages.
Unit Eighteen: Play
The importance of play to learning;
Piaget's theory of play; forms of play;
Relevance of psychological theories to pre-school education;Play and learning in nursery schools; Play therapy.
Unit Nineteen: Learning in School
Programmed learning and its relationship to learning theory - advantages and disadvantages; Discovery learning and its effectiveness.
Unit Twenty: Behaviour Modification
Explanation and examples; Relationship to learning theory; Points systems, Advantages and disadvantages.
For a more detailed syllabus on this course, click here
What's Included
All study materials
Study Guide
Full Tutor and Admin support
The course fee includes the awarding body registration and certification fee (valued at up to £30.00).