Children and Computers
Computers, once the property of relatively few, are now common in many homes. It is only natural that as parents we want to provide the best opportunities we can for our children.

The problem for many of us is that computers were not part of our childhood and we are not quite sure how to use them in the best possible way to help our children.
On completion of your course, you will receive two certificates:
Certificate 1 is issued by Stonebridge Associated Colleges: Children and Computers Diploma
Children and Computers Diploma issued by Stonebridge Associated Colleges, to view a sample of the college's award, please click here.
Certificate 2 is issued by ABC Awards: Level 3 Children and Computers Certificate of Achievement
At the end of this course successful learners will receive a Certificate of Achievement from ABC Awards and Certa Awards and a Learner Unit Summary (which lists the components the learner has completed as part of the course).
The course has been endorsed under the ABC Awards and Certa Awards Quality Licence Scheme. This means that Stonebridge Associated Colleges has undergone an external quality check to ensure that the organisation and the courses it offers, meet defined quality criteria. The completion of this course alone does not lead to a regulated qualification* but may be used as evidence of knowledge and skills gained. The Learner Unit Summary may be used as evidence towards Recognition of Prior Learning if you wish to progress your studies in this subject. To this end the learning outcomes of the course have been benchmarked at Level 3 against level descriptors published by Ofqual, to indicate the depth of study and level of demand/complexity involved in successful completion by the learner.
The course itself has been designed by Stonebridge Associated Colleges to meet specific learners' and/or employers' requirements which cannot be satisfied through current regulated qualifications. ABC Awards & Certa Awards endorsement involves robust and rigorous quality audits by external auditors to ensure quality is continually met. A review of courses is carried out as part of the endorsement process.
*Regulated qualification refers to those qualifications that are regulated by Ofqual / CCEA / Qualification Wales
To view a sample of the ABC Certificate of Achievement, please click here.
Requirements for Entry
There is no experience or previous qualifications required for enrolment on this course. It is available to all students, of all academic backgrounds.
Who are ABC Awards and Certa Awards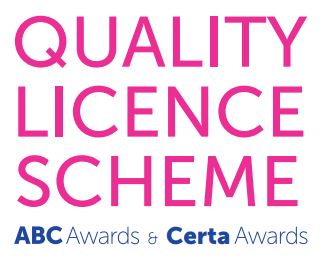 ABC Awards and Certa Awards have long-established reputations for providing high quality vocational qualifications across a wide range of industries. ABC Awards and Certa Awards combine over 180 years of expertise combined with a responsive, flexible and innovative approach to the needs of our customers.
Renowned for excellent customer service, and quality standards, ABC Awards and Certa Awards also offer regulated qualifications for all ages and abilities post-14; all are developed with the support of relevant stakeholders to ensure that they meet the needs and standards of employers across the UK.
Professional Membership
On completion of this course you will be eligible to join the following Professional Associations(s):
Anyone who is studying for or has completed a course endorsed by an Ofqual approved awarding body is eligible to join Qualifications Register. The Qualifications Register (QR) is an independent register that aims to serve both members of the public and those professionals who hold recognised qualifications.
QR's primary aim is to provide transparency to members of the public and employers. The QR is a searchable database that allows them to find a practitioner and view the relevant qualification and endorsements the practitioner holds. The member of the public is then able to make an informed decision in relation to the suitability of the practitioner. QR also tracks whether practitioners have insurance, again something that is useful for members of the public. QR can also help professionals gain insurance or find professional indemnity cover. Click here to find out more.
Members of the public can check an independent source with complete confidence that the practitioner has the qualification(s) they claim to have and that any additional CPD the practitioner has, is verified and quality assured to make sure that the CPD is being done on a regular basis. QR tracks a practitioners endorsed CPD (in unison with our CPD accreditation partner Lifetime Awarding) and other key signals to help members of the public and employers to come to a more informed decision about the professional they intend to use. This is an enormously valuable signal that's increasingly important as business becomes more deregulated and privatised.
For practitioners QR helps you market your skills, endorsements and feedback transparently to a wider audience. It also gives you access to a community to help make you more able to progress and succeed in your field of expertise. Click here to find out more.
UNIT ONE: INTRODUCTION
Why Computers?
Computers in the Home
Computers in Education
Which Computer?
The Unknown Future
New Knowledge and Skills
UNIT TWO: AGES ONE TO TWO
In the Comfort of your Home
The Adult Experience
Computers through a Child's Eyes
All those Buttons Computers are
Child's Play
Laying down the Foundations
Demystifying the Disk
Software for Beginners
Keeping your Sanity
Working with Electricity
Safety First
Making the Rules
UNIT THREE: AGES TWO TO THREE
The Importance of Play
Toddlers Typing
Mental Development and Language Skills
Cause and Effect
Moving from Trial and Error to Deliberate Actions
Menus and Palettes
Software
Using Printers
Types of Printers
Choosing a Printer
Playing on the Computer
UNIT FOUR: AGES THREE TO FOUR
Consolidating Cause and Effect
The Importance of Causality
Turning off the Computer
The Role of Imitation
Cross-Platform Experiences
Making their Mark
Software
UNIT FIVE: AGES FOUR TO FIVE
Logic at Last
Understanding Symbols
The Formation of Concepts
Predicting Responses on Computers
A Personal View of the World
Matching Software to the Child's View
Developing Memory and Recall
Concept Development
Help from Friends
The Need for Explanations
The Expanding Universe
Changing Technology
Mastering the Computer World
Greater Complexity and Competency
Language Development and Computers
The Real and Imagined World
Imagination and Computers
Different Worlds
UNIT SIX: AGES FIVE TO EIGHT
School and Home Computer Use
In the Future
Increased Attention and Increased Complexity
Provide Alternatives
Explanations
Avoid Anxiety
Talking when they Work
When Play Becomes Work
Going it Alone
UNIT SEVEN: READING, WRITING AND MATHEMATICS
Beware the Software
Integrated Software for Writing
Word Processing Software
Little Publishers
Collaborative Writing
Editing, Design and Importing Graphics
Photo CD-ROMS
Communicating
Reading
Graphics, Sound and Text
Computer Books and CD-ROMs
Mathematics, Space, Measurement and Numbers
Drill and Practice Programs
Alternatives to the Electronic Textbook
UNIT EIGHT: GAMES
Parents' Concerns
The Good, the Bad and the Ugly
Gender Issues
Violence
Sporting Games
Simulations
Integrated Games
Attributes of Good Games
Copy Protection
UNIT NINE: YOUR ROLE
Modelling How to Learn
Modelling and Developing Positive Attitudes
Service and Support
UNIT TEN: DO-IT-YOURSELF SOFTWARE
Use Your Imagination and Theirs
Create Your Own Computer Books
What's Included
All study materials
Study Guide
Full Tutor and Admin support
The course fee includes the awarding body registration and certification fee (valued at up to £30.00).