Diet, Exercise and Fitness
About the Level 3 Diet, Exercise and Fitness Certificate
When it comes to diet, exercise and fitness, it can be hard to know what's best. It certainly doesn't help that the media changes its mind every five minutes. This is why Stonebridge College's Diet, Exercise and Fitness course is so useful. Enrol today and discover everything you need to know about the body and how to effectively look after it.
During this distance learning course, you will learn about anatomy and physiology and discover the structure and functions of the body's 11 physiological systems. You will learn how to effectively plan a fitness training programme and recognise the importance of improving your activity levels. Additionally, you will learn about the digestive system and important vitamins and minerals.
Who should study this course?
This home study course is suitable for individuals with an interest in food, nutrition, sport and exercise. Whether you plan to improve your own knowledge of dietetics, or offer others physical training, this online qualification can help you achieve your goals.
You do not need any prior qualifications or experience to enrol on this exercise and fitness course. At Stonebridge, all we ask is that you have an interest in the topic and the motivation to independently complete the home learning modules.
What happens after the course?
On successful completion of this course, you may choose to further your education and study more fitness courses online. You may even choose to take your studies to the next level and study nutrition, sports science or another related course at university.
Alternatively, you may choose to enter employment straight away. Health and fitness is important in all employment sectors. Therefore, there are many jobs in which the skills you learn on this course will come in useful. These include but are not limited to:
Personal trainer
Gym employee
Healthcare assistant
For more information about this course, give us a call on this number: 0121 392 8288
On completion of your course, you will receive two certificates:
Certificate 1 is issued by Stonebridge Associated Colleges: Diet, Exercise and Fitness Diploma
Diet, Exercise and Fitness Diploma issued by Stonebridge Associated Colleges, to view a sample of the college's award, please click here.
Certificate 2 is issued by ABC Awards: Level 3 Diet, Exercise and Fitness Certificate of Achievement
At the end of this course successful learners will receive a Certificate of Achievement from ABC Awards and Certa Awards and a Learner Unit Summary (which lists the components the learner has completed as part of the course).
The course has been endorsed under the ABC Awards and Certa Awards Quality Licence Scheme. This means that Stonebridge Associated Colleges has undergone an external quality check to ensure that the organisation and the courses it offers, meet defined quality criteria. The completion of this course alone does not lead to a regulated qualification* but may be used as evidence of knowledge and skills gained. The Learner Unit Summary may be used as evidence towards Recognition of Prior Learning if you wish to progress your studies in this subject. To this end the learning outcomes of the course have been benchmarked at Level 3 against level descriptors published by Ofqual, to indicate the depth of study and level of demand/complexity involved in successful completion by the learner.
The course itself has been designed by Stonebridge Associated Colleges to meet specific learners' and/or employers' requirements which cannot be satisfied through current regulated qualifications. ABC Awards & Certa Awards endorsement involves robust and rigorous quality audits by external auditors to ensure quality is continually met. A review of courses is carried out as part of the endorsement process.
*Regulated qualification refers to those qualifications that are regulated by Ofqual / CCEA / Qualification Wales
To view a sample of the ABC Certificate of Achievement, please click here.
Requirements for Entry
There is no experience or previous qualifications required for enrolment on this course. It is available to all students, of all academic backgrounds.
Who are ABC Awards and Certa Awards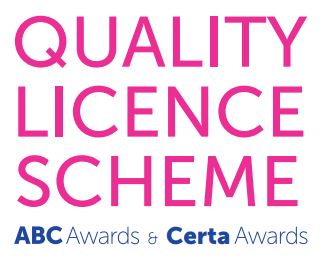 ABC Awards and Certa Awards have long-established reputations for providing high quality vocational qualifications across a wide range of industries. ABC Awards and Certa Awards combine over 180 years of expertise combined with a responsive, flexible and innovative approach to the needs of our customers.
Renowned for excellent customer service, and quality standards, ABC Awards and Certa Awards also offer regulated qualifications for all ages and abilities post-14; all are developed with the support of relevant stakeholders to ensure that they meet the needs and standards of employers across the UK.
Professional Membership
On completion of this course you will be eligible to join the following Professional Associations(s):
Anyone who is studying for or has completed a course endorsed by an Ofqual approved awarding body is eligible to join Qualifications Register. The Qualifications Register (QR) is an independent register that aims to serve both members of the public and those professionals who hold recognised qualifications.
QR's primary aim is to provide transparency to members of the public and employers. The QR is a searchable database that allows them to find a practitioner and view the relevant qualification and endorsements the practitioner holds. The member of the public is then able to make an informed decision in relation to the suitability of the practitioner. QR also tracks whether practitioners have insurance, again something that is useful for members of the public. QR can also help professionals gain insurance or find professional indemnity cover. Click here to find out more.
Members of the public can check an independent source with complete confidence that the practitioner has the qualification(s) they claim to have and that any additional CPD the practitioner has, is verified and quality assured to make sure that the CPD is being done on a regular basis. QR tracks a practitioners endorsed CPD (in unison with our CPD accreditation partner Lifetime Awarding) and other key signals to help members of the public and employers to come to a more informed decision about the professional they intend to use. This is an enormously valuable signal that's increasingly important as business becomes more deregulated and privatised.
For practitioners QR helps you market your skills, endorsements and feedback transparently to a wider audience. It also gives you access to a community to help make you more able to progress and succeed in your field of expertise. Click here to find out more.
Introduction
Define health, activity, and fitness
Discuss the health risks of an inactive lifestyle and poor diet
Name and describe five components of fitness
Improving Fitness and Activity
Demonstrate an awareness of the obesity epidemic currently affecting industrialized nations
Discuss the importance of setting SMART goals
Identify barriers to maintaining an exercise routine
Plan ways to improve adherence to an exercise program
Measurement in Health and Fitness
Identify reasons to measure activity and fitness
Name tests for each aspect of physical fitness
Discuss tests for health variables including activity and blood pressure
Take precautions to ensure that tests are carried out in a consistent way
Planning a Fitness and Training Program
Name the principles of training
Understand the FITT Principle
Show awareness of the three energy systems
Use RPE to prescribe exercise intensity
Prescribe exercise following the FITT principle
Safety in Exercise
Talk about the importance of pre-exercise questionnaires
Describe the importance of a warm-up and cool-down
Recognise different types of injuries
Discuss safety factors pertaining to the exercise facility and the exercising individual that should be considered in designing a program
Anatomy and Physiology
Name the 11 physiological systems
Describe the structure and function of the:
Skeletal
Muscular
Circulatory
Respiratory
Nervous system
Describe the concept of homeostasis
Energy
List the forms of energy used by the body
Define the terms calorie and Calorie
Know the energy currency of the body
Describe in detail the three macronutrients, their components, and their subtypes
Recognize that cellular pathways convert macronutrients to ATP
The Digestive System
Name the parts of the digestive system, and describe their function
Identify the sites of absorption of the major vitamins and minerals
Discuss digestive enzymes
Name the hormones involved in the control of blood glucose
Vitamins
Discuss the three major functions of vitamins
Identify the function, RDA, and major food sources for each of the 13 vitamins
Mention the risk of toxicity for fat-soluble vitamins compared with water-soluble vitamins
Minerals
Discuss the roles of 7 important vitamins in the body
Identify the role of calcium in bone-building
State the RDA and some major food sources of calcium, phosphorus, magnesium, iron, copper, chromium, and selenium
Discuss the possibility of toxicity for each of these minerals
Supplements
Define the term food supplement
Discuss the risks and benefits of supplementing with certain:
Vitamins
Minerals
Macronutrients
Amino acids
Herbs and other substances
Define the terms antioxidant and free radical in the context of diet and exercise
Exercise and Diet for Chronic Disease Prevention
Discuss the risk factors for, negative health effects of, and dietary and exercise interventions for:
Obesity
Osteoporosis
Cardiovascular disease
Diabetes
Cancer
Describe some positive lifestyle changes that will reduce the risk of many diseases
What's Included
All study materials
Study Guide
Full Tutor and Admin support
The course fee includes the awarding body registration and certification fee (valued at up to £30.00).