Meteorology
About the Level 3 Meteorology Certificate
Meteorology is defined as the science of the atmosphere. Meteorologists study atmospheric phenomena and the effect that the atmosphere has on our weather. By using a number of tools – such as thermometers, barometers and anemometers – meteorologists are able to collect information about the weather and use these to predict the forecast.
This Level 3 distance learning course offers Stonebridge College students a fascinating insight in to the world of meteorology. The engaging e-learning material has been spread over seven individual modules and should take around 110 hours to complete. During the course of their studies, students will learn about everything from the atmosphere and weather patterns to climate change.
Who should study this course?
This course has been designed as an introduction to meteorology and is a perfect starting point for those who plan to study the subject to a higher level. The course is also suitable for those who have a general interest in meteorology and the weather.
As with many of the online courses we offer at Stonebridge, there are no prerequisites to fulfil before enrolment. All students need is a way to access our home study materials, an interest in meteorology, and the motivation to study independently.
What happens after the course?
On successful completion of the course, students will have a fundamental understanding of what meteorology is and how it works. This knowledge will provide a firm foundation for further academic study in this area.
To become a meteorologist, students will first need an appropriate degree. This could be in an area such as physics, maths or geography. Students who continue to study meteorology and obtain the correct qualifications will be able to apply for the following roles:
Meteorologist
Weather presenter
Scientist
For more information about this course, give us a call on this number: 0121 392 8288
On completion of your course, you will receive two certificates:
Certificate 1 is issued by Stonebridge Associated Colleges: Meteorology Certificate
Meteorology Certificate issued by Stonebridge Associated Colleges, to view a sample of the college's award, please click here.
Certificate 2 is issued by ABC Awards: Level 3 Meteorology Certificate of Achievement
At the end of this course successful learners will receive a Certificate of Achievement by ABC Awards and a Learner Unit Summary (which lists the details of all the units you have completed as part of your course).
The course has been endorsed under the ABC Awards' Quality Licence Scheme. This means that Stonebridge Associated Colleges have undergone an external quality check to ensure that the organisation and the courses it offers, meet certain quality criteria. The completion of this course alone does not lead to an Ofqual regulated qualification but may be used as evidence of knowledge and skills towards regulated qualifications in the future. The unit summary can be used as evidence towards Recognition of Prior Learning if you wish to progress your studies in this sector. To this end the learning outcomes of the course have been benchmarked at Level 3 against level descriptors published by Ofqual, to indicate the depth of study and level of difficulty involved in successful completion by the learner.
The course itself has been designed by Stonebridge Associated Colleges to meet specific learners' or employers' requirements. ABC Awards' endorsement involves a robust and rigorous quality audit by external inspectors to ensure quality is consistently met. A regular review of courses is carried out as part of the endorsement process.
To view a sample of the ABC Certificate of Achievement, please click here.
To view a sample of the ABC Learner Unit Summary, please click here.
Requirements for Entry
There is no experience or previous qualifications required for enrolment on this course. It is available to all students, of all academic backgrounds.
Who are ABC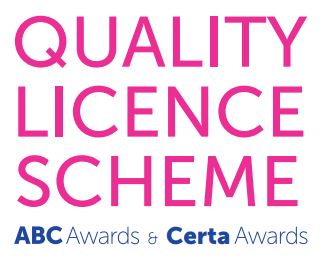 ABC Awards is a leading national Awarding Organisation, regulated by Ofqual, and the Welsh Government[1]. They have a comprehensive portfolio of over 650 Ofqual regulated qualifications on the national Qualifications and Credit framework (QCF). It has a long-established reputation for developing and awarding high quality vocational qualifications across a wide range of industries. As a registered charity, ABC Awards combines 180 years of examination and assessment expertise but also implements a responsive, flexible and innovative approach to the needs of our customers.
Renowned for excellent customer service, and quality standards, ABC Awards also offers over 600 Ofqual regulated qualifications for all ages and abilities post-14; all are developed with the support of relevant stakeholders to ensure that they meet the needs and standards of employers across the UK.
For more info on our awarding body, ABC awards, click here
Professional Membership
On completion of this course you will be eligible to join the following Professional Associations(s):
Anyone who is studying for or has completed a course endorsed by an Ofqual approved awarding body is eligible to join Qualifications Register. The Qualifications Register (QR) is an independent register that aims to serve both members of the public and those professionals who hold recognised qualifications.
QR's primary aim is to provide transparency to members of the public and employers. The QR is a searchable database that allows them to find a practitioner and view the relevant qualification and endorsements the practitioner holds. The member of the public is then able to make an informed decision in relation to the suitability of the practitioner. QR also tracks whether practitioners have insurance, again something that is useful for members of the public. QR can also help professionals gain insurance or find professional indemnity cover. Click here to find out more.
Members of the public can check an independent source with complete confidence that the practitioner has the qualification(s) they claim to have and that any additional CPD the practitioner has, is verified and quality assured to make sure that the CPD is being done on a regular basis. QR tracks a practitioners endorsed CPD (in unison with our CPD accreditation partner Lifetime Awarding) and other key signals to help members of the public and employers to come to a more informed decision about the professional they intend to use. This is an enormously valuable signal that's increasingly important as business becomes more deregulated and privatised.
For practitioners QR helps you market your skills, endorsements and feedback transparently to a wider audience. It also gives you access to a community to help make you more able to progress and succeed in your field of expertise. Click here to find out more.
Earth as a planet
Definitions
The Solar System
The Seasons, Night and Day
Time
The Moon and Tides
Eclipses
The atmosphere
The Organisation of the Atmosphere
The Tropical Atmosphere
The Mid-Latitude Atmosphere
Weather patterns
Synoptic Maps
Weather Processes
Cloud Types
Weather patterns (cont.)
Factors Affecting Pressure and Wind
Regional Weather Phenomena
The Life Cycle of a Cyclone
Thunderstorms
The Life Cycle of a Thunderstorm
Weather forecasting
Data Collection and Analysis
Television Weather Casting
Setting Up Your Own Weather Station
Weather Hazards
Atmospheric pollution
Concentration of Pollutants
The Past Effects of Pollution
The Greenhouse Effect
The Ozone Layer
Sunspots
Climatic change
Methane
Volcanoes
El Nino
Atmospheric Cures
Changing Climates
For a more detailed syllabus on this course, click here
What's Included
All study materials
Study Guide
Full Tutor and Admin support
The course fee includes the awarding body registration and certification fee (valued at up to £30.00).