Nail Technician Professional - Gel
If you are considering a career as a qualified nail technician, our distance learning Nail Technician – Gel course is the ideal course for you. It contains all the elements you require to study from home in order to become a fully qualified nail technician and to secure professional indemnity insurance to practice professionally either from home, as a mobile service, or in a nail bar or salon. The gel nail course also includes information on manicures so that you will not need to do a separate manicure qualification in order to complete this distance learning nail course.
What are gel nails?
Gel nails are fake nails that can be applied to a client's fingers to closely resemble the natural nail. They are very similar to acrylic nails (liquid & powder); however they tend to be more flexible. Gel nails can be worn, painted and decorated in the same way as acrylic nails. Gel nails are usually applied using a UV light. Generally gel nails will last between 3 – 4 weeks; after this period maintenance and infill procedures will need to be carried out on the client's extensions to keep them looking natural and well maintained. Our nail technician courses from home will teach you all the techniques you require to be able to carry out these treatments.
The Work of the Nail Technician
The work of a nail technician can be varied and rewarding. Not only will you apply, repair and remove false nails or extensions, but you will also offer basic treatments such as manicures and pedicures as well as ensuring your client's nails are free from any skin or nail problems before you begin the treatment.
Free With This Gel Nail Course
In order for you to be able to practice your skills throughout your training you will receive:
Instructional DVD. This course comes with an instructional DVD which will give you a fully step by step demonstration on how to apply a set of Gel Nails. If you would like to view a brief sample of the DVD, please click here.
Hand Trainer and Kit valued at £99.00 - Includes The Nail Trainer hand and desk clamp; and 20 nails.
UV Gel Kit + 9W Curing Lamp valued at £66.00 - Includes UV lamp 9 watt*; UV Gel Clear 30g; UV Gel Pink 30g; UV Gel Hollywood White 5g; Gel Wipe Off solution 100ml; Sterilising Spray & Gel 60ml; 100ml Nail Fresh; Lint Free Pads; Nail Glue; 20 Asstd Tips; Olympic, Active, Ultra, Big C, French & Natural Tip blender 15ml; Duraboard 240/240 & 100/180; UV Gel Brush; Cuticle Pusher; Manicure sticks; White Block; Nail Buffer; Nail Primer; Tip cutters.
*Please note the UV lamp has a plug fit for the UK. If you are an international student you may need to purchase an adaptor.
What Could I Do After Taking This Professional Gel Nail Technician Course?
Become a Nail Technician. On successful completion of this home study course you will be able to secure professional indemnity insurance so that you can either practice professionally as a fully qualified mobile nail technician without having to do any further courses, or alternatively you can seek employment in a beauty salon or nail bar. Nail technicians earn on average over £16,500*/year. You could also study further so that you are able to paint designs (using an airbrush) and decorate your client's nails.
Obtain a diploma. This course has been developed in line with the national occupational standards and has been developed to cover the basic theory knowledge and to equip you for progression onto the Level 2 NVQ Diploma in Nail Services should you wish to follow this progression route. (Please note: You are not required to complete the NVQ in order to practice professionally; you may practice professionally on completion of the nail technician home study course alone).
*Source: Totaljobs.com, Sept 2012.

On completion of your course, you will receive two certificates:
Certificate 1 is issued by Stonebridge Associated Colleges: Nail Technician Professional - Gel Diploma
Nail Technician Professional - Gel Diploma issued by Stonebridge Associated Colleges, to view a sample of the college's award, please click here.
Certificate 2 is issued by ABC Awards: Level 2 Nail Technician Professional - Gel Certificate of Achievement
At the end of this course successful learners will receive a Certificate of Achievement from ABC Awards and Certa Awards and a Learner Unit Summary (which lists the components the learner has completed as part of the course).
The course has been endorsed under the ABC Awards and Certa Awards Quality Licence Scheme. This means that Stonebridge Associated Colleges has undergone an external quality check to ensure that the organisation and the courses it offers, meet defined quality criteria. The completion of this course alone does not lead to a regulated qualification* but may be used as evidence of knowledge and skills gained. The Learner Unit Summary may be used as evidence towards Recognition of Prior Learning if you wish to progress your studies in this subject. To this end the learning outcomes of the course have been benchmarked at Level 2 against level descriptors published by Ofqual, to indicate the depth of study and level of demand/complexity involved in successful completion by the learner.
The course itself has been designed by Stonebridge Associated Colleges to meet specific learners' and/or employers' requirements which cannot be satisfied through current regulated qualifications. ABC Awards & Certa Awards endorsement involves robust and rigorous quality audits by external auditors to ensure quality is continually met. A review of courses is carried out as part of the endorsement process.
*Regulated qualification refers to those qualifications that are regulated by Ofqual / CCEA / Qualification Wales
To view a sample of the ABC Certificate of Achievement, please click here.
Requirements for Entry
There is no experience or previous qualifications required for enrolment on this course. It is available to all students, of all academic backgrounds.
Who are ABC Awards and Certa Awards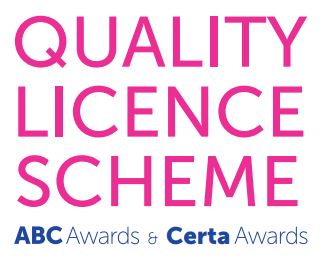 ABC Awards and Certa Awards have long-established reputations for providing high quality vocational qualifications across a wide range of industries. ABC Awards and Certa Awards combine over 180 years of expertise combined with a responsive, flexible and innovative approach to the needs of our customers.
Renowned for excellent customer service, and quality standards, ABC Awards and Certa Awards also offer regulated qualifications for all ages and abilities post-14; all are developed with the support of relevant stakeholders to ensure that they meet the needs and standards of employers across the UK.
Professional Membership
On completion of this course you will be eligible to join the following Professional Associations(s):
Anyone who is studying for or has completed a course endorsed by an Ofqual approved awarding body is eligible to join Qualifications Register. The Qualifications Register (QR) is an independent register that aims to serve both members of the public and those professionals who hold recognised qualifications.
QR's primary aim is to provide transparency to members of the public and employers. The QR is a searchable database that allows them to find a practitioner and view the relevant qualification and endorsements the practitioner holds. The member of the public is then able to make an informed decision in relation to the suitability of the practitioner. QR also tracks whether practitioners have insurance, again something that is useful for members of the public. QR can also help professionals gain insurance or find professional indemnity cover. Click here to find out more.
Members of the public can check an independent source with complete confidence that the practitioner has the qualification(s) they claim to have and that any additional CPD the practitioner has, is verified and quality assured to make sure that the CPD is being done on a regular basis. QR tracks a practitioners endorsed CPD (in unison with our CPD accreditation partner Lifetime Awarding) and other key signals to help members of the public and employers to come to a more informed decision about the professional they intend to use. This is an enormously valuable signal that's increasingly important as business becomes more deregulated and privatised.
For practitioners QR helps you market your skills, endorsements and feedback transparently to a wider audience. It also gives you access to a community to help make you more able to progress and succeed in your field of expertise. Click here to find out more.
Stonebridge is a Guild of Professional Beauty Therapists Accredited Training College
Launched in 1994, The Guild of Professional Beauty Therapists is the UK's biggest professional beauty trade body. The Guild has over 5,000 members who are all fully qualified beauty and holistic therapists. All Members of the Guild of Professional Beauty Therapists work to a strict code of ethics.
This is great news for students who complete this course as they are now able to secure associate membership to the Guild starting from only £55 per annum.
Benefits of membership include:
Beautyguild.com - The Guild's web site provides members with a wealth of news and information. Including features on the benefits of professional salon treatments.
Salon directory - Guild Salon Directory is a unique service available exclusively to Guild Members. It gives you the opportunity to advertise your salon or mobile business to a wide audience, and is a valuable new addition to our package of membership benefits. Enhanced entries on Guild Salon Directory allow you to write a short promotional description of your salon and the services you offer. You can link your entry to your own e-mail and website, and a directional map will mean clients are sure to be able to find you.
Professional and Business Helpline - The Guild's dedicated team of staff are beauty and business professionals who can provide business advice and support. Members can call during office hours, Monday to Friday, 9 am to 5 pm for expert advice.
Yellow Pages and Thomsons Directories Advertising - Most Salons advertise in Yellow Pages or with Thomson Directories but as a Guild Member, you can stand out from the rest by taking part in the Guild's corporate advertising scheme, which allows you to advertise at special rates under The Guild's banner.
Guild Gazette - Guild Gazette is the official Journal of the Guild of Professional Beauty Therapists. It is published bi-monthly and is the only magazine mailed exclusively to members. In each issue of Guild Gazette, you will receive the latest news on products, industry developments, legislation and training. There are treatment fact files, current issues and affairs and articles from industry experts.
MGPBT (Member of the Guild of Professional Beauty Therapists) - Students who complete one of our courses accredited by the Guild will also be able to use the letters MGPBT after their names.
GPBT logo - The GPBT logo artwork is available upon request for you to use on your stationary. All new members receive a Guild of Professional Beauty Therapists membership certificate to display in their treatment area.
Today's beauty salon clients expect the best. When they visit your salon, they want to be advised and treated by fully trained and qualified therapists. Membership of The Guild of Professional Beauty Therapists shows them that you are a true Beauty Professional. For more information please visit the Guild's website at www.beautyguild.com.
Unit 1: Nail Enhancement Systems and Health & Safety
By the end of this unit the learner will be able to:
Understand the course content and requirement
Understand the advantages and disadvantages nail enhancements systems
Understand the importance of Health & Safety when working with enhancements
Identify the risks associated with working with enhancements
Understand the difference between sterilisation and disinfection

Unit 2: Becoming a Nail Technician
By the end of this unit the learner will be able to:
Understanding what qualities make a professional nail technician
Understand why appearance is important
Understand the difference between codes of practice and ethics
Understand body language
Understand how prepare for and greet the client
Unit 3: Anatomy & Physiology
By the end of this unit the learner will be able to:
Understand and identify the underlying anatomy and physiology of the hand and lower arm
Understand the structure of the skin
Identify the structure of the skin and nail
Understand the process of keratinization and the process of nail growth

Unit 4: Nail disorders and shapes
By the end of this unit the learner will be able to:
Understand what is meant by the term contra indication
Identify what is an untreatable nail or skin disorder
Identify what is a treatable nail disorder
Identify natural nail shapes
Identifying factors affecting growth
Unit 5: Manicure
By the end of this unit the learner will be able to:
To understand the reason for manicure
How to perform a consultation
Set up a work station
Identify what equipment and tools are required
Demonstrate the correct use of tools
Perform a manicure
Unit 6: Starting on Tips
By the end of this unit the learner will be able to:
To be able to identify the correct tools, equipment and products required
To understand the importance of minimising waste
To understand the importance of health and safety throughout the service
To select, prepare and apply tips correctly
Unit 7: Application of Gel
By the end of this unit the learner will be able to:
Understand the chemistry of Gel
Understand the stages of Gel and effect of lamp
Understand the application of gel in zones
Demonstrate the correct application of beads
Finish the product to create a smooth, glossy surface
Unit 8: Gel Infill's and maintenance
By the end of this unit the learner will be able to:
Adapting techniques for working on a natural nail and client
Identifying when a client will need infills
Applying infills
Knowing when to recommend advanced services – back fill and rebalancing
Unit 9: Troubleshooting with Gel
By the end of this unit the learner will be able to:
To identify when there is a problem with enhancements
To understand why the problem has occurred
To identify what steps are required to overcome the problem
What's Included
All study materials
Study Guide
Full Tutor and Admin support
The course fee includes the awarding body registration and certification fee (valued at up to £30.00).
Hand Trainer and Desk Clamp valued at £99.00
Gel Coloured Starter Kit + 9W Curing Lamp valued at £66.00 (includes: UV Lamp 9 Watt, UV Gel Shocking Pink 5g, UV Gel Cool Coffee 5g, UV Gel Clear 5g, Acetone 60ml, Gel Wipe Off Solution 100ml, Primer Pen, Metal Cuticle Pusher, No 5 Gel Brush, Orange Foamie 180grit File, Lint Free Pads, Mirror Gloss Top Coat 15ml, Step by Step Instructions)
Instructional DVD. This course comes with an instructional DVD which will give you a fully step by step demonstration on how to apply a set of Gel Nails.
Please Note: Kits are sent out to students once they have completed 50% of their course fees, and have completed and passed up to unit 4 of the course – you will not require use of the kit itself, until you reach the final exam of your course.