Nature of Work (Byte Size Skills Course)
In this course, you are introduced in detail to the concept of work, with our main focus upon paid work within the employment relationship.
In Section 1, we look at the meaning of work, both historically, when we revisit the ideas of Weber and Marx, and within contemporary British society. We then go on to look at how jobs and occupations are categorised, the characteristics of the labour market and the role of women workers within it.
In Section 2, we deal with how jobs and occupations are arranged and structured within British society, both vertically, or hierarchically, and horizontally. We also look at how people can progress in their jobs and careers, and why some people move downwards. We also examine the labour market and its characteristics, particularly in relation to part-time workers and women workers.
In Section 3, we examine the meanings given to work by workers themselves, and the concept of "work orientations" is introduced. This is followed, in Section 4, by an analysis of the emerging "information economy" and the impact of new technologies upon work and organisations.
Finally, we deal with trends and prospects concerning unemployment, the service sector of the economy, working time and work outside employment.
By the end of the course, you will be able to:
define work and differentiate between intrinsic and extrinsic rewards.

indicate how the meaning of work and human attitudes towards it are affected by cultural and social factors and give some historical examples.

explain how Weber's protestant work ethic and Marx's concept of alienation are relevant to modern attitudes to work and have meaning for the individual.

describe in basic terms some models used to describe the structure of work and list the groups or categories identified in the hierarchical occupational model.

explain through examples the concept of occupational mobility and some of the factors that may affect this.

examine two significant features of the labour market, the dual labour market and the sexual division of labour, and discuss the reasons put forward to explain them.

list some broad occupational groups into which work has been dividedand give examples of how the market power and status of occupational groups may change as society changes.

define the concept of "work orientation" and critically discuss some important studies of it.

illustrate how work orientation is a dynamic rather than a static quality and identify some of the influences inside and outside work that may determine how people give meaning to their work.

describe some current changes in UK work and job patterns and in the economy, and identify social and economic factors influencing their development.

describe a range of developments in information technology and explain their importance in relation to global competitive and economic developments.

discuss the impact of new technologies on work, particularly in relation to flexibility, work design, and organisational structure and employment patterns.

identify some of the changing patterns of work, employment and unemployment and discuss in an informed way possible future trends.
On completion of your course, you will receive two certificates:
Certificate 1 is issued by Stonebridge Associated Colleges: Nature of Work (Byte Size Skills Course) Certificate
Nature of Work (Byte Size Skills Course) Certificate issued by Stonebridge Associated Colleges, to view a sample of the college's award, please click here.
Certificate 2 is issued by ABC Awards: Level 1 Nature of Work (Byte Size Skills Course) Certificate of Achievement
At the end of this course successful learners will receive a Certificate of Achievement by ABC Awards and a Learner Unit Summary (which lists the details of all the units you have completed as part of your course).
The course has been endorsed under the ABC Awards' Quality Licence Scheme. This means that Stonebridge Associated Colleges have undergone an external quality check to ensure that the organisation and the courses it offers, meet certain quality criteria. The completion of this course alone does not lead to an Ofqual regulated qualification but may be used as evidence of knowledge and skills towards regulated qualifications in the future. The unit summary can be used as evidence towards Recognition of Prior Learning if you wish to progress your studies in this sector. To this end the learning outcomes of the course have been benchmarked at Level 1 against level descriptors published by Ofqual, to indicate the depth of study and level of difficulty involved in successful completion by the learner.
The course itself has been designed by Stonebridge Associated Colleges to meet specific learners' or employers' requirements. ABC Awards' endorsement involves a robust and rigorous quality audit by external inspectors to ensure quality is consistently met. A regular review of courses is carried out as part of the endorsement process.
To view a sample of the ABC Certificate of Achievement, please click here.
To view a sample of the ABC Learner Unit Summary, please click here.
Requirements for Entry
There is no experience or previous qualifications required for enrolment on this course. It is available to all students, of all academic backgrounds.
Who are ABC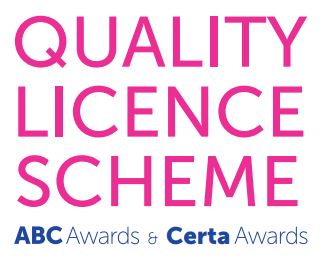 ABC Awards is a leading national Awarding Organisation, regulated by Ofqual, and the Welsh Government[1]. They have a comprehensive portfolio of over 650 Ofqual regulated qualifications on the national Qualifications and Credit framework (QCF). It has a long-established reputation for developing and awarding high quality vocational qualifications across a wide range of industries. As a registered charity, ABC Awards combines 180 years of examination and assessment expertise but also implements a responsive, flexible and innovative approach to the needs of our customers.
Renowned for excellent customer service, and quality standards, ABC Awards also offers over 600 Ofqual regulated qualifications for all ages and abilities post-14; all are developed with the support of relevant stakeholders to ensure that they meet the needs and standards of employers across the UK.
For more info on our awarding body, ABC awards, click here
Professional Membership
On completion of this course you will be eligible to join the following Professional Associations(s):

On successful completion of your course your qualification is awarded. You will receive an attractively presented Diploma or Certificate issued by Stonebridge Associated Colleges, this will also allow you to use the letters SAC. Dip. or SAC. Cert. after your name.
Stonebridge Associated Colleges is one of the leading (and biggest) distance education colleges in the U.K and internationally. We have many thousands of students studying with us at any one time from locations all over the world. Our diplomas will always count towards your future, and will improve your prospects of future employment or higher level study etc. by proving that you have studied to a certain level, that you have proficiency in your chosen subjects and that you are interested in your field of choice. Education is always an investment in your future and you will find this to be the case with our qualifications in your jurisdiction.
Introduction
Objectives
Section 1: Work, Meaning and Culture
Culture and work
Section 2: Occupations and the Structure of Work
Occupational structure
Work and occupations
Types of work: labour market segmentation
Women?s employment
Section 3: Work Orientations and Meaning
Orientations to work: Goldthorpe et al
Subsequent research on orientations to work
Section 4: Changing Work Arrangements
Setting the scene
The informal economy
The changing economy
Economic circumstances and information technologies
Impact of new technologies upon work
Section 5: Changes in Work, Employment and Unemployment
Unemployment
The service sector
Working time and work outside employment
Summary
Tutor-marked Question Paper
What's Included
All study materials
Study Guide
Full Tutor and Admin support
The course fee includes the awarding body registration and certification fee (valued at up to £30.00).