Negotiating Skills (Byte Size Skills Course)
About the Level 1 Negotiating Skills (Byte Size Skills Course)
The ability to negotiate effectively can help you succeed in all areas of life. From personal relationships to high profile business deals, strong negotiation skills are the key to finding the best way to benefit both parties. This Level 1 course teaches students how to improve negotiation skills and provides learners with the negotiation techniques they need to achieve their personal or career goals.
This distance learning negotiation course takes students on a step by step journey, effectively outlining the processes of negotiation. Using our online platform, students will learn about planning, proposing, bargaining and closing. They will also discover how to negotiate by letter and by phone and how to put together a personal action plan. This course should take approximately 20 hours to complete, however at Stonebridge we encourage our home study students to take all the time they need.
Who should study this course?
This course is suitable for all people who want to improve their negotiation skills on a professional level. Whether you hold an entry level position, or you are high up in your profession, this course will be an asset to your CV. This course could also come in useful in your personal life, helping you to maintain important friendships and relationships.
As with all our courses at Stonebridge, there are no prerequisites required. All we ask is that our students are motivated to improve their negotiation skills and are prepared to engage with our home learning syllabus.
What happens after the course?
By the end of this home study qualification, students will be able to effectively negotiate situations and find mutually beneficial solutions to many problems. They should be able to tailor this knowledge to suit personal and professional circumstances.
The skills that you learn in this course can be applied to a range of further study opportunities. If you particularly enjoyed this subject, you may consider studying the art of negotiation at a higher level. Some people even choose to study negotiation skills as part of their degree.
Good negotiation skills can be applied to every career. Once you have graduated from this course, you may find yourself in a position to renegotiate your current role so it better suits you. Some careers which particularly benefit from great negotiation skills are:
Local government
Professional negotiator
Sales
For more information about this course, give us a call on this number: 0121 392 8288
On completion of your course, you will receive two certificates:
Certificate 1 is issued by Stonebridge Associated Colleges: Negotiating Skills (Byte Size Skills Course) Certificate
Negotiating Skills (Byte Size Skills Course) Certificate issued by Stonebridge Associated Colleges, to view a sample of the college's award, please click here.
Certificate 2 is issued by ABC Awards: Level 1 Negotiating Skills (Byte Size Skills Course) Certificate of Achievement
At the end of this course successful learners will receive a Certificate of Achievement from ABC Awards and Certa Awards and a Learner Unit Summary (which lists the components the learner has completed as part of the course).
The course has been endorsed under the ABC Awards and Certa Awards Quality Licence Scheme. This means that Stonebridge Associated Colleges has undergone an external quality check to ensure that the organisation and the courses it offers, meet defined quality criteria. The completion of this course alone does not lead to a regulated qualification* but may be used as evidence of knowledge and skills gained. The Learner Unit Summary may be used as evidence towards Recognition of Prior Learning if you wish to progress your studies in this subject. To this end the learning outcomes of the course have been benchmarked at Level 1 against level descriptors published by Ofqual, to indicate the depth of study and level of demand/complexity involved in successful completion by the learner.
The course itself has been designed by Stonebridge Associated Colleges to meet specific learners' and/or employers' requirements which cannot be satisfied through current regulated qualifications. ABC Awards & Certa Awards endorsement involves robust and rigorous quality audits by external auditors to ensure quality is continually met. A review of courses is carried out as part of the endorsement process.
*Regulated qualification refers to those qualifications that are regulated by Ofqual / CCEA / Qualification Wales
To view a sample of the ABC Certificate of Achievement, please click here.
Requirements for Entry
There is no experience or previous qualifications required for enrolment on this course. It is available to all students, of all academic backgrounds.
Who are ABC Awards and Certa Awards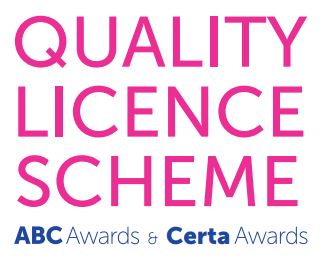 ABC Awards and Certa Awards have long-established reputations for providing high quality vocational qualifications across a wide range of industries. ABC Awards and Certa Awards combine over 180 years of expertise combined with a responsive, flexible and innovative approach to the needs of our customers.
Renowned for excellent customer service, and quality standards, ABC Awards and Certa Awards also offer regulated qualifications for all ages and abilities post-14; all are developed with the support of relevant stakeholders to ensure that they meet the needs and standards of employers across the UK.
Professional Membership
On completion of this course you will be eligible to join the following Professional Associations(s):

On successful completion of your course your qualification is awarded. You will receive an attractively presented Diploma or Certificate issued by Stonebridge Associated Colleges, this will also allow you to use the letters SAC. Dip. or SAC. Cert. after your name.
Stonebridge Associated Colleges is one of the leading (and biggest) distance education colleges in the U.K and internationally. We have many thousands of students studying with us at any one time from locations all over the world. Our diplomas will always count towards your future, and will improve your prospects of future employment or higher level study etc. by proving that you have studied to a certain level, that you have proficiency in your chosen subjects and that you are interested in your field of choice. Education is always an investment in your future and you will find this to be the case with our qualifications in your jurisdiction.
Introduction
Planning
Discussion
Propose
Bargaining
Closing
Negotiating by Letter and Phone
Your Personal Action Plan
Further Reading
Assessment Method
After each lesson there will be a question paper, which needs to be completed and submitted to your personal tutor for marking. This method of continual assessment ensures that your personal tutor can consistently monitor your progress and provide you with assistance throughout the duration of the course.
What's Included
All study materials
Study Guide
Full Tutor and Admin support
The course fee includes the awarding body registration and certification fee (valued at up to £30.00).
What's Included
All study materials
Study Guide
Full Tutor and Admin support
The course fee includes the awarding body registration and certification fee (valued at up to £30.00).