Operations and Operations Management (Byte Size Skills Course)
Businesses survive by selling products. These products may be goods, like food or washing machines, or services, like banking. Producing these is what the business does to make money. Porter in his model identifies operations as a primary activity that produces these products and services. It is a key element in the transformation model of organisations in which inputs are transformed into outputs with added value.
We take a slightly broader view here and define operations management as "concerning all the processes of how products are made and delivered to the customer" such that it may involve part of Porter's other primary activities of inbound and outbound logistics and procurement. It involves all the parts of the business which produce and deliver the goods or services - a very wide spread. From buying raw materials to transporting the products to the customer and all that happens between, the operations system involves a wealth of different activities which are focused on delivering to the customers what they require.
For a washing machine manufacturer, it involves buying, making and storing parts, ensuring the right parts are available, assembling them into a finished machine and delivering that machine to the right customer. In a bank, it would involve the cashiers' work - exchanging payment, cashing cheques, answering queries - carrying out the transactions, managing accounts and sending statements and letters to customers.
In this unit, you will gain some insight into the scope and challenges of operations for a range of businesses and an overview of some recent developments in the field.
After participating in this course, you should be able to:
outline the scope of operations using different definitions
apply the transformational model of operations to a range of service and manufacturing industries
apply the concept of adding value to operations
describe the different activities within operations and the interaction between them
explain the five key features of operations
describe some design features in operations
define what quality means from a business perspective.
On completion of your course, you will receive two certificates:
Certificate 1 is issued by Stonebridge Associated Colleges: Operations and Operations Management (Byte Size Skills Course) Certificate
Operations and Operations Management (Byte Size Skills Course) Certificate issued by Stonebridge Associated Colleges, to view a sample of the college's award, please click here.
Certificate 2 is issued by ABC Awards: Level 1 Operations and Operations Management (Byte Size Skills Course) Certificate of Achievement
At the end of this course successful learners will receive a Certificate of Achievement by ABC Awards and a Learner Unit Summary (which lists the details of all the units you have completed as part of your course).
The course has been endorsed under the ABC Awards' Quality Licence Scheme. This means that Stonebridge Associated Colleges have undergone an external quality check to ensure that the organisation and the courses it offers, meet certain quality criteria. The completion of this course alone does not lead to an Ofqual regulated qualification but may be used as evidence of knowledge and skills towards regulated qualifications in the future. The unit summary can be used as evidence towards Recognition of Prior Learning if you wish to progress your studies in this sector. To this end the learning outcomes of the course have been benchmarked at Level 1 against level descriptors published by Ofqual, to indicate the depth of study and level of difficulty involved in successful completion by the learner.
The course itself has been designed by Stonebridge Associated Colleges to meet specific learners' or employers' requirements. ABC Awards' endorsement involves a robust and rigorous quality audit by external inspectors to ensure quality is consistently met. A regular review of courses is carried out as part of the endorsement process.
To view a sample of the ABC Certificate of Achievement, please click here.
To view a sample of the ABC Learner Unit Summary, please click here.
Requirements for Entry
There is no experience or previous qualifications required for enrolment on this course. It is available to all students, of all academic backgrounds.
Who are ABC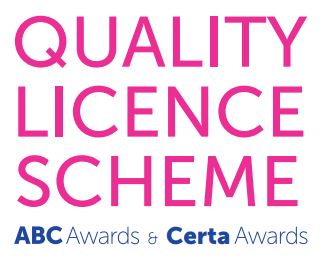 ABC Awards is a leading national Awarding Organisation, regulated by Ofqual, and the Welsh Government[1]. They have a comprehensive portfolio of over 650 Ofqual regulated qualifications on the national Qualifications and Credit framework (QCF). It has a long-established reputation for developing and awarding high quality vocational qualifications across a wide range of industries. As a registered charity, ABC Awards combines 180 years of examination and assessment expertise but also implements a responsive, flexible and innovative approach to the needs of our customers.
Renowned for excellent customer service, and quality standards, ABC Awards also offers over 600 Ofqual regulated qualifications for all ages and abilities post-14; all are developed with the support of relevant stakeholders to ensure that they meet the needs and standards of employers across the UK.
For more info on our awarding body, ABC awards, click here
Professional Membership
On completion of this course you will be eligible to join the following Professional Associations(s):

On successful completion of your course your qualification is awarded. You will receive an attractively presented Diploma or Certificate issued by Stonebridge Associated Colleges, this will also allow you to use the letters SAC. Dip. or SAC. Cert. after your name.
Stonebridge Associated Colleges is one of the leading (and biggest) distance education colleges in the U.K and internationally. We have many thousands of students studying with us at any one time from locations all over the world. Our diplomas will always count towards your future, and will improve your prospects of future employment or higher level study etc. by proving that you have studied to a certain level, that you have proficiency in your chosen subjects and that you are interested in your field of choice. Education is always an investment in your future and you will find this to be the case with our qualifications in your jurisdiction.
Introduction
Objectives
Section 1: What are Operations?
Introduction
1.1 Definitions
1.2 Transformation for the customer
1.3 Value added
Summary
Section 2: Running Operations
Introduction
2.1 The operations challenge
2.2 Activities within operations
Summary
Section 3: Design within Operations
Introduction
3.1 Product design and development
3.2 System and process design
3.3 Quality and quality management
Summary
Unit Review Activity
Unit Summary
References
Recommended Reading
Tutor-marked Question Paper
What's Included
All study materials
Study Guide
Full Tutor and Admin support
The course fee includes the awarding body registration and certification fee (valued at up to £30.00).