Special Educational Needs (SEN) - Advanced
With the right support, people with special educational needs have a higher chance of leading happy, fulfilling and successful lives. This is why it is important that carers, teachers, parents, teaching assistants and society as whole are educated in this area. This Advanced Special Education Needs qualification is a step up from our Special Education Needs course; allowing Stonebridge College students to develop a deeper understanding and greater awareness of this complex issue.
This online qualification begins by defining the key principles of special education needs. As our learners progress through the work, they will soon be able to explain the two models of disability and understand how to effectively assess and identify moderate learning difficulties. The special educational needs training course then goes on to investigate topics like autism, speech and language and emotional difficulties.
Who should study this course?
This advanced level course is an ideal step up for anyone who has completed our standard SEN course. The qualification also promises to come in useful for anyone who works or spends time with people with learning difficulties.
Although the standard SEN course may come in useful, it is not essential to study this one first. If students are confident in their abilities, they may progress directly on to this course. All we ask is that our learners are willing to dedicate time to independent home study.
What happens after the course?
On successful completion of this special needs education home study qualification students will have an in depth knowledge of the issues and practises surrounding SEN. If they wish to extend on this, they may choose to apply for a degree in a related area.
Those who want a specific career in helping learners with special needs and learning disabilities may choose to become a SEN teacher. SEN teachers work in specialist SEN schools, nurseries or even colleges. This job offers great satisfaction and earning potential. More jobs related to this course include:
Teaching assistant
Carer
Nursery nurse
For more information about this course, give us a call on this number: 0121 392 8288
On completion of your course, you will receive two certificates:
Certificate 1 is issued by Stonebridge Associated Colleges: Special Educational Needs (SEN) - Advanced Diploma
Special Educational Needs (SEN) - Advanced Diploma issued by Stonebridge Associated Colleges, to view a sample of the college's award, please click here.
Certificate 2 is issued by ABC Awards: Level 4 Special Educational Needs (SEN) - Advanced Certificate of Achievement
At the end of this course successful learners will receive a Certificate of Achievement from ABC Awards and Certa Awards and a Learner Unit Summary (which lists the components the learner has completed as part of the course).
The course has been endorsed under the ABC Awards and Certa Awards Quality Licence Scheme. This means that Stonebridge Associated Colleges has undergone an external quality check to ensure that the organisation and the courses it offers, meet defined quality criteria. The completion of this course alone does not lead to a regulated qualification* but may be used as evidence of knowledge and skills gained. The Learner Unit Summary may be used as evidence towards Recognition of Prior Learning if you wish to progress your studies in this subject. To this end the learning outcomes of the course have been benchmarked at Level 4 against level descriptors published by Ofqual, to indicate the depth of study and level of demand/complexity involved in successful completion by the learner.
The course itself has been designed by Stonebridge Associated Colleges to meet specific learners' and/or employers' requirements which cannot be satisfied through current regulated qualifications. ABC Awards & Certa Awards endorsement involves robust and rigorous quality audits by external auditors to ensure quality is continually met. A review of courses is carried out as part of the endorsement process.
*Regulated qualification refers to those qualifications that are regulated by Ofqual / CCEA / Qualification Wales
To view a sample of the ABC Certificate of Achievement, please click here.
Requirements for Entry
There is no experience or previous qualifications required for enrolment on this course. It is available to all students, of all academic backgrounds.
Who are ABC Awards and Certa Awards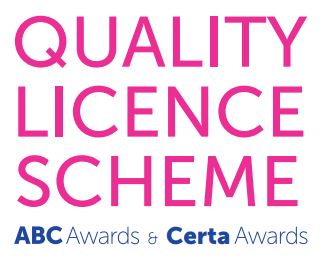 ABC Awards and Certa Awards have long-established reputations for providing high quality vocational qualifications across a wide range of industries. ABC Awards and Certa Awards combine over 180 years of expertise combined with a responsive, flexible and innovative approach to the needs of our customers.
Renowned for excellent customer service, and quality standards, ABC Awards and Certa Awards also offer regulated qualifications for all ages and abilities post-14; all are developed with the support of relevant stakeholders to ensure that they meet the needs and standards of employers across the UK.
Professional Membership
On completion of this course you will be eligible to join the following Professional Associations(s):
Anyone who is studying for or has completed a course endorsed by an Ofqual approved awarding body is eligible to join Qualifications Register. The Qualifications Register (QR) is an independent register that aims to serve both members of the public and those professionals who hold recognised qualifications.
QR's primary aim is to provide transparency to members of the public and employers. The QR is a searchable database that allows them to find a practitioner and view the relevant qualification and endorsements the practitioner holds. The member of the public is then able to make an informed decision in relation to the suitability of the practitioner. QR also tracks whether practitioners have insurance, again something that is useful for members of the public. QR can also help professionals gain insurance or find professional indemnity cover. Click here to find out more.
Members of the public can check an independent source with complete confidence that the practitioner has the qualification(s) they claim to have and that any additional CPD the practitioner has, is verified and quality assured to make sure that the CPD is being done on a regular basis. QR tracks a practitioners endorsed CPD (in unison with our CPD accreditation partner Lifetime Awarding) and other key signals to help members of the public and employers to come to a more informed decision about the professional they intend to use. This is an enormously valuable signal that's increasingly important as business becomes more deregulated and privatised.
For practitioners QR helps you market your skills, endorsements and feedback transparently to a wider audience. It also gives you access to a community to help make you more able to progress and succeed in your field of expertise. Click here to find out more.
Module One: Definitions and key principles of special educational needs (SEN)
At the end of this module, students will be able to:
Outline a working definition of special educational needs referring to the law and what this means in practice
Provide a brief explanation of the main theories of learning development
Explain what personalisation is, how it is different from differentiation in learning, and how it may be beneficial to children with SEN
Understand key principles of coaching and mentoring for children with SEN and how parents can assist, and be assisted, with supporting the learning process.
Understand the different ways in which children with SEN can be monitored and assessed for outcome achievement.
Module Two: Moderate learning disabilities
At the end of this module, students will be able to:
Outline the main 'events' throughout education history that have informed our current working knowledge defining moderate learning disabilities, and of educating children with these.
Provide a brief explanation of the two models of disability, and explain 'false opposition' and its implications on the ways in which we educate children with moderate learning disabilities.
Understand perceptions of, and attitudes to children with moderate learning disabilities, and how to make these more positive in the classroom.
Understand the effects moderate learning disabilities can have on a child's abilities to form long-term social relationships.
Understand effective processes of assessing and identifying moderate learning disabilities.
Module Three: Autism
At the end of this module, students will be able to:
Outline the condition of autism according to the triad of impairments and sensory problems, and understand how these might affect a young person's learning.
Explain some of the key psychological theories about autism.
Provide a brief overview of a variety of interventions, including TEACCH that can be used at school to assist a child with autism in learning
Help to assist with identifying the needs of a child with autism (strengths & weaknesses profile, SCERTS assessment process, self-assessment, pupil involvement)
Discuss how teachers and assistants at school can assist parents and families with educational support of their child.
Module Four: Behavioural, social, and emotional difficulties
At the end of this module, students will be able to:
Understand the difficulties a child may have around social skills and emotional competencies, and how this may affect them at school.
Understand the government 'social and emotional aspects of learning' (SEAL) programme.
Understand the principles of the five main psychological approaches to understanding behaviour
Understand the ways in which genetic factors are understood to link with environmental factors and influence behaviour in children.
Describe some of the therapeutic approaches that can be used to help children with behavioural, social, and emotional problems.
Module Five: Specific learning difficulties
At the end of this module, students will be able to:
Understand the core features of the four main specific learning difficulties, dyslexia, dysgraphia, dyspraxia and dyscalculia.
Explain the principles of good practice associated with teaching reading and writing
Describe good practice approaches for teaching children with dyscalculia.
Describe the ways in which dyspraxia can affect a child's learning, and how certain teaching practices can assist the learning process.
Module Six: Speech and language, and global communication issues
At the end of this module, students will be able to:
Describe the different aspects of speech, language, and communication issues that may be experienced by pupils, and which pupils may be more at risk of these problems.
Describe typical speech and language development milestones.
Understand the principles of Wave 3 interventions for SLCN, and how these can be made effective.
Understand the principle of provision mapping, and how it can help children with SLCN
Understand how to set targets and measure the progress of pupils with SLCN.
What's Included
All study materials
Study Guide
Full Tutor and Admin support
The course fee includes the awarding body registration and certification fee (valued at up to £30.00).