Sports Coaching
Sports coaching is a fantastic way for you to get involved in a sport you love. A qualification in sports coaching will give you the opportunity to take an active role in the development, instruction and training of individuals and teams rather than just standing on the sidelines.

As a sports coach you will be coaching in a variety of different environments, this could include:

1) Coaching within a college or school
2) Coaching at a local sports club
3) Coaching university teams
4) Maybe even coaching and supporting a professional/elite sports person!

This Level 3 Sports Coaching home study course is designed to equip you with the skills you need to work in the sports coaching industry. This course aims to teach you how to provide mental and physical performance coaching to enable the individual or team you are coaching to reach their goals.
On completion of your course, you will receive two certificates:
Certificate 1 is issued by Stonebridge Associated Colleges: Sports Coaching Diploma
Sports Coaching Diploma issued by Stonebridge Associated Colleges, to view a sample of the college's award, please click here.
Certificate 2 is issued by ABC Awards: Level 3 Sports Coaching Certificate of Achievement
At the end of this course successful learners will receive a Certificate of Achievement from ABC Awards and Certa Awards and a Learner Unit Summary (which lists the components the learner has completed as part of the course).
The course has been endorsed under the ABC Awards and Certa Awards Quality Licence Scheme. This means that Stonebridge Associated Colleges has undergone an external quality check to ensure that the organisation and the courses it offers, meet defined quality criteria. The completion of this course alone does not lead to a regulated qualification* but may be used as evidence of knowledge and skills gained. The Learner Unit Summary may be used as evidence towards Recognition of Prior Learning if you wish to progress your studies in this subject. To this end the learning outcomes of the course have been benchmarked at Level 3 against level descriptors published by Ofqual, to indicate the depth of study and level of demand/complexity involved in successful completion by the learner.
The course itself has been designed by Stonebridge Associated Colleges to meet specific learners' and/or employers' requirements which cannot be satisfied through current regulated qualifications. ABC Awards & Certa Awards endorsement involves robust and rigorous quality audits by external auditors to ensure quality is continually met. A review of courses is carried out as part of the endorsement process.
*Regulated qualification refers to those qualifications that are regulated by Ofqual / CCEA / Qualification Wales
To view a sample of the ABC Certificate of Achievement, please click here.
Requirements for Entry
There is no experience or previous qualifications required for enrolment on this course. It is available to all students, of all academic backgrounds.
Who are ABC Awards and Certa Awards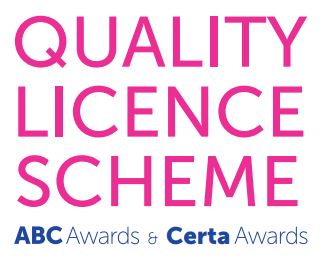 ABC Awards and Certa Awards have long-established reputations for providing high quality vocational qualifications across a wide range of industries. ABC Awards and Certa Awards combine over 180 years of expertise combined with a responsive, flexible and innovative approach to the needs of our customers.
Renowned for excellent customer service, and quality standards, ABC Awards and Certa Awards also offer regulated qualifications for all ages and abilities post-14; all are developed with the support of relevant stakeholders to ensure that they meet the needs and standards of employers across the UK.
Professional Membership
On completion of this course you will be eligible to join the following Professional Associations(s):
Anyone who is studying for or has completed a course endorsed by an Ofqual approved awarding body is eligible to join Qualifications Register. The Qualifications Register (QR) is an independent register that aims to serve both members of the public and those professionals who hold recognised qualifications.
QR's primary aim is to provide transparency to members of the public and employers. The QR is a searchable database that allows them to find a practitioner and view the relevant qualification and endorsements the practitioner holds. The member of the public is then able to make an informed decision in relation to the suitability of the practitioner. QR also tracks whether practitioners have insurance, again something that is useful for members of the public. QR can also help professionals gain insurance or find professional indemnity cover. Click here to find out more.
Members of the public can check an independent source with complete confidence that the practitioner has the qualification(s) they claim to have and that any additional CPD the practitioner has, is verified and quality assured to make sure that the CPD is being done on a regular basis. QR tracks a practitioners endorsed CPD (in unison with our CPD accreditation partner Lifetime Awarding) and other key signals to help members of the public and employers to come to a more informed decision about the professional they intend to use. This is an enormously valuable signal that's increasingly important as business becomes more deregulated and privatised.
For practitioners QR helps you market your skills, endorsements and feedback transparently to a wider audience. It also gives you access to a community to help make you more able to progress and succeed in your field of expertise. Click here to find out more.
Lesson 1: Introduction to sports coaching

The learning outcomes for this unit are:

Understand the importance placed on sport in modern society
Appreciate the context in which sports coaching currently exists
Define sports coaching
Understand what motivates people to become a sports coach
Appreciate the different approaches to sports coaching
Understand why a humanistic approach to sports coaching is regarded as the benchmark in coaching practice
Explain why a humanistic approach is compatible with a performance sport culture
Understand what makes a good coach
Understand the multiple roles of a coach.

Lesson 2: Sports development: coaching in context

The learning outcomes for this unit are:

Define the work of sports development and its intentions
Appreciate how models of sports development contribute to an understanding of the role of sports development personnel
Comprehend the involvement of government and how this impacts on sports development work
Identify and appreciate the roles and responsibilities of key agencies in sports development
Understand the practice of sports development work
Appreciate the current state of participation in sport
Recognise the implications and opportunities that exist for coaches iwth the remit of sport.

Lesson 3: Coaching knowledge and learning to coach

The learning outcomes for this unit are:

Understand the evolution of a coach from novice to expert practitioner
Understand what is sports coaching knowledge
Appreciate the areas of sports science knowledge impacting on coaching
Articulate the domains of knowledge important in sports coaching
Understand that sports coahcing knowledge is constructed
Explain the formal, non-formal and informal contexts in which sports coaches construct knowledge.

Lesson 4: The coaching process

The learning outcomes for this unit are:

Define the coaching process
Understand the roles and skills of a sports coach
Understand how to plan and deliver a coaching session
Understanding coaching styles
Understand a coaching philosophy

Lesson 5: Coaching pedagogy

The learning outcomes for this unit are:

Explain what is meant by "coach as a teacher"
Understand the pedagogy of coaching
Explain the main theories of learning in relation to coaching
Understand different coaching styles

Lesson 6: Sociology for coaches

The learning outcomes for this unit are:

Define the concept of sociology
Understand the terms culture and society
Identify how race, ethnicity, gender and class impact upon the coaching process

Lesson 7: Anatomy and physiology for coaches

The learning outcomes for this unit are:
Understand anatomical terminology
Describe the structure and function of the skeletal system
Describe key structures of the muscular system
Describe the structure and function of the cardiovascular system
Describe the structure and function of the respiratory system

Lesson 8: Psychology for coaches

The learning outcomes for this unit are:

Define intrinsic and extrinsic motivation
Explain why motivation matters in the context of sport
Understand achievement goal theory
Identify the ways in which coaches can affect motivation in their athletes
Understand about the psychological impact of sports injuries and the role of the coach
Understand about anxiety and arousal in sport and the role of the coach

Lesson 9: Understanding special populations in coaching

The learning outcomes for this unit are:

Understand that coaching ought to be athlete-centred
Understand what a special population in coaching is
Appreciate the different special populations you may encounter as a coach
Explain some of the characteristics of some special populations

Lesson 10: Coaching young performers

The learning outcomes for this unit are:

Understand how children and adults differ physically, mentally and emotionally
Understand child growth patterns and physical chances
Know about stages of motor development and movement co-ordination
Know the basis of making training fun, challenging and related to competition

Lesson 11: Nutrition, exercise and lifestyle management

The learning outcomes for this unit are:

Understand how lifestyle factors may affect an athlete
Understand nutrition terminology
Describe what is included in a balanced diet
Describe macronutrients and their function
Describe micronutrients and their function
Understand the importance of hydration
Understand about food labelling

Lesson 12: Analysis of sports performance

The learning outcomes for this unit are:

Know the purpose of performance analysis at different levels of sport
Know the cycle of completing performance analysis in sport
Know the different performance criteria used in performance analysis
Know methods of performance analysis and the use of technology
Know how to provide feedback after analysing performance

Lesson 13: Coaches and athlete preparation: training and monitoring

The learning outcomes for this unit are:

Understand the factors that influence performance
Understand the application of a needs analysis
Understand the application of the training principles to speed, strength, endurance and power
Understand the application of the training principles to agility, balance and coordination

Lesson 14: Ethics and good practice

The learning outcomes for this unit are:

Understand how to define the term ethics
Appreciate how ethical issues arise in sport
Define and express various approaches to ethics
Recognise why ethical practice is necessary in coaching
Understand how coaches can adopt good practice principles in their coaching
Understand key legislation that may impact on coaching practice
What's Included
All study materials
Study Guide
Full Tutor and Admin support
The course fee includes the awarding body registration and certification fee (valued at up to £30.00).