Wedding Planner
Weddings in the UK are big business – the industry itself is worth over £4billion annually, the average wedding costs over £20,000 and brides take approximately 250 hours to plan their dream day. However, a combination of the need to get the best for their money, the desire to put together a spectacular day and the 'money rich, time poor' society that we live in means that more and more couples are turning to wedding planners to help them put together their wedding for them.

The wedding planner can be involved at various levels in a wedding day – from planning and preparing every single aspect of the event to simply finding one supplier or being there on the day to manage everything. The most success wedding planners have a huge knowledge of weddings and trends but also of business management.

This course is designed for those wishing to pursue a career as a wedding planner or a wedding planner's assistant, either on a sole trader basis or as part of a larger wedding planning organisation.

This is a 6 unit course which encompasses a variety of wedding planning subject areas. For example; the function of a wedding planner, wedding ceremony venue selection, preparation of overseas weddings, themed weddings, planning of goods and services and setting up a home based wedding planning business.

This course is written to give those interested in entering the wedding planning industry (or indeed those already in it) a full and detailed look at the numerous tasks and roles a wedding planner can be asked to perform whilst also learning how to start a wedding planning business.

The course is linked to the National Occupational Standards for Business Administration and Customer Service.
Free With This Course
Students on this wedding planner course will receive a FREE download of Event Planner Pro software (R.R.P. £94.99). Event Planner Pro is professional event planner software designed for professional wedding planners to use to organise their business and their clients' events. With this software, you can add all your prospects and clients. You can keep track of their invoices and expenses, define your own categories, and even organise your clients' guest lists and seating plans.
Event Planner Pro is designed for any type of event, not only weddings. There is no limit to the number of client events you can create. And with fantastic, instant access to on-screen help, which can be accessed by clicking the '?' at the top of every screen, you'll find everything you need at your fingertips to plan multiple events.
This Event Planner Pro software features:
Easy to use screens, including great online help
Create unlimited prospects and clients
A comprehensive suite of reports can be previewed, printed, or exported to PDF files to enable you to e-mail them
Use the Supplier Directory to maintain a list of suppliers that each of your clients can use. These can easily be copied into your client databases
Produce a profit and loss figure for one of your clients or your entire business at a click of a button
Advertising campaigns can be easily monitored to see how cost effective they are
All your information is stored on your computer and can be password protected for security
The backup facility makes saving your data simple
The software will run on Windows XP SP2, Vista and Windows 7.
For more information on the Event Planner Pro programme, view this demo.
On completion of your course, you will receive two certificates:
Certificate 1 is issued by Stonebridge Associated Colleges: Wedding Planner Diploma
Wedding Planner Diploma issued by Stonebridge Associated Colleges, to view a sample of the college's award, please click here.
Certificate 2 is issued by ABC Awards: Level 3 Wedding Planner Certificate of Achievement
At the end of this course successful learners will receive a Certificate of Achievement from ABC Awards and Certa Awards and a Learner Unit Summary (which lists the components the learner has completed as part of the course).
The course has been endorsed under the ABC Awards and Certa Awards Quality Licence Scheme. This means that Stonebridge Associated Colleges has undergone an external quality check to ensure that the organisation and the courses it offers, meet defined quality criteria. The completion of this course alone does not lead to a regulated qualification* but may be used as evidence of knowledge and skills gained. The Learner Unit Summary may be used as evidence towards Recognition of Prior Learning if you wish to progress your studies in this subject. To this end the learning outcomes of the course have been benchmarked at Level 3 against level descriptors published by Ofqual, to indicate the depth of study and level of demand/complexity involved in successful completion by the learner.
The course itself has been designed by Stonebridge Associated Colleges to meet specific learners' and/or employers' requirements which cannot be satisfied through current regulated qualifications. ABC Awards & Certa Awards endorsement involves robust and rigorous quality audits by external auditors to ensure quality is continually met. A review of courses is carried out as part of the endorsement process.
*Regulated qualification refers to those qualifications that are regulated by Ofqual / CCEA / Qualification Wales
To view a sample of the ABC Certificate of Achievement, please click here.
Requirements for Entry
There is no experience or previous qualifications required for enrolment on this course. It is available to all students, of all academic backgrounds.
Who are ABC Awards and Certa Awards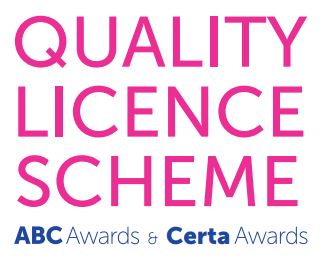 ABC Awards and Certa Awards have long-established reputations for providing high quality vocational qualifications across a wide range of industries. ABC Awards and Certa Awards combine over 180 years of expertise combined with a responsive, flexible and innovative approach to the needs of our customers.
Renowned for excellent customer service, and quality standards, ABC Awards and Certa Awards also offer regulated qualifications for all ages and abilities post-14; all are developed with the support of relevant stakeholders to ensure that they meet the needs and standards of employers across the UK.
Professional Membership
On completion of this course you will be eligible to join the following Professional Associations(s):
Anyone who is studying for or has completed a course endorsed by an Ofqual approved awarding body is eligible to join Qualifications Register. The Qualifications Register (QR) is an independent register that aims to serve both members of the public and those professionals who hold recognised qualifications.
QR's primary aim is to provide transparency to members of the public and employers. The QR is a searchable database that allows them to find a practitioner and view the relevant qualification and endorsements the practitioner holds. The member of the public is then able to make an informed decision in relation to the suitability of the practitioner. QR also tracks whether practitioners have insurance, again something that is useful for members of the public. QR can also help professionals gain insurance or find professional indemnity cover. Click here to find out more.
Members of the public can check an independent source with complete confidence that the practitioner has the qualification(s) they claim to have and that any additional CPD the practitioner has, is verified and quality assured to make sure that the CPD is being done on a regular basis. QR tracks a practitioners endorsed CPD (in unison with our CPD accreditation partner Lifetime Awarding) and other key signals to help members of the public and employers to come to a more informed decision about the professional they intend to use. This is an enormously valuable signal that's increasingly important as business becomes more deregulated and privatised.
For practitioners QR helps you market your skills, endorsements and feedback transparently to a wider audience. It also gives you access to a community to help make you more able to progress and succeed in your field of expertise. Click here to find out more.
Unit 1 – The Wedding Planner Role

By the end of this unit the learner will be able to:

Describe the key personal skills required to operate as a wedding planner.
Discuss the ways in which the wedding planner can build good relationships with clients.
Describe the ways in which good communication can be carried out with clients.
Explain the essential facets of customer service that a wedding planner should adhere to.

Unit 2 – Church Weddings, Civil Ceremonies and Civil Partnerships

By the end of this unit the learner will be able to:

Describe the process for organising a church wedding.
Explain the civil ceremony process.
Describe the organisation required for co-ordinating a civil partnership ceremony.
Explain the process for ascertaining which is the most appropriate type of wedding ceremony for clients.

Unit 3 – Preparing a Wedding Overseas

By the end of this unit the learner will be able to:

Describe the elements required to plan an overseas wedding.
Discuss the potential hazards involved in organising a wedding overseas.
Identify and describe the different types of overseas wedding packages available.
Discuss the various types of marriage laws that may be encountered when planning an overseas wedding.

Unit 4 - Preparing a Themed Wedding

By the end of this unit the learner will be able to:

Explain the ways in which a wedding planner can work with clients to design the perfect wedding theme.
Describe the process for identifying the most appropriate suppliers of goods and services.
Describe the issues that may need to be taken into consideration when planning a themed wedding.
Describe the different types of unusual wedding locations that may need to be sourced.

Unit 5 – Planning of Goods and Services Required

By the end of the unit the learner will be able to:

Describe the various considerations required when purchasing wedding party outfits.
Discuss the different types of flower arrangements that may be required for the various types of weddings that may need to be planned.
Describe the different types of entertainment that a wedding planner may be required to source.
Identify and describe the additional items that may be required to be planned for a wedding.

Unit 6 – Setting up a Home Based Wedding Planning Business

By the end of the unit the learner will be able to:

Discuss the process for setting up a home based wedding planning business.
Identify and describe the necessary financial documentation required for a small business.
Describe the strategies that can be used to market a wedding planning business.
Identify and describe the various pieces of legislation that a wedding planner may need to abide by.
What's Included
All study materials
Study Guide
Full Tutor and Admin support
The course fee includes the awarding body registration and certification fee (valued at up to £30.00).