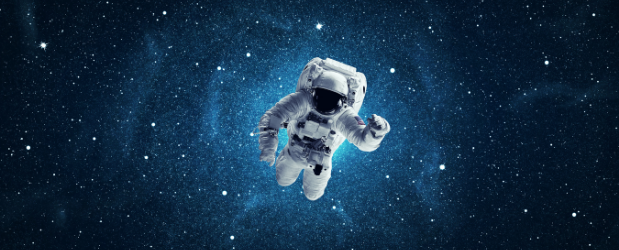 A Level Physics allows you to delve into the laws that explain why everything in the universe – from quasars to Quavers – exists. It explores where energy comes from, how it behaves and how it can be transformed.
It also examines the forces of nature – like gravity – and how they work. You'll gain an understanding of how sustained flight works and why satellites don't fall from the sky. Apart from when they do.
It's a multi-faceted subject that can lead to a fascinating and fulfilling career, whether your interests lie in theoretical or experimental physics.
Studying A Level Physics will develop your reasoning, problem-solving and analytical skills to the next level. This will position you ideally for university level study or the workplace.
Due to the heavy mathematical element to physics, a qualification can also help you explore mathematical studies and career path. It is also an essential qualification if you wish to go to medical school.
What you'll learn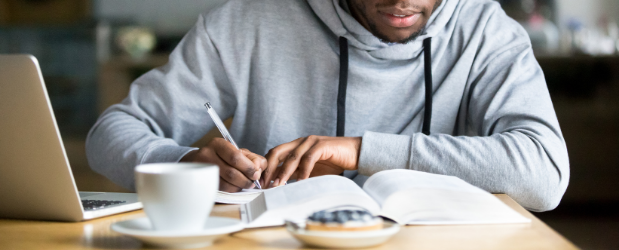 A Level Physics covers a broad range of subject matter to give you the grounding you need to become a competent physicist. It will also expose you to the different areas of physics, so you have the choice to focus your studies as your progress.
Measurements and their errors
A working knowledge of the specified fundamental units of measurement is vital. Likewise, practical work in the subject needs to be underpinned by an awareness of the nature of measurement errors and of their numerical treatment. The ability to carry through reasonable estimations is a skill that is required throughout the course and beyond.
Particles and radiation
This module focuses on the fundamental properties of matter, and to electromagnetic radiation and quantum phenomena. You will become aware of the way ideas develop and evolve in physics. You will also study the importance of international collaboration in the development of new experiments and theories in this area of fundamental research.
Waves
The study of wave phenomena will develop your knowledge of the characteristics, properties, and applications of travelling waves and stationary waves. This includes refraction, diffraction, superposition and interference.
Mechanics and materials
Your understanding of forces, energy and momentum will be expanded to include vectors and their treatment. You will study materials considered in terms of their bulk properties and tensile strength.
Electricity
This section provides opportunities for the development of practical skills at an early stage in the course and lays the groundwork for later study of the many electrical applications that are important to society.
Further mechanics and thermal physics
In this module you will study circular motion and simple harmonic motion (the harmonic oscillator). You will also look at the thermal properties of materials, the properties and nature of ideal gases, and molecular kinetic theory.
Fields and their consequences
The concept of field is one of the great unifying ideas in physics. The ideas of gravitation, electrostatics and magnetic field theory are developed within the topic to emphasise this unification. Many ideas from mechanics and electricity from earlier in the course support this and are further developed.
Nuclear physics
This section builds on the work of particles and radiation to link the properties of the nucleus to the production of nuclear power through the characteristics of the nucleus, the properties of unstable nuclei, and the link between energy and mass. Students should become aware of the physics that underpins nuclear energy production and of the impact that it can have on society.
Astrophysics
You will gain deeper insight into the behaviour of objects at great distances from Earth and discover the ways in which information from these objects can be gathered. The underlying physical principles of the devices used are covered and some indication is given of the new information gained using radio astronomy. The discovery of exoplanets is an example of the way in which new information is gained by astronomers.
Medical physics
This module covers the study biological and medical topics and the applications of physical principles and techniques in medicine. The physics of the eye and ear as sensory organs is discussed. The important and developing field of medical imaging, with both non-ionising and ionising radiations is explored.
Engineering physics
This module reinforces and extends the work of core units by considering applications in areas of engineering and technology. It broadens your understanding in areas of rotational dynamics and thermodynamics. The emphasis is on understanding the concepts and the application of physics.
Turning points in physics
This module looks at key concepts and developments in physics in greater depth. You will be able to appreciate, from historical and conceptual viewpoints, the significance of major paradigm shifts for the subject in the perspectives of experimentation and understanding.
Electronics
This module allows you to learn more about modern electronic technologies. You will examine and discuss both analogue and digital techniques ranging from the operational amplifier to digital signal processing.
Why Study A Level Physics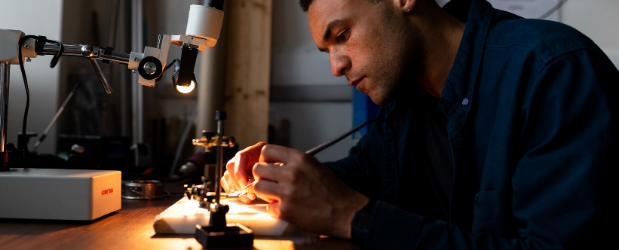 A Level Physics will give you incredibly strong analytical and research skills. You will be able to come at problems and solve them in a methodical and logical way.
You will be able to investigate theories, devise tests and explore new ideas. Such strong problem-solving skills are highly sought after. In fact, qualifications in physics and maths are two of the most desirable qualifications for employers. Considering the heavily mathematical element in physics, it's a qualification that carries weight.
It can also lead to several interesting and rewarding careers:
A Level Physics allows you to study the universe and give you the chance to pursue some really exciting careers, should you choose to keep your studies going.
Studying your A Level Physics at Home
Studying your A Level at home provides you with the maximum level of flexibility possible. This thanks to your learning material being entirely online.
This means you can study your A Level Physics at a pace and in a way that suits you best. While you have two years to complete the course – most of our students are ready for their exams in 9 months.
That means, depending on when you can enrol and start your learning today and be qualified in less than a year. You don't have to wait for the start of term.
If you've been out of education for a while distance learning also avoids that fish out of water feeling you can get being surrounded by people half your age.
Plus, it's far easier to balance your job and your home life without the added hassle of classes. With distance learning, you study around your commitments, rather than forcing your commitments to fit around your studies.
Moreover, online learning often uses multiple mediums to present the information. This makes the learning experience more engaging as you'll learn from various different formats such as text, video and imagery.
You'll also be assigned an expert tutor to guide you through your studies. They'll provide you with constructive feedback and be there if you ever need assistance.
Start your learning today
Studying A Level Physics is a fascinating and ever evolving science that can lead to a career that could change how we look at the universe.
Stonebridge Associated Colleges is one of the UK's leading online learning providers. Offering a variety of accredited A Levels.
We offer flexible payment options to help you spread the cost and an expert tutor to guide you through your studies.
To learn more about how to prepare for your distance learning course read our blog here.
If you're ready to get back into education get in touch with one of our advisers or enrol online today.