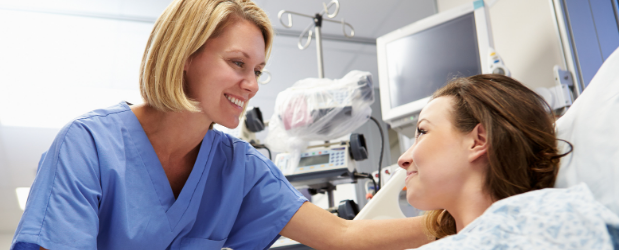 A nursing degree is required to become a fully qualified nurse in the UK. Those that qualify go on to help thousands of patients throughout their careers.
As a nurse you'll be providing the upmost care and compassion for patients going through a range of different treatments. You'll be working alongside other medical, health and social care professionals to really make a difference in people's lives.
Excellent communication is vital when dealing with patients, liaising with colleagues and family members. Not only will you administer medical treatment, but you'll be a support system too, for the patient and their families.
Your work could be situated in hospitals, schools, GP surgeries, residential homes, outpatient units and hospices. You may even work with patients in their own homes if they're unable to leave the house.
An Access to Higher Education Diploma gives caring and empathetic individuals an alternate route to university. Through the Access to HE Diploma in Nursing you'll everything you need to know to prepare you for university level studies.
Whatever stage you're at in life, it's never too late to realise those ambitions of becoming a nurse. Whether you're 22 or 52 you can still save lives by changing yours.
Nursing Degree Requirements
To become a qualified nurse requires a substantial amount of knowledge regarding human biology and healthcare. You'll need to be educated to degree level by a course that has been approved by the Nursing and Midwifery Council (NMC).
The NMC are a non-ministerial government agency that maintain the register of nurses and midwives eligible for work in the UK. They also regulate professional courses and set the standard of learning.
Universities across the country offer NMC approved courses, however, their entry requirements vary. This is because each university can set their own so always double-check if you have a particular institute in mind.
Most commonly universities will ask for GCSE Maths and English at Grade C/4 or above. Functional Skills level 2 Maths and English is an alternative though not as widely accepted.
Then you would need 2/3 A Levels in related subjects. Or the Access to Higher Education Diploma in Nursing which is equivalent to A Level study.
Access to Higher Education Diplomas can be worth up to 3 A's at A Level by achieving high marks throughout your learning. This makes it a solid choice to get you the relevant knowledge needed for entry onto a nursing degree.
Instead of taking multiple courses at once, you'll only need to take the one, making it the more time-efficient route.
What type of Nurse can I be?
Most commonly those that take the Access to HE Diploma in Nursing go into adult nursing.
However, there are other options out there. You could get a degree in mental health nursing for example and specialise further in specific areas of mental health if you choose.
Depending on what interests you can determine where your Access to HE Diploma will take you.
Adult Nursing
Adult nurses care for patients aged 18 and over with a variety of health conditions. This can range from minor injuries to long-term illnesses and disease.
You're responsible for supporting the patient and medical staff with treatments and procedures. As well as carrying out ongoing assessments and evaluating the needs of the patient.
You'll be working alongside a range of healthcare professionals but are usually the main port-of-call for a patient.
You'll need to easily build relationships with patients and families to create a positive environment during treatments and difficult times.
Mental Health Nursing
As a Mental Health Nurse you will work alongside patients to encourage them to overcome challenges relating to their condition.
You can specialise in working with certain groups like children or specific areas like psychosis or drug and alcohol abuse. You'll liaise with other healthcare professionals like psychiatrists, psychologists, occupational therapists and social workers to plan restorative treatments for patients.
As a Mental Health Nurse you could find yourself working in a variety of settings including:
A patients home
Community healthcare centres
Hospital outpatients department
Specialist units
Secure residential units.
To get into mental health nursing you can enrol onto a mental health nursing degree at university. Or complete a post-grad after your adult nursing degree.
Paediatric Nursing
Paediatric nurses work with children and provide them with specialised care according to their needs.
You'll need to be an excellent communicator and address children appropriately. As well be sensitive towards their feelings as they may not understand the full extent of the situation.
If you're working with young children you'll need to be able to interpret their behaviour and reactions to assess them.
You can work in a variety of settings including hospitals, homes and in the community. You'll be working alongside doctors, healthcare assistants, play staff and social workers.
To get into paediatric nursing you can enrol onto a paediatric nursing degree at university. Or complete a post-grad after your nursing degree.
Learning Disability Nursing
A learning disability nurse works within a community or supported living setting.
You'll look after a patient mentally and physically and assist them with daily activities. This could be helping them find work, attend college or do their weekly shop.
You'll be following care plans and monitoring their implementation before reporting back to your team. Your team will consist of other nurses, carers and health and social welfare professionals.
Not only will you support a patient you will provide support for families and friends too.
Studying an Access to HE Diploma from Home
Completing your Access to HE Diploma through an online learning provider enables you to study without impacting your other commitments.
So you can learn at a pace and place that works for you. Whether that's after the school-run or before a shift. You're completely in control.
The average online student completes their course in 9 months, but you have two years if need be. This gives you the time to relax and really enjoy your learning experience.
You won't have to worry about getting to class, copying down notes before the teacher changes slides or completing homework. Just set up your workspace wherever suits you best, log in and begin learning.
An experienced and qualified tutor will be on hand to guide you throughout your learning. They'll be there to offer constructive feedback and support when needed to make sure you're on the right track.
Whatever route you decide to take your nursing career an Access to Higher Education Diploma could be the first step.
At Stonebridge Associated College we offer an online Access to Higher Education Diploma in Nursing to get you on your way. Stonebridge Associated Colleges are one of the UK's leading online learning providers with a broad range of courses to choose from.
We also offer flexible payment options to help you spread the cost. If you'd like to learn more on how to prepare for your online learning experience read our blog.
To begin your new adventure speak to a member of our sales team or enrol online today.