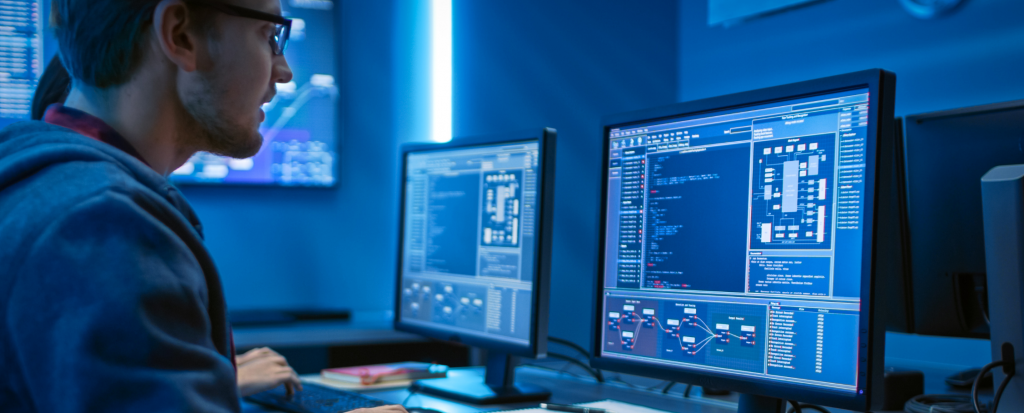 Getting back into education to study computer science with a full-time job requires dedication to reach your goals. That being said, it's completely possible through an online course.
Online courses give you the flexibility to study around your existing commitments. So you're able to learn whenever suits you best. Even if your shifts change week by week you can work around them.
Physical colleges require you to attend classes to progress with your learning. Which makes it difficult to consider education if you're working full-time. Whereas, if you have a laptop and an internet connection you can enrol onto an online course.
So you won't have to worry about catching up if you miss classes. Or the logistical nightmare of rearranging your current schedule.
Especially with a subject like computer science where there's a lot intricate topics to learn. And they all tie in together.
Therefore, missing a class can leave big gaps in your knowledge and be detrimental to your overall learning experience. So if you're considering studying computer science with a full-time job then online learning is the best choice for you.
Choosing a Distance Learning Provider to study computer science
The first step towards studying computer science with a full-time job is finding the right distance learning provider for you. Because of the multitude available online, it's a good idea to be well informed on what to look out for.
Although most online courses are from reputable training providers, that's not always the case. Knowing what to look out for ensures your qualification is worth the paper it's printed on.
Reputable distance learning providers should mention tutor support. And they shouldn't be charging you extra for it.
If you're enrolling onto an online course then you're studying predominantly independently. However, if you were to get stuck then you need to have someone to turn to.
Another thing to look out for is who the qualification is accredited by. For example, if you were getting qualified to meet university entry requirements then your qualification needs to be regulated.
Common awarding bodies such as QAA and Ofqual are often referenced in course overviews. They're non-ministerial governing agencies that ensure the quality of qualifications. Whether that's through a physical college or distance learning provider.
However, if you're looking to gain skills in computer science for personal development then a regulated course isn't essential. If the course covers the topics you need to develop your skills then it shouldn't matter.
These are the main things to research into when considering studying computer science online.
How to Study computer science around your Full-time Job
Now you've chosen which online learning provider to enrol with you can start learning pretty much instantly. As soon as you enrol onto your course you'll gain access to the material you need to start studying. Unlike a physical college where you would need to wait until the term starts, elongating your learning journey.
Add your studies into your schedule
The best way to keep on top of your studies is to schedule your study sessions into your calendar. Like you would at work to make sure everything you need to do gets done.
Applying this to your online course keeps you organised and on top of your workload. You can plan your study sessions around your shifts, family or social commitments. In doing this, you're far more likely to progress with your learning.
In addition to this, it's also helpful to see your course workload laid out. This way you can set yourself realistic goals of when you'll be completing your course. Plus, you'll have somewhere to look back on what you've already worked on and what's left to do.
Set up your workspace to study computer science
As the saying goes, "out of sight, out of mind" and that can be applied to your workspace too. If you set up your workspace solely with the items you need then you're less likely to be distracted.
Ideally, you'll need a nice clear location with a large enough desktop to layout everything you need. As well as somewhere comfortable where you can sit upright. If you don't have an office space then you need to find somewhere to do this such as a kitchen, living room or bedroom.
However, if you are to study in your bedroom we would advise against doing it on your bed. Not only is there not adequate space for you, it's also what you associate with sleep and relaxation.
Therefore, it can be hard to focus if you're studying in your bed. Alternatively, it can be hard to fall asleep at night if you start linking it with studying instead.
Take breaks
Taking breaks is important as it helps your brain digest information. Ideally, you would be able to break up your study sessions into smaller chunks over time. Not only are you less likely to be put off by shorter sessions but your brain has less to process.
However, if you must fit in longer study sessions then you should have periodic breaks throughout. We suggest reading a book or going for a walk. These activities allow your brain time to relax without being too distracting.
It's not uncommon for learners to take five minutes to watch tv or scroll through social media. And then suddenly an hour has passed. So try to avoid anything too distracting such as mobile phones or televisions.
Staying motivated
Depending on your course, it can take anywhere between a few months to a couple of years to complete. Either way, it's important to be dedicated to your studies for the duration.
Motivation can decrease overtime as you start to lose sight of what it is you're studying for.
It's important to reflect on your progress and commend yourself for all your hard work. As well as remind yourself why it is you chose to study computer science in the first place.
Whether it was to gain skills to better perform in your current role or continue to study at university and beyond. Keeping focussed on the road ahead ensures you're on the right track to reach your goals.
Asking for help
Just because you're studying independently doesn't mean you can't ask for help. As previously mentioned, any reputable distance learning provider will have qualified tutors on hand. Whether you're finding a particular module challenging or haven't quite grasped a certain concept.
Your tutor is there to ensure you're confident in your ability and able to progress with your studies. Whether they're providing you with constructive feedback or explaining something in a different way. Or even providing some external resources that may help you understand the concepts further.
If you're ready to study computer science online then Stonebridge Associated Colleges can help.
Stonebridge Associated Colleges is one of the UK's leading online learning providers. We offer the Access to HE Diploma (Computer Science) and the Access to HE Diploma (Computer Science and maths).
All our courses have flexible payment options so you can spread the cost. As well as supportive and dedicated tutors. Our tutors are experts in their respected field and are on hand to assist you whenever needed.
Browse our courses below to learn more or speak to an advisor and get started today!