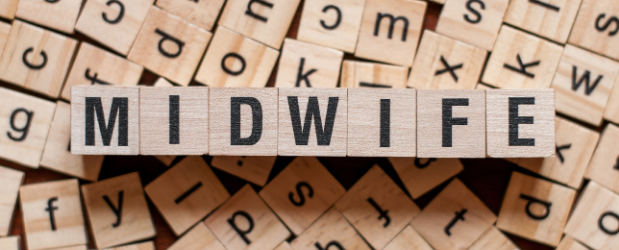 Being a midwife is to work in a vocation that has been a cornerstone of the healthcare sector in many ways. Now, midwives around the world help their patients in a variety of settings, throughout pregnancy and labour. Becoming a midwife, UK residents, is something that many aspire towards as they can make a significant impact on the lives of expectant mothers.
They are licensed, qualified professionals who support the mother-to-be through their pregnancy. To become a midwife, you will have to learn a range of techniques through private midwifery courses. By developing skills, you will be able to assist in prenatal care, labour, childbirth and postpartum recovery, including the postnatal period.
As a midwife, you'll meet expectant mothers at the early stages of their pregnancies and help them to make decisions about the care they wish to receive. A significant part of becoming a midwife, UK residents, is to learn how to offer guidance, answer questions about childbirth, address any concerns and generally be a pillar of support for them throughout this life changing time.
If you are asking yourself 'how do I become a midwife?' then continue reading! We explore the entry requirements you need to embark on a midwifery degree and everything in between.
A Career as a Midwife
A career as a midwife is intense, powerful and extremely rewarding. However, it takes a particular type of person to do it.
Following rigorous training through private midwifery courses, you will carry out regular duties such as:
Gynaecological examinations 
Assisting with preconception planning 
Offering guidance through labour and delivery 
Provide information on breastfeeding and how to look after a newborn 
There are various personality traits you need to become a midwife. UK learners will need to be able to react quickly and effectively in times of stress, take the lead and make immediate decisions when required.
If you are wondering 'how do I become a midwife?', then you should know that strong team-working skills are essential and, as the work is both mentally and physically demanding, you'll need to be fit to keep up. You will also need to communicate clearly with individuals from all backgrounds, respecting the social and cultural context in which each birth takes place.
Alongside this, you will also be expected to be alert to and address any sensitive issues that may come to light, such as domestic abuse, bereavement, intimacy and sexual health issues. You will learn how to develop these skills during academic study when you enrol on private midwifery courses.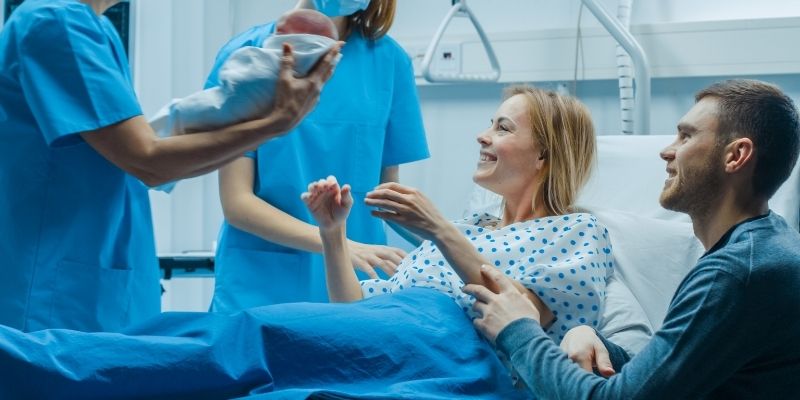 What Qualifications Do I Need? 
Screening checks 
To practice as a midwife in the UK, you have to be registered with the Nursing & Midwifery Council (NMC). All student midwives must take a criminal record check with the Disclosure and Barring Service (DBS). If the midwifery degree you are studying includes "caring for or being in charge of children" you will also need to complete a Protection of Children Act List check, before your clinical placement.
In terms of working with the NHS, each criminal conviction or police caution is taken into account and the circumstances assessed. This means it does not automatically discount your application. You can visit the NHS to learn more about the screening options.
Undergraduate study 
In order to register with the Nursing and Midwifery Council, you must complete an approved pre-registration midwifery degree programme. These university degrees last three years when studied full-time, though there are options for part-time study.
Half of the course involves study at university, the other half involves practical placements, allowing you to get vital hands-on experience to hit the ground running after graduation. Combining these approaches will prepare you for becoming a midwife, UK learners, and you can pursue your own NHS careers.
For those who are coming from a qualified nursing background, there are midwifery short programmes available, meaning you can become a midwife sooner than the regular course.
Pre-university qualifications 
As there isn't a national minimum requirement to be accepted onto a midwifery degree, universities will set their own entry criteria. Typically, you will need at least two A Levels or equivalent, one being a science.
You will also need supporting GCSEs, including a grade C/4 or above in both Maths and English, prior to gaining Level 3 qualifications.
Again, the A Levels required to become a midwife will vary depending on the university you apply to. So, it is best to check this first before you choose which A Levels to take.
What Type of Midwife Could I Become? 
Most midwives work for the NHS within hospitals, maternity and birthing centres or GP surgeries. Others work in private hospitals, independent practices, the armed forces or they are self-employed.
Once you are qualified following private midwifery courses and you have gained experience working as a general midwife, there are many pathways for progression.
With opportunities to specialise in bereavement, teenage pregnancy, diabetes, public health, intensive care and parenting education to name a few, you can find your calling in many avenues. There are also opportunities that allow you to work midwifery around your lifestyle. If night work isn't an option for you, you could pursue the role of community midwife instead.
Those with a midwifery qualification gained from private midwifery courses can also explore other roles such as:
Health Visitor 
General Healthcare Assistant 
Ward Manager 
Consultant Midwife 
Voluntary Midwife – abroad 
Antenatal/Postnatal Healthcare Assistant 
Maternity Support Worker 
Researcher 
Lecturer/Teacher 
Sonographer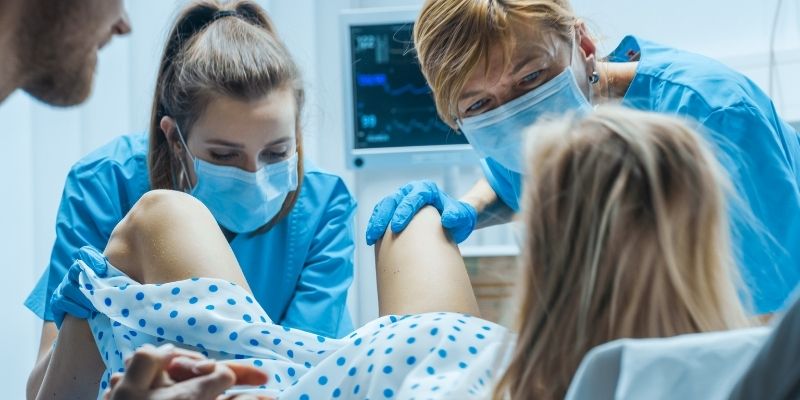 Alternative Qualifications Available 
If you don't have the A Levels or GCSEs required to study an approved midwifery degree programme, this isn't the end of the road.
To get the required C grade in English and Maths, you can take a Functional Skills course which will give you the equivalent of a grade C/4 GCSE qualification. These courses focus on the practical applications of English and Maths, to help give you the skills required for both life and work. With the ability to complete within a few months, they are a quick alternative to re-taking GCSEs.
If you need to study your A Levels, there is also a faster alternative. Access to Higher Education Diplomas allow you to study one course instead of the two or three required at A Level, and receive an equivalent qualification.
Rather than taking the time to study independent A Level subjects, our Access to Higher Education Diploma (Midwifery) course is a streamlined way to get the knowledge you need to study at university.
While A Level courses would give you a broader knowledge of subjects like Biology, our midwifery diploma is designed to give you the knowledge you need that specifically relates to becoming a midwife.
Not only is it specialised, it gets you to university in far less time. With completion possible within 9 months, depending on when you enrol you could be qualified and applying to university within a year. So, if you are wondering 'how do I become a midwife?', then this is a route that will help.
Study to be a Midwife Online 
By studying your Access to HE Diploma online, you omit the restrictions associated with typical education settings. Instead, you have the freedom to study whenever and wherever you like. So, if midwifery to you is a career change, you can qualify outside of your current job by studying private midwifery courses.
Stonebridge Associated Colleges are a leading provider of distance learning courses. Click below to view our Access to Higher Education Diploma (Midwifery) in more detail, call 0121 392 8288 or click below to find out more.