A Midwife helps new mothers and families through one of the most profound transitional periods of their lives. They assist and advise them throughout pregnancy, are by their side during the birth and continue supporting them throughout the postnatal period. Overall, the Midwife's focus is on giving new mothers all the information required to make informed decisions about their bodies and the care they'll receive.
Before becoming a Midwife, you must gain the necessary qualifications and accreditation. Then you'll need to ace your interview for the role.
The interview process for midwifery is important as it ensures aspiring Midwives fully understand what the role entails. It also helps interviewers assess whether you will be able to handle both the physical and emotional aspects that will be involved, as well as your ability to effectively make decisions and manage any ethical dilemmas.
You won't know what will be asked until the day. However, there are certain things you can often expect in a midwifery interview and get prepared for. As well as common interview questions you can practise answering beforehand.
The more you plan and prepare, the more likely you are to be successful at the interview stage. Below, we run through what you should expect in a midwifery interview, as well as some of the most common midwifery interview questions that are asked, and how to answer them.
What to Expect in a Midwifery Interview
The interview itself could be held one on one, or with a panel of interviewers taking turns to ask questions on a range of topics. Timewise, the midwifery interview could be as short as twenty minutes or take up to an hour. Besides the format of your midwifery job interview, other things you can expect include:
Your Preparation Could Be Questioned
Failing to prepare is preparing to fail, a notion that is often questioned by interviewers. They could gently probe to see if you've done much prep or outright ask what you've done to ready yourself.
This could be questioning if you have visited the midwifery ward or the unit you are hoping to work within. Or whether you've read anything about the area you're applying for or what you know about the Trust/organisation itself.
Being unprepared in this instance can be frustrating for the interviewer and indicate a lack of commitment on your end. While you're not expected to be an expert, doing a bit of fact-finding before you turn up for your midwifery interview is worthwhile.
Speak with the personnel department beforehand as they can likely provide you with information on the Trust or organisation. You should also search for any relevant articles in professional journals and newspapers for topical issues in midwifery.
They May Reference the Job Description
Upon receiving the application form and supporting information for the midwifery job, consider the ways you match the specification.
Go back over the original advertisement at this stage, so you can see if any additional points were mentioned. Including these in your application can help you paint a more detailed picture of why you fit the bill as the ideal Midwife. Plus, it shows attention to detail.
You can also visit the Trust or organisations website, to see if it communicates important priorities and values. If so, echo these in your application, ideally with examples.
Think carefully about the midwifery role in question before completing the form and supporting information. Make sure the reasons you match the requirements are genuine, or else you might find yourself forgetting what you said.
They'll Probably Ask You Different Types of Questions
Aside from the usual 'Tell us about yourself' questions, you'll likely be asked several questions with different motives in your midwifery interview. Now, these aren't to trip you up, instead, they are designed to demonstrate your working knowledge, level of communication and interpersonal skills.
Examples of these questions are:
Knowledge-Based Questions
These are typically questions designed to test your knowledge of processes and legislation in midwifery. They could cover aspects of the profession such as:
Medical or emergency procedures
Your specific technical knowledge and skills
Ways you might apply these skills in practice
Key aspects of the role i.e., the supervision process
Your approach to promoting new midwifery initiatives
How you would manage new or existing standards of care
Your understanding of new midwifery legislation, guidelines, or reports
How these might impact the Midwife role
An example question could be 'What do you understand by accountability?' Or 'How do you think the National Service Framework should be implemented in this area/unit?'
To prepare for these questions, stay on top of current professional and political developments. You can do this by reading reports, white papers, journals, and industry publications. Keeping an eye on the news section of the Trust or organisations website can also help.
Hypothetical or Scenario-Based Questions
These questions get you to think on your feet and test you on how you would react in certain situations that Midwives have to deal with.
Hypothetical questions tend to be those starting with 'How would you react…' or 'What would you do if…'
Examples of these could be:
What would you do if your patient was making decisions which may put their baby at risk?
How would you react if you caught a colleague cutting corners?
Scenario-based questions follow a similar vein, just in more detail. They often come in the form of a described scenario in midwifery, to which you detail how you would deal with it. An example of this could be:
What would you do if an expectant mother was in the second stage of labour and contractions stopped?
If you practice by posing similar midwifery-related questions to yourself, you'll become familiar with ways to effectively word your response. Shape your practice questions around popular soft skills like dependability, work ethic and collaboration, and expect that scenario-based questions on the day will likely relate to specific skills mentioned in the midwifery job ad.
Remember to practice and not plan your answers. You don't know what will be asked of you on the day of your midwifery interview. Trying to memorise a few and make them fit regardless shows you can't be flexible and think on your feet.
Behavioural or Competency-Based Questions
These are questions asking you to consider previous experiences and provide examples of when you did something before. As you're yet to gain officially employed experience as a Midwife, this will likely be about your midwifery placement or training. Typically, these questions are phrased like this:
Tell me about a time when…
Describe an occasion when you have…
Talk about a situation where…
Give an example from your own experience when…
It's not always easy to remember the perfect example off the cuff. So, it pays to have a few pre-considered ones up your sleeve.
Generally, these questions are looking for a solution and its benefit. Practice coming up with answers that use a problem–solution–benefit format.
Answering in this way shows your ability to adapt to situations and that you understand the consequence of your actions.
You can prepare for these types of questions by practising questions about important soft skills in midwifery. These could be:
Work Ethic
Time Management
Detail Oriented
Dependable
Calm Under Pressure
Problem Solving
Positive Attitude
Communication
Decision Making
Self-Motivation
Besides correct answers, what a lot of these questions communicate to midwifery job interviewers is the type of person you are. Be sure to get your best qualities across in your interview to demonstrate you're just what they're looking for in their next Midwife.
Midwife Interview Questions and Answers
As with all interviews, there are certain go-to questions the midwifery job interviewer will ask to establish your character and work ethic. By practising your answers ahead of time, you can come across far more confident and assured of yourself, all of which will instil more confidence in the midwifery hiring manager or panel.
"Tell Me About Yourself"
This is a good way to find out a bit more about you as a person. However, the interviewer also wants to make sure you fit the description of their ideal Midwife candidate.
It would be helpful beforehand to find out what they are looking for in a Midwife. You can do this by carefully assessing the job description and other information you receive before the interview. If the department has a 'person specification' this will help pinpoint some of the key things they desire.
Make notes of these required Midwife traits and consider ways you portray them. That way, when you're discussing your previous experience or training, it'll be easier to align yourself to them.
For instance, they may want someone passionate about enabling individual choice. In this instance, discuss why you feel so strongly about this and provide any examples that emphasise this trait.
Our Example Answer Is:
"I would consider myself as a caring and compassionate person, which is why I am drawn to the role of helping mothers and families as a Midwife. I want to work in this role not just because it will stimulate and challenge me, but because I will be able to positively impact people's lives through the work I carry out, which I find incredibly appealing. I also take my work seriously and realise there is no room for error in this role, the duties I perform and the advice I give mothers and new families is essential in the successful upbringing of children."
"Why Did You Choose to Become A Midwife?"
You're almost guaranteed to be asked this one. The Midwife job interviewer is trying to understand your reasons for becoming a Midwife and how serious you are about the profession.
They want to determine your understanding of the role of a Midwife. So, make it clear you realise as much as it can be positive and rewarding, being a Midwife is full of emotional challenges. Midwives must equally be prepared to deal with death as well as life. Plus, the many complicated and confronting scenarios that can be faced.
Discuss your desire to welcome new life, along with easing the pain and discomfort for mothers. It can be both a beautiful and terrifying time for new parents. Make sure the interviewer knows you are fully prepared to handle whatever comes your way.
Our Example Answer Is:
"I just feel like being a Midwife is such an important role. Many people just think about the happier elements of bringing new life into the world, which is no doubt a huge bonus of the role. However, I feel very strongly about being a pillar of support through the harder times. Not every birth is easy or goes to plan, then there are the births that occur in really challenging family situations. New mothers can feel totally isolated and alone during this process, so being there for them and giving them guidance is so essential. That's the side of the job that really gets me motivated, as I know that even though it is the hardest part of the job my doing it is so important."
"What Are Your Strengths and Weaknesses?"
This question aims to see how aware you are of your professional strengths and weaknesses. While you're not a Midwife yet, you'll have training and experience that'll give you an idea of what these are.
Be as honest as you can here but don't focus on the negative. When you talk about a weakness, tell them how you are working to improve this. Or how you think the role/organisation will help you work on it. When talking about a strength, try to give examples of how it has benefitted your midwifery training so far.
If you aren't sure what your strengths and weaknesses are, talk to your course mates, tutors, or work experience colleagues. They should be able to give you a few points to go on.
Our Example Answer Is:
"A weakness of mine is my reluctance to delegate work to others, I'm a self-confessed perfectionist and I like to know what has been done and when. So, I find I take on more myself. However, I am turning this into a strength by overseeing the work others do. This has been quite useful in our midwifery training as when my coursemates weren't sure they'd performed a task to standard, I could reassure them or correct them if they had done something wrong. It helped them and it helped me practice my leadership skills, as I eventually want to move into a management role in midwifery."
"Which Specialty Within Midwifery Do You Find Most Interesting?"
There are many special isms in midwifery. This question gives you the opportunity to express your passion for a particular area or areas. Potentially positioning you for future job opportunities within the organisation when they arise.
If you're interested in community care and education, talk about why it means so much to you. Should you feel you're well equipped to handle complex-needs care, bereavement, and pregnancy loss, explain why you feel this way.
Prepare for this by reading over your training portfolio and thinking back to the areas of study you enjoyed most.
Be aware that the question also helps the interviewer determine your knowledge of these specific areas of midwifery. By discussing which you'd specialise in and why you'll demonstrate versatility and diversity in your professional knowledge.
Our Example Answer Is:
"I am particularly passionate about mental health and would like to position myself to support new and expectant mothers as they deal with postnatal depression, or other existing mental health issues or disorders. I just feel like the pregnancy and birthing process is viewed constantly as a positive, and new mothers can't comfortably express their feelings if it's making them feel low or affecting their mental wellbeing. I know that the mental health specialism in midwifery is relatively new, but I would love to position myself to help new mothers in this way as it's a massively unsupported area."
"Where Do You See Yourself in Five Years?"
This question is usually a follow on from the last. It tests your knowledge of future prospects in midwifery and helps the interviewer see how determined and ambitious you are.
It allows them to see if you'd be committed to the job you're applying for and the organisation. So, discuss your goals, but ideally, align them to ones that are offered within the organisation.
It pays to do some research here, so you know the types of roles they have on offer, their duties and pay scale. Discuss how your long-term plans perfectly match with the progression routes within the organisation. This way the employer can more easily see how you're a natural fit.
Our Example Answer Is:
"I know that as part of the NHS's pledge to provide more specialist mental health services for new mums, your maternity ward is creating more roles for specialist mental health midwives. If I were to secure a job with your organisation, I would love to work my way up to a leadership position in this area. I imagine my future will be training other midwives about the importance of providing patient-centred mental health support."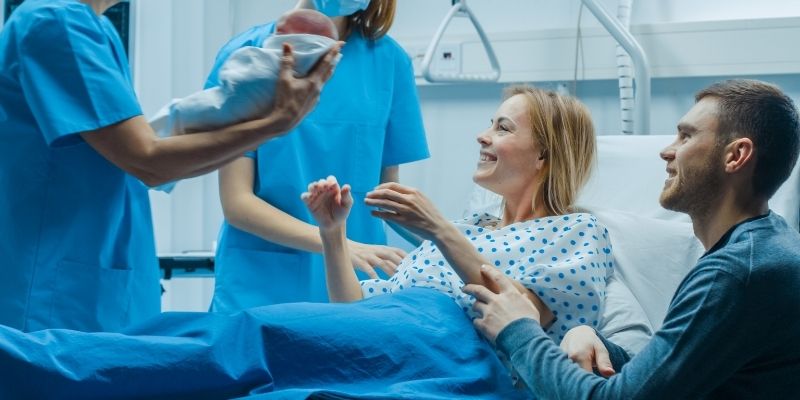 "What Articles or Research Are Most Influential To Your Practice?"
As a pregnancy specialist, you will have a high level of academic knowledge about birthing trends and public health issues. Your role is to educate mothers so they are empowered to make the best decisions for their babies.
This question tests your wider reading ability to recall important information. It also shows the interviewer how passionate you are about midwifery to the extent you go out of your way to learn more.
Spend time reading journals and articles that are of particular interest to you before the interview. Perhaps read ones surrounding the midwifery specialisms you plan to discuss to emphasise your desire to move into that role.
No matter the subject, research it thoroughly and make sure you can reference a few journals or articles to prove you're knowledgeable about the subject.
Our Example Answer Is:
"An article I found particularly fascinating was 'The role and competence of midwives in supporting women with mental health concerns during the perinatal period: A scoping review' by D Coates and M Foureur. It was a huge eye-opener to just how important this additional element of support is, as between 15% and 25% of mothers experience mental health issues during the perinatal period. Besides impacting the mothers and their families, these mental health issues have also been proven to affect the mental, physical, emotional and psychosocial development of infants."
"Will You Be Able to Cope with the Intense Work Schedule?"
Being a Midwife is a demanding and tiresome role. You are often on call and can work for long periods without a break, not to mention you typically won't have much time off over the holidays.
Your schedule is determined by the needs of the mothers you're assigned to as a Midwife and the deliveries you supervise or assist. The Midwife job interviewer wants to make sure you're aware of the intensity of the work environment and that you're dedicated regardless.
In your answer, make it clear that you understand the lifestyle you are about to enter. Talk about how you will make sure you get enough rest in the time that you're not at work. Plus, any healthy or positive hobbies you partake in to keep you fit, relaxed and ready for the next shift.
Our Example Answer Is:
"An expectant mother could have complications with their pregnancy or go into labour at any given moment, so I am aware my skills and support will be required at all times of the day or night. I also know that when I am at work, the duties I perform can get intense, not to mention be physically and emotionally demanding. I've always been quite good at having 'me' time when it's needed. I relax by having baths or long walks and make sure I get my quota of exercise in by doing spin classes three times a week. This helps me keep the balance between work and home."
"How Would You Approach Pregnant Women with Emotional or Psychological Challenges?"
There is an increased risk in the development of psychological and emotional disorders in expectant mothers during pregnancy. As a Midwife, you'll need to be intuitive and able to identify and assess any emerging mental health problems.
This question aims to identify how proactive you would be in this instance. Also, the way you would go about ensuring your patient receives the most appropriate care.
In your answer, you should discuss the importance of multidisciplinary working, as well as referring mothers to the appropriate support services. Your answer should show your compassion and empathy for the many things they can go through during pregnancy and birth.
Our Example Answer Is:
"If I suspected a mother I was working with was experiencing emotional or psychological challenges, I would first and foremost take the time to sit and listen to what they had to say. There's listening and then there is actively listening to what someone is really saying. So, I would let them know they are in a safe space and try to get them to open up about what they are feeling. I would then reassure them that their feelings are warranted, and many other new mothers go through the same thing. I think the main thing to stress is that there is a range of skilled professionals who can directly support them, and I would make an appointment for them to discuss their mental health needs with a Specialist Midwife. They would then be able to refer the patient to specialist services if needed, which could be anything from a GP to an Obstetrician, Social Worker or Health Visitor."
Become a Midwife
Being a Midwife is an amazing privilege. It's a rewarding role that allows you to directly impact the health and wellbeing of mothers and babies.
Do your research and make sure your answers align with the desirable traits the interviewers are looking for. Make sure you think carefully as to why you want to become a Midwife and answer each question with confidence.
This way, you'll make the interviewer see you're exactly what they're looking for and make them confident in their decision to choose you for the midwifery role.
If you're reading this while asking yourself 'how do I become a Midwife', UK learners can start their journey with an online course. If you want to learn now, distance learning colleges can help you get the initial midwifery qualifications you need from home.
Stonebridge Associated Colleges is a leading UK distance learning provider. Our Access to Higher Education Diploma (Midwifery) has everything you need to get ready to study midwifery at university.
You can enrol in this online course today and be on the way to your university degree within 12 months!
Find out more by talking to our Course Executives today. They can run you through the modules you will cover, the level of tutor support you will receive, and the payment options you can take advantage of.
Call them on 0121 392 8288, contact them online or click below to view the Access to Midwifery Course in detail.