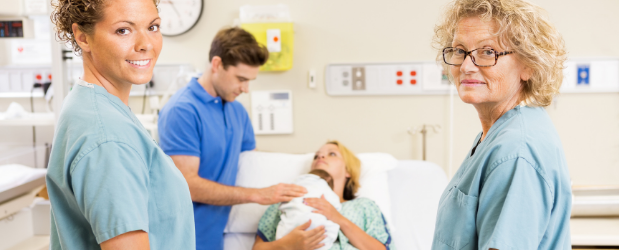 Midwives advise and support soon to be mothers during pregnancy, labour and the early postnatal period. They act as a pillar of strength to individuals and families as they transition to parenthood. Providing comfort, reassurance and guidance during one of the most life-changing and challenging times they'll face.
But becoming a midwife involves screening checks, university study and registration with the Nursing & Midwifery Council.
Once, you've ticked those essential boxes, you're free to pursue your first midwifery role. And with the ongoing national shortage of midwives, there are plenty of jobs to be had.
That's not to say that securing a job is a given. There is still a thorough interview process you'll need to complete and interviewers you'll need to impress.
The interview itself could be held one on one. Or with a panel of interviewers taking turns to ask questions on a range of topics. Time-wise, it could be as short as twenty minutes or take up to an hour.
You won't know what will be asked until the day. However, there are certain things you can often expect in a midwifery interview and get prepared for. The more you plan and prepare, the more likely you are to be successful at the interview stage.
Your Preparation Could Be Questioned
Failing to prepare is preparing to fail. A notion which is often questioned by interviewers. They could gently probe to see if you've done much prep or outright ask what you've done to ready yourself.
This could be questioning if you have visited the ward or the unit. Whether you've read anything about the area you're applying for or what you know about the Trust/organisation itself.
Being unprepared in this instance can be frustrating for the interviewer and indicate a lack of commitment on your end. While you're not expected to be an expert, doing a bit of fact-finding before you turn up is worthwhile.
Speak with the personnel department beforehand as they can likely provide you with information on the Trust or organisation. You should also search for any relevant articles in professional journals and newspapers for topical issues.
They May Reference the Job Description
Upon receiving the application form and supporting information, consider the ways you match the specification.
Go back over the original advertisement at this stage, so you can see if any additional points were mentioned. Including these in your application can help you paint a more detailed picture of why you fit the bill. Plus, it shows attention to detail.
You can also visit the Trust or organisations website, to see if it communicates important priorities and values. If so, echo these in your application, ideally with examples.
Think carefully about the role in question before completing the form and supporting information. Make sure the reasons you match the requirements are genuine, or else you might find yourself forgetting what you said.
They'll Probably Ask You Different Types of Questions
Aside from the usual 'Tell us about yourself' questions, you'll likely be asked several questions with different motives. Now, these aren't to trip you up. Instead, they are designed to demonstrate your working knowledge, level of communication and interpersonal skills.
Examples of these questions are:
Knowledge-based questions
These are typically questions designed to test your knowledge of processes and legislation in midwifery. They could cover aspects of the profession such as:
Medical or emergency procedures
Your specific technical knowledge and skills
Ways you might apply these skills in practice
Key aspects of the role i.e. the supervision process
Your approach to promoting new initiatives
How you would manage new or existing standards of care
Your understanding of new legislation, guidelines or reports
How these might impact the midwife role
An example question could be 'What do you understand by accountability?' Or 'How do you think the National Service Framework should be implemented in this area/unit?'
To prepare for these questions stay on top of current professional and political developments. You can do this by reading reports, white papers, journals and industry publications. Keeping an eye on the news section of the Trust or organisations website can also help.
Hypothetical or scenario-based questions
These questions get you to think on your feet and test you on how you would react in certain situations.
Hypothetical questions tend to be those starting with 'How would you react…' or 'What would you do if…'
Examples of these could be:
What would you do if your patient was making decisions which may put their baby at risk?
How would you react if you caught a colleague cutting corners?
Scenario-based questions follow a similar vein, just in more detail. They often come in the form of a described scenario to which you detail how you would deal with it. An example of this could be:
What would you do if an expectant mother was in the second stage of labour and contractions stopped?
If you practice by posing similar questions to yourself, you'll become familiar with ways to effectively word your response. Shape your practice questions around popular soft skills like dependability, work ethic and collaboration. And expect that scenario-based questions on the day will likely relate to specific skills mentioned in the job ad.
Remember to practice and not plan your answers. You don't know what will be asked of you on the day. Trying to memorise a few and make them fit regardless shows you can't be flexible and think on your feet.
Behavioural or competency-based questions
These are questions asking you to consider previous experiences and provide examples of when you did something before. As you're yet to gain officially employed experience, this will likely be about your placement or training. Typically, these questions are phrased like this:
Tell me about a time when…
Describe an occasion when you have…
Talk about a situation where…
Give an example from your own experience when…
It's not always easy to remember the perfect example off the cuff. So, it pays to have a few pre-considered ones up your sleeve.
Generally, these questions are looking for a solution and its benefit. Practice coming up with answers that use a problem–solution–benefit format.
Answering in this way shows your ability to adapt to situations and that you understand the consequence of your actions.
You can prepare for these types of questions by practising questions about important soft skills. These could be:
Work Ethic
Time Management
Detail Oriented
Dependable
Calm Under Pressure
Problem Solving
Positive Attitude
Communication
Decision Making
Self-Motivation
Besides correct answers, what a lot of these questions communicate to interviewers is the type of person you are. Be sure to get your best qualities across in your interview to demonstrate you're just what they're looking for.
Stonebridge Associated Colleges is a leading UK distance learning provider. If you're considering a career as a midwife, you can work your way to university study with an online course. Our Access to Higher Education Diploma (Midwifery) teaches you everything you need to know to study midwifery at the undergraduate level.
Take the next step towards this rewarding career by clicking the link below.