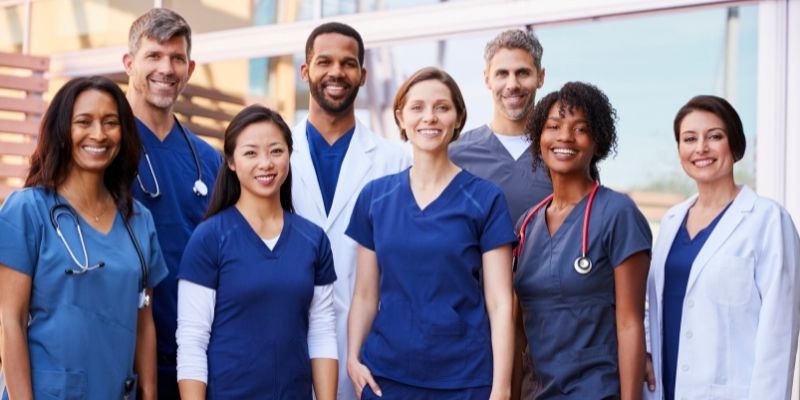 Training to be a nurse is a challenging and exciting experience. It prepares you for the rigours of one of the most demanding, yet rewarding, careers available.
However, the one thing that training doesn't prepare you for is getting through the nursing interview questions once you've qualified.
Job interviews are fairly unnatural exchanges. Usually, a conversation has a natural flow and rhythm and an equal exchange between both parties. However, an interview is an entirely one-sided affair, with a power imbalance just to make things even more awkward.
Coupled with some tough questions, it's unsurprising that some people don't cope with interviews terribly well. When it comes to a nursing interview, preparation is everything. Especially when it comes to those nursing interview questions that can catch out the unwary.
If you're wondering how to sell yourself in a nursing interview, whether it's band six nurse interview questions, or for your first job, keep reading. Below are the top 5 nursing interview questions UK applicants should be aware of. Continue reading to gain essential advice and tips on how to answer them. 
1. What's Your Greatest Weakness? 
Advice:
This is a question that comes up in most interviews. It often catches the interviewee off guard as it feels counter-intuitive, and 'what is your weakness?' nursing interview questions are no different. Usually, an interview is an occasion when you big yourself up as much as humanly possible.
However, the interviewer isn't looking for you to confess your deepest darkest secrets. Rather they want to get an understanding of your developmental need and your level of self-awareness.
Refusing to acknowledge your weaknesses isn't healthy and can lead to a toxic work environment for others. So, your potential employer understandably wants to establish cultural fit as well as suitability to the role.
Weaknesses could be time management, delegation, perfectionism or not being able to switch off. Regardless, your hiring manager will want to know what you're doing to offset that so it won't adversely affect your work.
Model Answer:
"I would say that my greatest weakness is that I fail to switch off from work at the end of the day. I often think of ways to improve the service I give to patients and how I can better meet their needs. This is great as it helps me tackle the next day with a fresh perspective, but I am undertaking talking therapy sessions to help me better manage emotionally after work." 
2. Name a Work Situation Where You Made a Mistake 
Advice:
Again, this nursing interview question isn't designed to catch you out. Rather it's an opportunity for you to demonstrate your capacity to learn. It also provides the nurse hiring manager with an idea of your attitude and approach to work-based challenges.
The important thing to do with these NHS nurse interview questions is to focus on the positive. Whatever example you choose, highlight what you did wrong but emphasise what you learned. Also, where possible provide a brief example of a subsequent occasion that you handled correctly.
Willingness to learn is an essential part of nursing. Not just from our mistakes but new treatments, new approaches and changes to best practice. Moreover, nursing is a job that requires a flexible mindset. The person asking the nursing interview questions needs to know that if things go wrong you're not going to buckle under the pressure.
Model Answer:
"In training, I was once bringing procedural supplies over for use in a procedure. The ward was extremely busy, as were the other nurses and health professionals in the department. Rather than make numerous trips to collect all the items required, I tried to carry them all at once and ended up dropping some on the floor. Besides being a trip hazard, this also meant items had to be re-sterilised and, in the end, I took longer gathering the supplies than I would if I had just carried them carefully in the first place. I learned that it clearly isn't wise to rush and cut corners."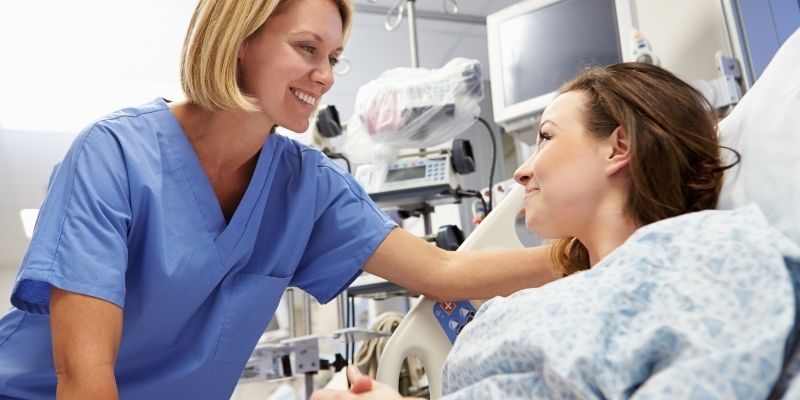 3. Name a National Healthcare Initiative You Feel Passionate About 
Advice:
This nursing interview question has got less to do with the initiative and more to do with demonstrating your level of commitment to your career and the healthcare industry.
If you're not already aware of any initiatives, then spend some time doing some research and choose a couple of initiatives to read up on. Regardless of anything else you find, you should also be fully versed in the 6Cs initiative championed by the Chief Nursing Officer.
Because the NHS operates a value-based recruitment policy, cultural fit is more important than ever. So, ensuring that your personal values (genuinely) align with those of the NHS is a good idea.
Model Answer:
"One campaign I've seen which really hit home is the #hellomynameis campaign. Reading about how often healthcare staff fail to introduce themselves to patients they are treating who are often in pain, vulnerable and unsure of what their future health holds for them was heart-breaking. I couldn't imagine being in that terrifying position then being seen by someone who didn't take the time to make a human connection. Besides directly relating to the 6CS as a means to provide compassionate care, it's just basic human decency. Now I make sure to be overly approachable and ensure every person knows my name on the ward!" 
4. What Do You Understand by The Term 'Diversity at Work'? 
Advice:
This nursing interview question can seem simple but diversity at work has a lot of layers to it. Your interviewer is looking for a deeper understanding than 'treating everyone the same' or 'don't discriminate'.
The person across the table from you is looking for an understanding of the different issues that face different groups in society, as well as an understanding of equality of access to services.
They will also want to know that you will treat all your colleagues and patients with dignity and respect. Examples of how you've demonstrated an awareness of diversity would help you here.
An anecdote from your past that validates your conduct and commitment to diversity would help you here.
Model Answer:
"For me, I think it's understanding that different people can perceive the same situation differently. Patients may have social or cultural beliefs, biases or prejudices, values or traditions that can all impact how they view something, or affect the way they interpret information. In healthcare, this is extremely important to realise, as it could lead to a patient's misinterpretation, reinterpretation or failure to understand important information you have told them.
This also works both ways though, as we ourselves need to be aware of the way we perceive situations too, so we don't incorrectly assume something about our patients. I think the best way to avoid friction and build a better patient-nurse relationship, is to state and find facts early on. If I clarify my role and what I aim to do right away, I can avoid misperceptions about the importance of my work or my authority."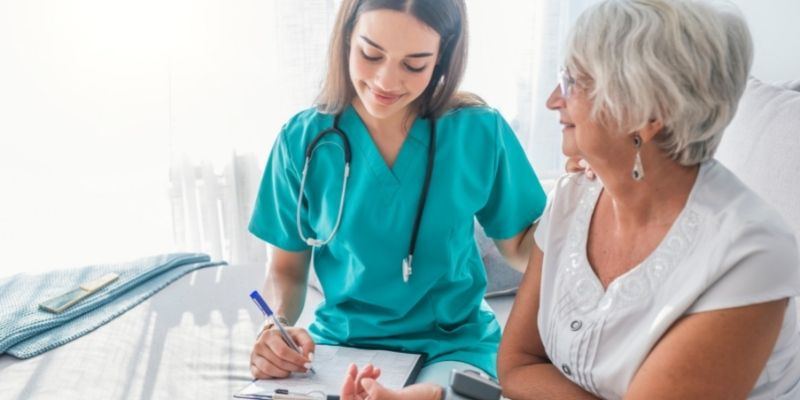 5. How Do You Explain Your Gap in Employment? 
Advice:
This is a nursing interview question that can catch people out – especially if their CV is light on details. The best thing in all cases when it comes to gaps in employment is to include them on your CV and be honest about the reasons.
Don't forget, nurse hiring managers scrutinise CVs regularly so inconsistencies are easy to spot. However, most hiring managers are reasonable people. Especially in the nursing sector. So, if you took time off to go travelling, care for a relative or write a novel, that's fine. The nursing interviewer just wants to be reassured that you weren't fired from your last role for gross misconduct and you were so unemployable you retrained as a nurse.
Obviously, if you're studying to get your nursing qualifications to then go on to train as a nurse, that's an entirely acceptable reason to be out of work. Include it on your CV as that level of commitment will count in your favour.
Model Answer:
"The reason I was out of work for a year before I embarked on my studies and training to become a nurse is because I took a year out to explore the world. I thought this was a great way to have some fun before coming back and knuckling down to prepare for my new career. Plus, it was a great reward after working so hard to achieve my A Level results!"
Get Qualified for a Nursing Degree!
We hope you enjoyed these nursing interview tips. If you want to become a nurse but you don't have the relevant qualifications to start your training, we can help.
Stonebridge Associated Colleges is one of the UK's leading distance learning providers, helping thousands of people achieve their academic and professional ambitions every year.
Our Access to Higher Education Diploma (Nursing) is an online course that will help you meet the requirements of an approved nursing degree. Click the link below to view this course in more detail. Alternatively, you can learn more about it by speaking with our Course Executives, who can run you through the modules and what you need to enrol.
Call them now on 0121 392 8288 or contact them online!