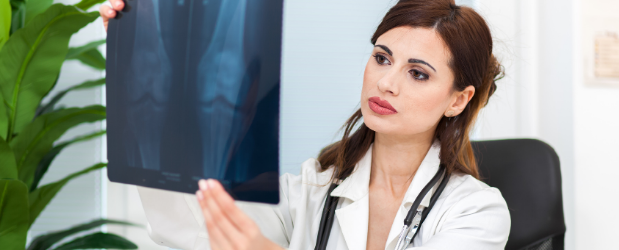 A radiographer is a health professional that uses technology to support other medical staff in diagnosing patients. Although they primarily use x-rays to produce radiographs they also use CT scans, ultrasounds, and MRIs. This desirable skillset means they're often in demand across the UK.
The position requires an in-depth understanding of radiography as poor images can result in misdiagnosis. So there is a high level of expertise required to become fully qualified.
However, once you're qualified and experienced there is the potential to earn up to £50,000. If you're interested in working with innovative technology and are passionate about helping others then this career is for you.
With opportunities for career progression and specialisation it's one of the most desirable areas of health care to work in. No matter what your previous experience or qualifications are you can get qualified at any age.
What qualifications you need
There are various routes to become a qualified radiographer. Your preference, previous experience and what's available will determine the best route for you.
All paths will eventually lead to you having to complete a qualification at degree level to become fully qualified. However, each route provides different experiences, so it's good to know all the options available before deciding.
Depending on the type of learner you are you might prefer a more dynamic and hands-on approach. Or perhaps a more theory-based independent learning style would suit you best.
Progress through work experience
If there's a vacancy at a hospital nearby for a radiography assistant then that's one way to get started. From there you can work towards your goal of becoming a radiographer by working alongside experienced professionals.
There aren't any specific requirements that employers will be looking for to fill these vacancies. However, GCSE subjects like English, maths and a science would be preferred. As well as any other relevant health care qualifications.
Once you've secured the role you're then able to gain experience as an assistant practitioner. Most employers will be keen to upskill you and will often let you work part-time whilst studying. Allowing you to progress into a fully qualified radiographer.
This is ideal should you depend on an income. The main difficulty with this route is finding a vacancy and getting the job.
Make sure you keep an eye out for potential vacancies and have an up to date resume to submit. Read the job spec thoroughly and alter your resume accordingly so you're giving yourself the best chance at success.
Complete an Apprenticeship
Like the previous method apprenticeships are a viable route too. This option consists of employment-based work experience integrated with degree-level learning. The apprenticeships usually last 36 months and end with an end-point assessment.
However, unlike the previous method, there are some entry requirements needed for this option. You'll need to have 5 GCSEs grade 4/C or above as well as three relevant A Levels or equivalent. Each university or apprenticeship provider can set their own entry requirements. So double-check directly with your desired provider to ensure you meet the expectations.
Also, make sure your apprenticeship degree is approved by the HCPC.
University
The final option available to you would be to complete degree-level learning through a university. Studying full-time will usually take between 3/4 years.
Once you've completed your qualification you'll then need to register with the Health and Care Professions Council. This ensures you're able to practice lawfully as a fully qualified and registered radiographer.
Getting into University
Getting into university much like the apprenticeship requires GCSEs and A Levels or equivalent. Should you, for whatever reason, not have sufficient A Levels to meet the entry requirements there is an alternative option.
The Access to Higher Education Diploma (Radiography) is an equivalent qualification to A Level study. It's designed for those who lack traditional qualifications as an alternative method to get into university.
The course material is created with help from universities to ensure you cover highly relevant topics to your desired course. In this case, radiography.
Through the course, you'll learn about various aspects of radiography. Including modules on topics such as:
Cell Biology
Electromagnetic Spectrum
Atomic Structure
The Human Muscular and Skeletal System
Medical Physics
The Roles and Responsibilities of Health Care Professionals
Human Disease and Prevention
Radioactivity and more.
Once you've completed the course you'll have gained a solid foundation to build upon at university level. Therefore, you'll be able to improve quickly as you'll already have a sound understanding of the core concepts.
Studying Online
If you're considering the Access to HE Diploma then it's also worth noting you can complete the qualification from home. Distance learning providers offer this qualification so you're able to work towards your goals without impacting your other commitments.
You won't have to worry about the logistical nightmare of having to rearrange your schedule to attend classes. There aren't any classes to attend, if you have an internet connection and a laptop, you're good to go.
This means you're able to set the pace and place of your learning. Whether that's taking the full two-years to complete the course or blitzing through it in 6 months. It's up to you.
By engaging with your learning in a way that suits you best you're able to relax and enjoy the experience. Which in turn, means you're more likely to achieve a higher grade as a result.
In addition to this you'll also have an expert tutor there should you need to reach out. Unlike a teacher that drip feeds you the knowledge, they're there to support you if and when. Ensuring you stay on the right path to realise your ambitions.
If you're ready to get back into education Stonebridge Associated colleges can help.
Stonebridge Associated Colleges is one of the UK's leading online learning providers. We have a range of online courses available including the Access to HE Diploma (Radiography).
All our courses have flexible payment options and dedicated tutors to guide you. They'll support your learning by offering constructive feedback and any extra assistance where needed.
To learn more about preparing for your online learning journey read our blog here.
Get in touch with our advisors for more information on the course or browse below.