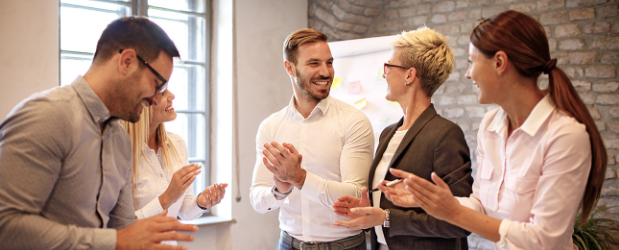 If you study business you'll learn valuable skills that can be transferred into many different professions. Wherever your ambitions lie you can be sure to find a use for your business knowledge.
According to the Business Statistics Briefing Paper by the House of Commons Library, there were more than 5.9 million private sector businesses in the UK in 2019. So, there's plenty of opportunity for employment and career progression.
Whether you're setting up a business, changing professions or want to advance your career you can benefit from studying further.
Getting back into education allows you to refresh your skillset and gain valuable insight into the business world. As well as prove to potential employers that you're genuinely suited for the role.
Studying business will develop your entrepreneurship, time management, critical thinking, leadership skills and more.
No matter what stage you're at in life it's never too late to start learning and get qualified.
Who should study business?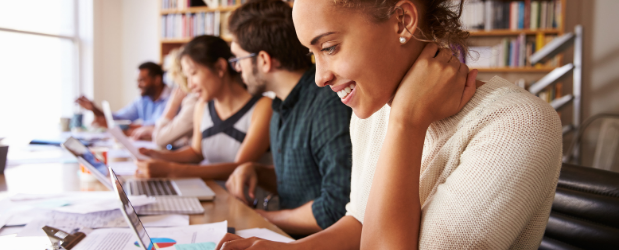 Business is a fast-paced and ever-evolving industry that allows ambitious and driven individuals to succeed.
Studying business will help you build skills to work in a range of job roles in many organisations. As well as prepare you with the knowledge to start your own business should you choose to.
Completing GCSEs or an Access to Higher Education Diploma could give you the qualifications needed to go to university. Getting a degree can help you maximise your earning potential and reach more senior roles.
You should be an excellent communicator no matter what area of a business you're working in. Whether you're addressing the consumer, your team or your management, you need to be versatile and adapt.
What's more, you should be innovative and determined to go above and beyond your goals. This will ensure that you're able to progress with your career and keep up with the ever-changing landscape.
Getting into higher-paid roles, like a head of department or marketing director, requires strong leadership qualities. This includes an in-depth understanding of business strategies as well as inspiring workers to reach their full potential.
If you possess these qualities but lack the knowledge then a qualification could help fill in the gaps. And get you one step closer towards an exciting new career.
Short courses
Short courses are a great way to study business and bolster knowledge without enrolling on a long-term course. Although some short courses may not have accredited qualifications that isn't necessarily a bad thing.
For example, if you're looking for a specific course to help with your business then the qualification isn't that important. The knowledge you'll develop throughout your learning is what really matters.
Employers will also see the value in short courses that help you improve your performance in your job role.
Short courses are available online or through physical colleges in a broad range of subjects depending on what interests you. This includes:
Short courses are a great way to get the information you're looking for without taking up too much time.
However, if you're looking for an accredited course to get into university than an Access to HE Diploma might be a better option.
Access to Higher Education Diploma (Business and Management)
An Access to Higher Education Diploma (Business and Management) is designed as an alternative to A Level study. It's a level 3 qualification and can be worth to 3 As at A Level should you achieve the higher-grade boundary.
Access to HE Diplomas are regulated by the QAA to ensure no matter who provides the course, standards are maintained. Which means you're able to enrol through a physical college or an online learning provider to get qualified.
The course will teach you various components of business with modules covering topics such as:
Market structures
Management
Marco-economics
Consumer Legislation
Business Planning
Motivation in Organisations
Upon completion, you'll have a broad range of knowledge to go into many job roles or study further at university.
This Access to HE Diploma will provide you with key skills to work in marketing, business law, human resources, economics and management.
Once you're qualified
The business industry constantly expanding and developing to meet consumer needs. Therefore, there are thousands of opportunities out there for those looking to get involved.
Once you're qualified you'll have the skillset to apply to a broad range of opportunities in business. As well as the confidence to pursue your ambitions in several sectors within the industry.
Roles that you could work in after studying business include:
Sales
Marketing
Finance
Human Resources
Although a degree is not necessary to work in business it can help advance your career further. Should you choose to go to university you could find yourself in higher-paid roles in the sectors listed above.
This could include working as:
Chartered Management Accountant
Corporate Investment Banker
Data Analyst
Data Scientist
Forensic Accountant
Insurance Underwriter
Management Consultant
Project Manager
Risk Manager
Stockbroker
Supply Chain Manager
Whatever pathway you choose it's never too late to get started and reach your goals. No matter your age or previous experience, you can still reach get qualified and working in business.
Study business online
Online courses give you the flexibility to study business without impacting your other commitments.
You don't need to worry about balancing work, home or social life with your class schedule because there isn't one. You're in complete control of your learning, just log in and begin studying.
Whether that's after the school-run, in your lunch break or even before your favourite tv show is on. It's up to you.
You can set the pace that you work through the modules and go as fast, or slow as you'd like. Between studying from home and working at your ideal speed you're able to relax and enjoy your learning.
Online courses are also guided by experienced and qualified tutors. So despite being a more independent learning style you'll not be completely alone.
They'll provide constructive feedback to help you progress with your studies and as any extra assistance where needed.
If you're ready to get back into education Stonebridge Associated Colleges can help you reach your goals.
Stonebridge Associated Colleges is one of the UK's leading online learning providers. We offer a broad range of online business courses from short courses to Access to HE Diplomas.
Our courses have flexible payment options and a dedicated tutor to guide your learning.
To learn more on how to prepare for your online learning experience visit our blog here.
Take the first step towards an exciting career in business by getting in touch today or browsing our courses below.