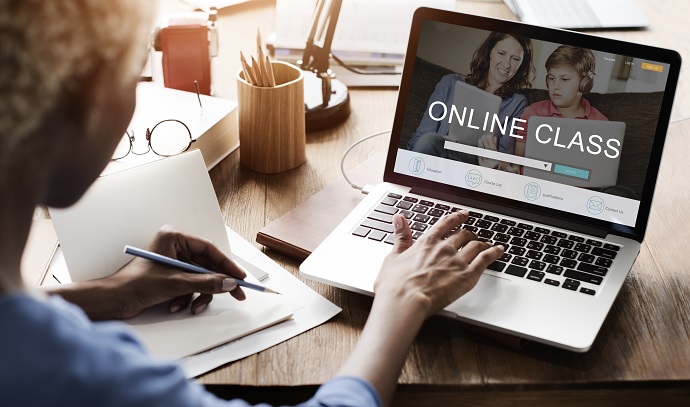 Distance learning or E-learning provides a completely flexible way to study. If you study at most colleges or higher education establishments, you need to attend classes or lectures and submit work face-to-face. But, the world of online learning and distance education offers an alternative to this, giving people more choice when it comes to their education.
Why is distance learning good for students?
Distance learning courses are completed remotely, which means that you have the freedom to discover new things without having to leave the comfort of your home. All course material is accessible 24/7 online so you can study when suits you, no matter whether you're an early riser or a night owl. You're in control of your own time, schedule and learning environment.
Plus, you have access to the support of an experienced tutor who will provide fast feedback on your assignments and answer any of your queries or concerns. This means that you're getting the same learning experience as those in traditional education, without the hassle of travelling, having a timetable and the stress of tight deadlines. You can either complete your course completely online or via a hard paper copy that is posted straight to your front door. High-quality education has never been more accessible.
But the benefits of virtual learning don't end there…
8 more benefits of distance learning
Studying can be difficult no matter how you choose to do it. However, distance learning has many advantages that make the process a whole lot easier.
Earn and learn at the same time
You don't need to give up your job to study. You can prepare for a new career path, or get qualified for promotion by gaining new skills, by learning in your spare time.
Family life doesn't have to suffer
You don't have to sacrifice precious time with your little ones or quality family time to gain a qualification. You can fit your work in whenever you have the time, which means more time with your loved ones and a better work-life balance.
It's more affordable
You can cut the costs of studying by choosing to learn from home. You won't need to buy additional learning materials yourself or pay for transport to get to college every day. Everything you need to succeed is included in the price of your online study programme.
You can get qualified quickly
You won't need to wait for other students and there are no term dates or holidays to slow you down. You can complete your online course in as little as a few weeks and get going on your next adventure whenever you're ready to.
There's more choice
You have the option to learn about hundreds of topics, from beauty to English & maths, and you don't need to travel around the country to find the right course. Let education come to you and complete the learning programme for you from the comfort of your own home.
It's private
If you're not ready to shout about your education, you don't have to. Distance learning can be as discreet as you like and you won't be under any pressure to pass. You can take things at your own pace and not have to worry about the progress of other students.
You can keep studying
If you enjoy learning new things and building on your study skills, you can take a new course whenever you want to. It's easy to enrol and you have the flexibility to study several E-learning courses at the same time.
You'll develop greater independence
Learning something new is a great confidence boost. Plus, as you write your own schedule and develop new skills, you will feel more self-assured and ready to take on new challenges, in and outside of the world of education.
Why choose Stonebridge?
Unlike other education and online training providers, we don't put a time limit on your studying. We understand that life gets in the way and you may want to take time off studying and come back to it. That's why we set no deadlines and offer you the freedom to complete your course whenever you're able to.
We also offer payment plans, so you can split the cost into affordable monthly instalments. All you need to do is pay a £19.99 deposit and you're ready to learn!
We think learning should be accessible to everyone. That's why we offer over 500 E-learning courses, covering hundreds of subjects, to help you achieve your dreams and reach your full potential, no matter what previous qualifications you have. To view our complete list of courses, click here.