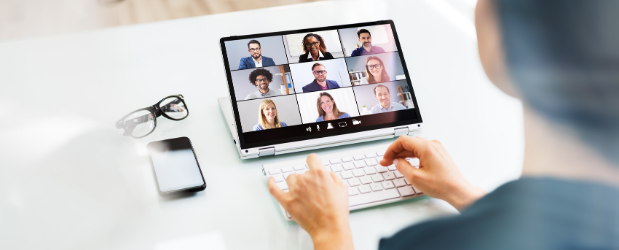 Interviews aren't one of the most appealing scenarios to be in.
They require us to wear uncomfortable clothes opposite people we don't know. And try as best we can to sell ourselves to them and their company.
They then ask you what feels like an endless stream of questions about your professional and personal life. From what you did at your last job, to personal achievements and even what you do for fun.
Performing well in interviews is as much about technique as it is remembering who you worked for when you graduated.
Nowadays more and more companies are opting for a video interview. Whether they're building a remote team or saving money on flying someone out for a first stage interview. The benefits are evident.
This shift in recruitment means potential employees need to learn new skills in mastering the body language for video interviews.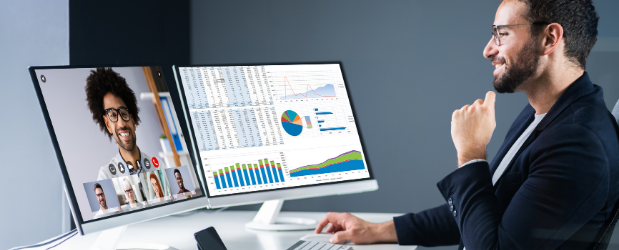 Cover the basics
Just as you would with a face-to-face interview, you should prepare for your video interview beforehand.
Instead of planning your journey to ensure you arrive 10-minutes early, you need to prepare where you'll interview.
Making sure wherever you choose is clutter-free, has decent lighting and is away from any distractions. Also, have a notepad and pen to hand too (and make sure it works).
Have whatever programme you'll be interviewing on downloaded and get yourself familiar with the interface. Minimising any chance of technical difficulties occurring.
Test your own hardware as well. Most of the time laptop speakers, cameras and microphones are reliable but it's best to double-check. You don't want to have to keep asking your potential employer to repeat themselves constantly.
Adjust your seat to the right height so you aren't fidgeting throughout the interview. As that won't leave a good impression.
And finally, dress the part. Well, at least from the waist up. This shows the interviewer that you're serious about the position and respectful of the process despite being conducted from home.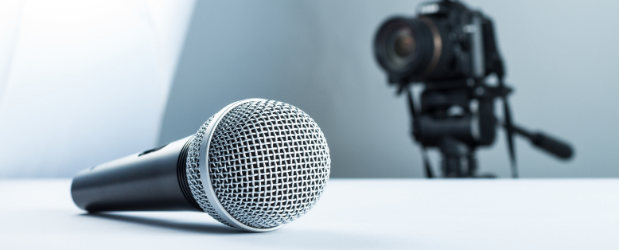 Getting your body language right
Now that you've covered the basics the next step understanding the right body language.
93% of communication is non-verbal with a 55% chunk of that being directly related to body language. So it'll be worth getting to grips with it properly.
You'll want to come across confidently, friendly and positive which can be interpreted easily through your body language. How you sit, gesture and even where you look will factor into your interviewer's assessment of you.
Look them in the eye
Naturally you'd think to look at the screen, this makes you feel like you're looking them in the eye. However, what you actually need to do when you answer questions is look into the camera.
Laptop integrated cameras tend to be positioned to give the impression you're looking at the person you're talking to. So, keep that in mind when you respond to the interviewer.
It may feel uncomfortable to begin with, but it evokes a better response from the interviewer.
Posture
Sitting up straight is just as important in a video interview as it would be in a physical interview. Slouching can make you seem bored, uninspired and a little lazy. Whereas sitting upright shows you're engaged, alert and enthusiastic.
It can also be helpful to lean forward as you would when discussing something interesting in person. Replicating this behaviour during a video interview will help the whole situation feel more natural. If you don't move at all, it can seem a little stiff.
Bear in mind that you don't want to lean in too close to the camera either. Just leaning a couple of inches to get your point across.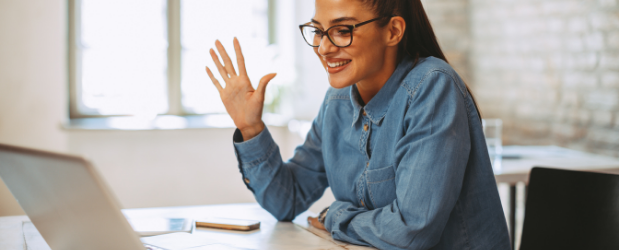 Don't fold your arms
To put it bluntly, folding your arms in an interview setting is widely perceived as negative. It can come across as defensive or closed off.
People may argue it's a habit and something to do with your arms when feeling awkward. There are, however, better alternatives. Consider clasping your hands in front of you or on your lap instead. This is a much more welcoming position and promotes a positive posture.
Also, it's good practice to have your feet planted evenly on the floor. If your feet are too far forward it encourages slouching. And if they're tucked under you'll find yourself leaning too far forward.
Keep the gestures to a minimum
This doesn't mean you can't move at all and must be as robotic as the laptop you're interviewing on. Gestures are often used to animate and emphasis our points. We use them daily within our conversations with friends, family members and colleagues. So it's natural that we want to use our bodies in interviews too.
However, too much movement can be distracting for the interviewer. And your bandwidth might get overwhelmed and make the call drop, which isn't ideal.
Figuring out the perfect medium might take some time, but it will be well worth it when you do. Ensuring you come across engaged and friendly rather than rigid or boisterous.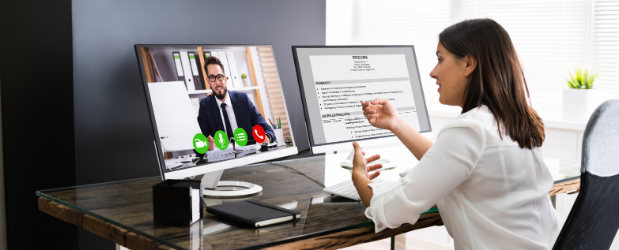 Don't forget your face
It goes without saying that the interviewer will spend the most time looking at your face. Gauging your reactions on tough questions, if you're nervous or lying. And even seeing whether your eyes are shifting towards your phone (which should be in another room to avoid this).
The best thing to do when interviewing is smile. Obviously not the whole time as that would be quite worrying. But smiling whilst you speak and whenever you feel is right can make a positive impact. Helping you come across friendlier, positive and more appealing overall.
Another way to engage is to use some well-timed nods. This shows your interviewer that you're actively listening when they speak. You don't want to overuse this though as you're not a life-size bobble head. Just enough to show you're listening and interested.
By getting your body language down it will give you a better chance of securing the job.
Whatever your professional ambitions are, Stonebridge Associated Colleges can help you achieve those goals.
Stonebridge Associated Colleges is a leading UK provider of online courses. We are here to help you get the qualifications you need to achieve your career aspirations.
To learn more about our online courses click the link below. Or check out our blog to learn more about how to progress – or transform – your career.