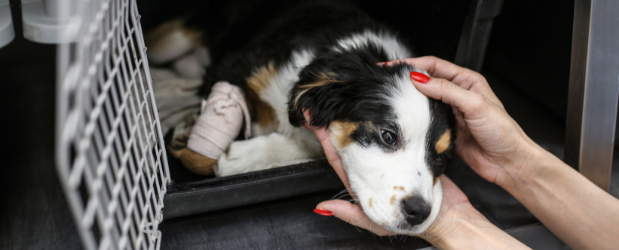 On average in the UK, it is estimated that 12 million households have pets, with around 51 million pets owned. In 2019, the number of calls in England and Wales to an animal cruelty helpline totalled 1,218,264.
Animal cruelty unfortunately happens every day and is tightly linked with animal welfare efforts. Animal welfare and care professionals aim to improve the quality of life that animals experience and provide care and attention to those animals who need intervention.
Both animal cruelty and welfare are controlled by legislation, existing with the main focus that animals receive disease prevention, veterinary treatment, shelter and correct management. As well as proper nutrition and humane handling.
Dating back thousands of years, people have used animals for many purposes. Historically, the larger animals have been used for transport purposes. But in modern times, unfortunately, people are still exploiting animals for their own benefit. Modern-day issues include animal testing and animals being used for performance purposes, like circuses.
Even domestic pets are still being exploited for things like over breeding.
The Royal Society for the Prevention of Cruelty to Animals (RSPCA) have 273 inspectors and 90 Animal Rescue Officers (AROs) working to prevent cruelty and promote kindness to animals in England and Wales. Investigating over 185,957 incidents every year.
There are many ways that the organization combats animal cruelty. Not only within their organisations but also by educating the public.
What do Organisations do to prevent Animal Cruelty?
From investigating cruelty and rescuing animals throughout England and Wales to enacting real change in the law, there are countless things that need to be done to ensure that all animals live a cruelty-free life.
The RSPCA's mission is to improve the lives of all animals, their main focus is to stop and prevent animal cruelty.
The RSCPA run their prevention efforts based around five areas. These five areas are Education, advice, preventative services, campaigning, and the law. These five areas are focused solely on The Animal Welfare Act 2006.
Education
The RSPCA's education efforts surrounding animal cruelty are run around the world. From primary school classrooms in the UK to government official offices in China. They ensure that animal cruelty and welfare is a hot topic.
Achieving higher standards of animal welfare has benefits for the entire community. They help teachers and youth justice professionals reach out to younger people and educate them on how to attain high standards of animal welfare. As well as how to prevent and report animal cruelty.
Through their international work, they spread the word, support international campaigns, and run customised animal welfare education courses.
Advice
The RSPCA's website is packed to the brim of tips and advice to help you care for animals, from domestic pets to wildlife and everything in between. Since the RSPCA was founded almost 200 years ago, their advice is based on evidence, provided by scientific research. As well as a wealth of hands-on experience. They offer advice on all of the most common topics, including:
Baby of fledgling birds
Stray or abandoned dogs
Stray or abandoned cats
Barking dogs
Dogs kept outside
Tethered horses
Injured wildlife
Animals in the road
Pregnant cats or kittens
They also detail how to use their online enquiry service if you are unable to find the answers you're looking for, or if you're worried about the welfare of an animal.
Preventative Services
Financial assistance to pet owners on low incomes to make veterinary care affordable is on offer, where available. The main purpose of their veterinary work is to encourage responsible pet ownership by offering services such as neutering, helping to prevent more unwanted animals.
Campaigning and the Law
The RSCPA campaign to change laws where animal welfare is suffering. With public support, they work with governments, demonstrating the need and public desire for change.
Their main campaigns are:
To raise awareness for the welfare needs of our nation's pets and helping pet owners to ensure the welfare needs of their pets are being made
Improve the welfare of as many farm animals as possible, at every stage in life
Ensure wild animals are protected from human activity and unnecessary suffering
Reducing the use of animals in experiments and reducing their suffering with a constructive and practical approach
If you, as a member of society want to help the RSCPA's efforts, add your voice to their campaigns to help millions of animals and their welfare.
What can a Member of Society do to Combat Animal Cruelty?
Learning about animal cruelty is the biggest way to tackle this overwhelming issue within the UK. One of the best ways to help is to raise awareness. By educating yourself, you are raising awareness.
As well as this, you have the option to help your local animal community You could do this by volunteering at animal shelters or animal charities. As well as learning about animal rescue and animal first aid. And finally, you can help to identify animal cruelty and raise the initial alarm.
By training and learning about animal care, you are singlehandedly supporting and improving the lives of animals and their welfare. You will be joining the growing number of passionate animal welfare professionals combating and supporting positive change.
If you decided to dedicate your time to combatting animal cruelty, you could look at taking employment as an Animal Welfare Officer. Whether this is full-time or part-time.
Animal Welfare Officer
The perfect stepping stone to this job opportunity would be an Animal Welfare Officer Level 3 Diploma. This Ofqual regulated qualification teaches you everything you need to know about animal welfare issues and legislation. As well as how to identify and help animals at risk.
Upon completion, you would be qualified to work as an Animal Welfare Officer, recognising and responding to animal cruelty and animal hoarding.
Being an Animal Welfare Officer is an exceptionally rewarding job, but it is also emotionally and physically demanding. As with any other job, there are a few personality traits you would need to be a successful animal welfare officer. These include, but are limited to:
Understanding and experience with animal behaviour
A good level of physical fitness
Flexibility – you will be required to work fairly unsociable hours, including evenings, weekends, and bank holidays
Interpersonal skills – you will be required to communicate with and relate to a variety of people. Experience in the successful management of some confrontational situations is essential
The ability to work independently as well as part of a team
The ability to cope well with stressful and emotional situations
Study Online
As an Animal Welfare Officer, you will improve the lives of so many animals. You can become an animal welfare officer with an Ofqual accredited Level 3 Diploma or equivalent.
The knowledge you would gain from this course will teach you the key challenges facing animal welfare, how to identify these and help animals at risk. As well as recognising and responding to animal hoarding.
This qualification includes a practical training day. Where you will receive hands-on training and the opportunity to apply your theory learning to a practical environment.
Stonebridge Associated Colleges is one of the UK's leading distance learning providers. With many online courses in animal welfare that can help you achieve your goal of working in an animal-related position.
Find out more about what animal welfare courses we offer, by clicking below.