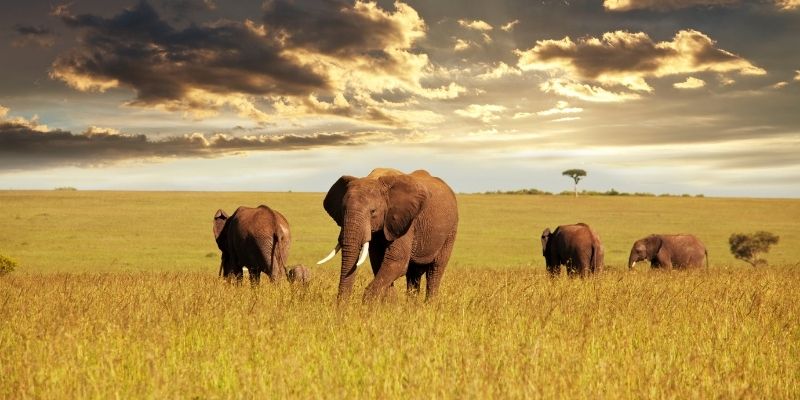 Elephants are majestic, intelligent animals that are loved by children and adults the world over. In fact, there is reason to believe the feeling is mutual in certain cases.
Elephants that are looked after by humans or interact with them regularly are found to be quite fond of them, some even believe that elephants find humans cute! Studying elephants will hopefully confirm this one day, but for now, the study of elephants has shed light on just how important they are to our ecosystem.
Elephants are actually considered to be a keystone species, meaning the part they play in the environment is detrimental to the success of other life in the area. Both African and Asian elephant study has shown that life in their native areas would suffer greatly if they weren't around anymore. This is why the study of elephants and elephant species conservation is so important.
Elephants Are Nature's Gardeners
African elephants are the biggest land animals in existence, with the largest on record reaching an astonishing shoulder height of 13ft! Despite its smaller cousin, the Asian elephant, only reaching 10.5ft in comparison, they are still the biggest herbivores in the world.
At this size, you can imagine they get through their fair share of plants at dinner time. The great thing about these animals eating so much vegetation is that elephants travel long distances, and as a result, plant a vast number of seeds along the way.
This is because the plant material they eat – including the seeds – sit in their gut and drop off when they produce dung. This gradually disperses the seeds in new areas, so plants are more likely to thrive without the help of other pollinating species.
The dung in itself is also an ideal fertiliser as it is so rich in nutrients, which helps the seeds to germinate and grow.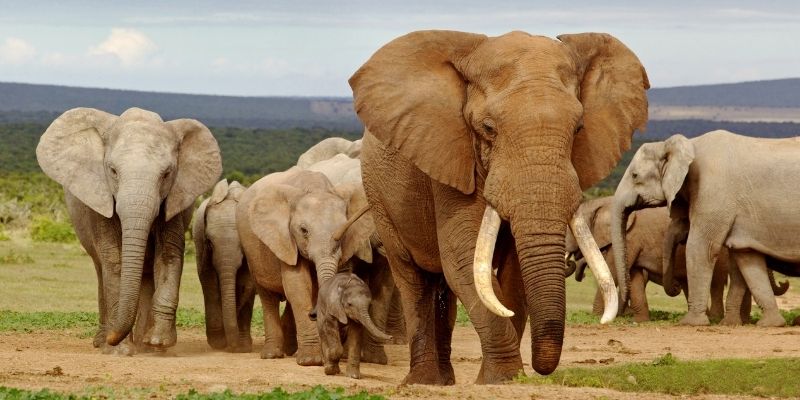 They Feed Other Wildlife in the Ecosystem
While elephant dung doesn't seem like the most appetising thing to us, to other creatures and animals, it's an important source of food. Dung beetles are famous for their love of elephant leftovers, and often race in their numbers to be the first to reach a fresh pile.
The dung beetles also bury the dung underground as a nursery for their larvae, though this again provides vital nutrients in the ground where plants are growing.
The larvae that grow in the dung is also a vital food source for other animals in the area. So, not only do elephants keep the dung beetles well fed, they help feed mice, birds and other hungry creatures.
In addition to this, the fact elephants are so tall helps the smaller species to thrive as well. This is because they pull down plants and branches that others can't reach, helping everyone get in on the eating action.
Elephants Provide Vital Water Sources
In the dry season, there is very little water on offer to keep animals in hot climates hydrated. Elephant behaviour studies have shown that elephants help others who are thirsty in these harsher months as they dig wells that tap into underground water systems.
By using their trunks, tusks and feet, they dig holes deep into the ground to access new water sources that wouldn't otherwise be reachable.
These elephant-made wells help sustain all manner of wildlife that would otherwise be at risk of dying from dehydration.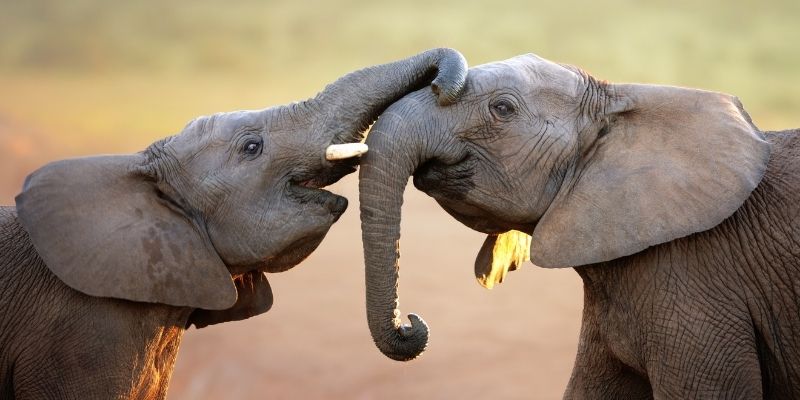 They Also Allow New Life to Grow
While elephants are viewed as typically calm and caring animals, they can actually be rather destructive! If they want to get somewhere they will happily trample the vegetation obstructing their path rather than taking the longer route around.
They will also pull down trees and break up dense bushland, which clears plains and helps them not be overrun with plant life.
Both of these elephant behaviours help introduce new life into these areas. The trampling of vegetation allows more light to reach the floor. This not only helps the shorter plant species have more chance to grow, it allows animal species who feed on such plants to thrive in these new areas.
This is a similar effect to the clearing of plains overrun with plant life, as it encourages new animals to live in these otherwise uninhabitable areas.
Why Are Elephant Species in Decline?
Elephants used to be in abundance until habitat loss and the ivory trade saw their numbers decline dramatically in recent years. Since 1979, the habitat of the African elephant has reduced by over 50% and Asian elephants have just 15% left of their original range.
Elephant conservation efforts have helped restore populations to stable numbers in certain areas, others are still struggling. This is especially the case with the Asian elephant, whose numbers are still steadily in decline. In fact, there are only around 40,000-50,000 wild Asian elephants left, which has led to them being classified as an endangered species.
Unless elephants are actively protected, there is a real chance we could lose these incredible animals forever.
How to Study Elephants
If you feel strongly about safeguarding elephant species, you too can study elephants to start a meaningful career in elephant conservation. Whether you want to work with elephants in a zoo or safari environment, or help them in their natural habitats of Asia and Africa, getting specialist knowledge will help you meet your goal.
The online Elephant Studies Level 3 Award (RQF) provided by Stonebridge Associated Colleges teaches you essential information about elephants. You'll explore everything from their evolution through to current elephant conservation efforts. You will also be taught about their behaviours, common health problems they can experience and how to properly care for them in captivity.
With this information, you will be well positioned to pursue a career related to elephant welfare. Find out more by discussing the course with our Course Executives today, they can answer all your questions and help you get enrolled.
Achieving your learning goals has never been so easy. With online courses, you can study on your terms and at your pace.
Call our Course Executives now on 0121 392 8288, contact them online or click to view the course in more detail below.