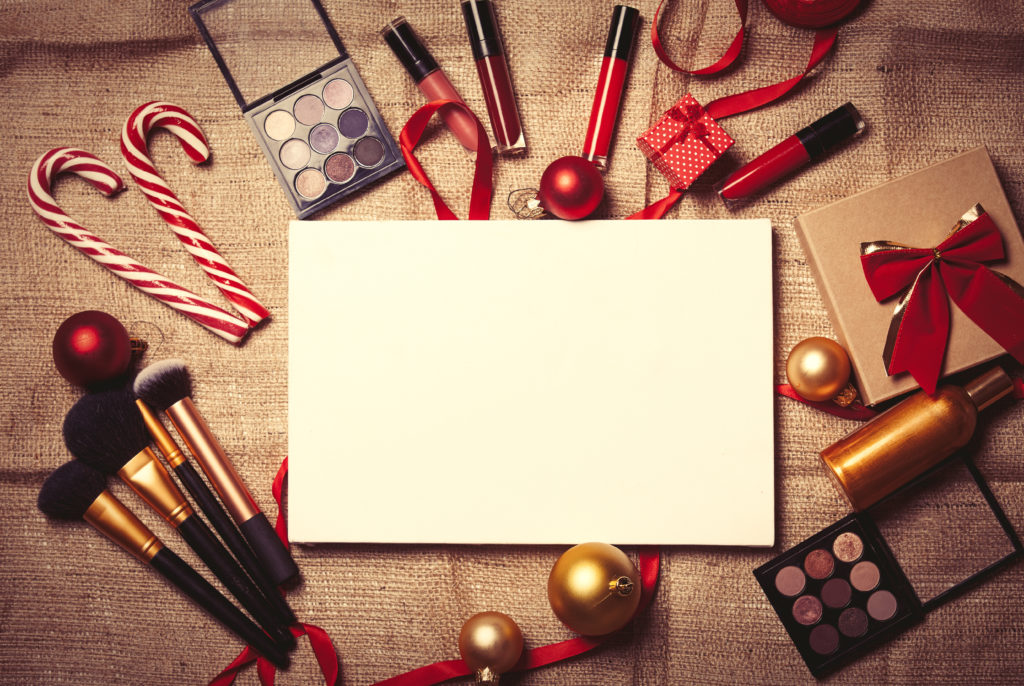 Unwrap a Beauty Therapy Course this Christmas…
December is nearly upon us, and so begins the countdown to Christmas and the New Year. This is a season for new challenges and resolutions, so if you've been plotting a career change, now's the time to act. Become a beauty therapist with Stonebridge Associated Colleges' Level 3 Diploma in Beauty Therapy Techniques (RQF), and secure a job in the world's most glamorous industry.
Since we're feeling festive, we've decided that we are also going to give you an in-depth insight into our beautician course.  Consider this your very own beauty themed advent calendar, helping you countdown the steps to your new career. However, instead of chocolate, behind every window is one of the exciting beauty units you will be studying. So let's find out what's behind window number one…
Unit One: Client care
As a qualified beauty therapist, you must possess a wide array of skills. As well as being able to perform all the traditional beauty treatments, you must also be passionate about customer service. Good customer service comes in many forms; from remembering a person's name, to ensuring the highest quality aftercare. During your course, you will learn that great beauty therapists take time to understand the requirements of their clients. They are able to give thorough consultations and are able to resolve complaints quickly and professionally. Most importantly of all you will learn how to accept feedback and channel it into you own personal growth.
Unit Two: Health, safety and security in a beauty salon
Whilst working in or managing your own beauty salon, you primary concern should always be health and safety. Beauty salons are often filled with state of the art electrical equipment, hair appliances, sharp objects, dyes and chemicals. One simple breach of safety and your beauty therapy career could be in jeopardy. Fortunately, those studying towards our Beauty Therapy Techniques (RQF) Level 3 Diploma will learn exactly how to avoid any such eventuality. You will learn about the current health and safety legislation, policies and practices and how to maintain them in a salon environment. You will also learn about hygiene and infection control.
Unit Three: Principles of anatomy and physiology
A healthy happy body is a beautiful body. A person's health and wellbeing will directly affect how they appear on the outside. This is why all beauty therapists must have an understanding of anatomy and physiology. During the course of your qualification, you will learn about the structure and function of a number of anatomical systems. You will start by examining the integumentary system and discover intricacies of our skin, and then move on to learning the function of the muscular and skeletal systems. You will then study the nervous and endocrine system and gain the knowledge you need to be an expert therapist.
Unit Four: Reception duties within a salon
You may not have thought it, but a salon cannot function without an organised and efficient reception. Salon managers must be able to effectively schedule appointments so staff members have sufficient time to complete treatments. They must be aware of busy times and be careful not to overload or under book. The reception staff will also be tasked with managing payments, taking calls and answering queries. During your time with Stonebridge, you will learn everything you need to manage a reception effectively. You will also receive training outlining the most effective ways to promote products and services in your salon.
Unit Five: Carrying out nail treatments
The nail industry is soaring; with an abundance of new nail salons opening up every year. Treatments such as false nails, gel, Shellac and extensions are more popular than ever before. During the course of your qualification you will learn the ins and outs of nail care. First of all, you will learn about the necessary preparations you must undergo before treatments. You will then be taught how to effectively carry out the procedures and ensure the highest quality finish. Students will also become aftercare experts who are able to deal with any possible complications that arise.
Unit Six: Carrying out facial treatments
Your face tells people about your personality, your age, your health and your mood. It is the first thing others notice and people will do anything for a fresh face and a youthful complexion. As you study towards your beauty qualification, you will gain the skills you need to become a facial wizard. You will learn how to quickly judge the condition of the skin and decide which course of treatment to follow. On completion of the qualification, you will be able to apply the treatments professionally and effectively and advise clients how best to maintain the results. You will also be equipped to deal with any complications.
Unit Seven: Using waxing techniques
Long lasting results and a smooth, silky finish, make waxing one of the most popular forms of hair removal. While waxing techniques are relatively simple to learn, there are many things an individual must be aware of before they start practicing. By learning about the structure and anatomy of the hair and hair follicle and the hair growth cycle, students will be more prepared to deliver effective treatments which cause the minimum amount of pain. Our students will also receive training regarding before and after treatments, sanitation and hygiene and contraindications for waxing.
Unit Eight: Lash and brow treatments
In recent years, eyebrows have become one of the most important facial features and people will go to extreme lengths to follow brow trends. As for eyelashes, people have coveted long, thick lashes since the dawn of time. Creating a natural looking finish can be tricky, but after studying with Stonebridge, students will be practiced in fashioning fabulous looking brows and lashes. On completion of the course, students will be confident offering treatments such as lash extensions and semi-permanent brows. They will also be qualified to advise clients how best to amplify and maintain the results.
Unit Nine: Indian Head Massage
This relaxing, therapeutic treatment has been practiced in India for thousands of years. Focusing on the head, neck and shoulders, an Indian head massage targets your three higher 'chakras', namely your mind, body and spirit. A well trained masseuse will possess the power to alleviate aches, pains and tension, stimulate blood flow and even improve the texture of a person's hair. During the course of your qualification, you will learn how to expertly deliver an Indian head massage, gaining a thorough understanding of the important pressure points and sensitive areas. You will also be made aware all of the necessary precautions you need to take.
Unit Ten: Body massage treatments
In many cultures, massage is an integral part of life. Massage has listless health benefits and has been proven to alleviate injury pain. During the course of this qualification, students will develop an understanding of how body types, body fats and conditions affect body massage. They will learn the techniques, the theories and eventually put their knowledge into practice. All students must be comfortable with close contact whilst also possessing the ability to put others at ease. Successful masseuses will also be receptive and responsive, taking care to tailor the therapies to different people with different needs.
Unit Eleven: Aromatherapy Massage
It is believed that certain scents and aromas can have different effects on people. Aromatherapy is an effective method of stress relief used to combat mounting pressures and anxieties. Combining aromatherapy with traditional massage techniques can ultimately prove to be very soothing and relaxing. Whilst studying this module, students will learn all about essential oils, their benefits and how to apply them in a professional context. Each essential oil used in aromatherapy massage is said to have different properties. Students will learn which oil best suits each situation.
Unit Twelve: Stone therapy massage
Hot stone massage has rapidly increased in popularity over the years. As well as helping people to achieve a state of calm and relaxation, stone massage can have a wealth of other benefits. These treatments aim to alternate warm and cold, a technique which has been proven to soothe an aching body and encourage the body to detox and heal. During the course of the qualification, students will be learning the theoretical and historical factors behind this technique. They will then go on to refine their already established massage skills and learn to apply them specifically to hot stone treatments.