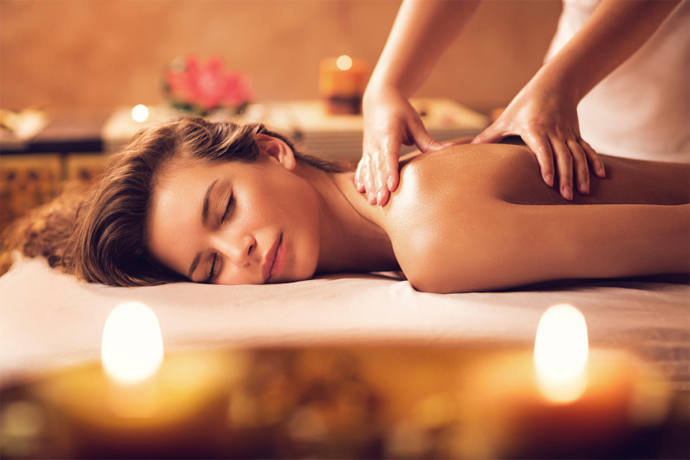 A career in beauty therapy could change your life. Flexible hours, good pay, tips and commission.
Becoming a qualified beauty therapist is a career with endless possibilities, both in terms of earning potential and variety. As a qualified beauty therapist you could work for yourself, run your own beauty salon, or be employed on a cruise liner or by an airline and travel the world. These are only a few of the possibilities.
Nowadays having a healthy lifestyle and caring for ourselves is seen as an intrinsic part of life. Women (and men) of all ages enjoy a little pampering and self-indulgence on a regular basis, and a trip to the beautician is as essential as having your hair cut.
Beauty therapy is an affordable luxury that many people build into their weekly routines, whether it's having a manicure, facial, or a full body massage. A regular trip to the beautician is seen as the 'me time' we all deserve.
Why become a qualified beauty therapist?
Beauty therapy is a career with a fantastic future and really is a job for life. It's a growth industry that offers secure and varied employment. According to Habia (the Hair and Beauty Industry Authority), in 2012 (most up to date figures) the beauty industry was worth £6.2 billion. This represents 1% of the UK's economy, which means the industry employs 4 million people.
More and more people are visiting beauty therapists as beauty therapy treatments evolve and become popular. Of particular note is that many men now visit beauty salons for a variety of different treatments. This is seen as an essential part of male grooming and is supported by the expanding number of beauty products available for men on the supermarket shelves and in beauty retailers.
A beauty therapist:
has a satisfying career – they enjoy making people look their best, which can make them feel more confident
is creative –beauty therapy is a way to express artistic talent
can specialise in certain treatments –skincare, nail art, waxing, make up
has flexible working hours – to suit their lifestyle, working full or part time
can earn a good salary supplemented by tips – regular clients mean happy clients who often give generous tips
can be any age – this could be a career change for someone who has always had an interest in beauty, or it could be the principal career path for a school leaver
can work all over the world – there are many job opportunities in spas, hotels and on cruise liners in exotic locations world wide
has a recession-proof career – when times are difficult people still like to spend money on themselves to feel good
Qualifying to be a beauty therapist
Studying to be a qualified beauty therapist means learning the overall skills of how to deliver beauty and personal care therapy, however, many beauticians specialise in areas they are particular interested in, such as nails, skincare, make up or massage.
Habia (the Hair and Beauty Industry Authority) state that 37.8% of people working in the industry hold a level 3 qualification, and 35.3% hold level 2. These figures show the importance of holding a formal beauty qualification that is recognised within the industry.
For more information on the many online beauty therapy courses available to study with Stonebridge click here.
What does a beauty therapist do?

When you study a beauty therapy course you will learn about all the various types of beauty therapy treatments, how to deliver them to clients, the health and safety regulations of the industry, the basics of the human body and how to manage the administrative side of things.
Depending on the course you choose and where you wish to specialise you can study:
skincare
waxing
eye lashes
body treatments
spa treatments
A beauty therapist is also a good listener and needs to have good communication skills. Clients often reveal very private information about their personal lives that they don´t tell anyone else. Their time with the beautician is 'me time'. The beauty therapist needs to be professional and confidential and be able to make their clients feel relaxed.
The skills of a beauty therapist
A qualified beauty therapist is more than just someone who delivers beauty treatments. They should understand their clients' needs and be able to recommend what's best for them.
When studying to become a beauty therapist you'll learn the importance of knowing a client's medical background, which will influence the beauty recommendations you make. Some beauty treatments may not be suitable for clients with particular illnesses or ailments, and only a qualified beautician will know the right treatments for individual clients.
On a beauty therapy course you'll also learn about the anatomy and how the body works. A basic understanding of biology and chemistry is required as you will be dealing with the human body and various beauty products, all which may contain chemicals which could affect your client.
A skilled beauty therapist also knows how to listen and how to respond to a client's conversation by making neutral comments.
It's about building a special relationship with each individual, which means they come back to you time and time again as they trust you and feel comfortable in your presence.
A beauty therapist should be friendly and personable. In addition to getting on with clients you may be working in a salon and so need to be able to work as part of a team.A skilled beauty therapist also knows how to listen and how to respond to a client's conversation by making neutral comments.
It's about building a special relationship with each individual, which means they come back to you time and time again as they trust you and feel comfortable in your presence.
Good administration and marketing skills are also required as keeping on top of these is crucial to running a successful business, even if you only work a couple of hours a week. You'll learn these skills on a beauty therapy course, including:
marketing – how to promote yourself and gain new clients
organisation – taking client notes, ordering products, financial management, keeping records
time management – this is your business and time is money, managing your time effectively is an important skill
business management – how to work with product suppliers, find premises, work as employed or self-employed
The future for qualified beauty therapists
A career as a qualified beauty therapist is very bright. The earning potential is unlimited depending on how many hours you wish to work and where you want to work. Taking further qualifications in specialist areas within beauty therapy, for example massage, waxing, nails or make up means extra earning potential.
The standard salary for a beauty therapist is between £12,000 – £17,000 per year, and a beauty salon manager can earn over £20,000.
Source: National Careers Service
These are the basic salaries and don´t include tips from clients and commissions earned from sales of supplier products.
Figures from the Office for National Statistics for the quarter April – June 2013 show that 93,000 people in the UK were employed as beauticians or in related occupations, compared to 70,000 in the previous April – June 2012 quarter. This is a massive increase of 23,000 positions (spread equally over employed and self-employed positions), demonstrating this is a true growth industry.
Here at Stonebridge we hope we can help you achieve your dream of becoming a qualified beauty therapist. For more information on our online beauty therapy course click here: