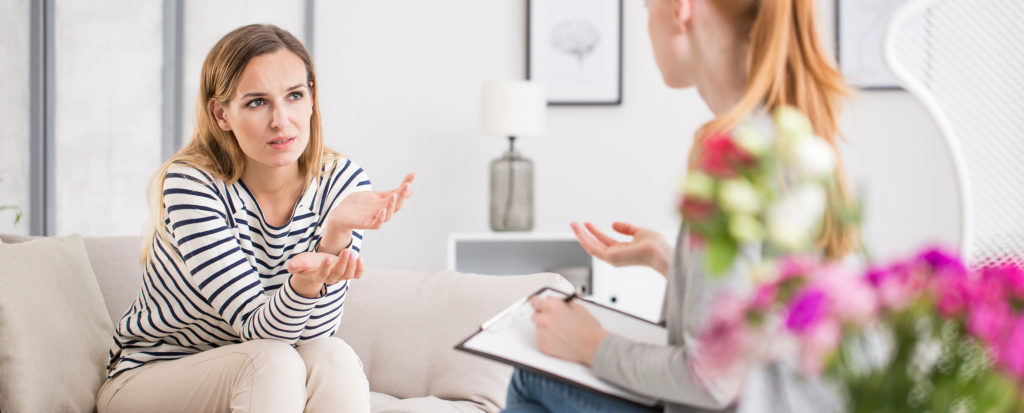 A counsellor are trained professionally in talking therapies designed to help support people through various challenges. Statistics show that more people than ever before are visiting their GP with mental health related concerns.
It's definitely a step in the right direction to see people feeling more comfortable discussing their mental health. However, the current services provided can't accommodate everyone. Therefore, the demand for counsellors is high.
Becoming a counsellor means you'll be able to guide anyone struggling with their mental health. Helping them work through negative thoughts and behaviours or accept past experiences. Which can have a huge impact in their overall wellbeing.
If this is the career you're interested in then it requires further study to become fully qualified. However, it's a career that is open to anyone no matter their life experience or previous academic record. Which means you're able to take your first steps towards becoming a counsellor at any stage in your life.
Discover the different routes to becoming a fully qualified counsellor below.
Become a counsellor through University
You can become a counsellor through university. Although attending university isn't necessary. You will have to register as a member of a professional body such as the BACP, UKCP or NCS. These professional bodies require you to be educated to foundation degree/diploma level minimum.
Therefore, it's common for many aspiring counsellors to study at university in counselling related subjects. Here you will learn about the core elements of counselling in depth. Some courses may even have practical placements for hands-on learning.
The courses that are usually studied are:
Psychology
Psychology with Counselling
Criminology
Other types of counselling roles may require clinical qualifications. For example, becoming a registered nurse, occupational therapist or social worker. Others like a genomic counsellor requires a more science-based academic experience.
If you're considering university but lack the A Levels to meet entry requirements there are other options. An Access to Higher Education Diploma is a nationally recognised equivalent to A Level study. They can be worth between 48 to 144 UCAS points ensuring you meet university entry requirements. And designed to give you highly relevant knowledge for your desired degree course.
Through an Access to HE Diploma you could study psychology and criminology, psychology and sociology, health and social care and social work.
By studying a college course
Although university is a common route, it's not the only one available. You're able to study counselling through a college course if you prefer.
Studying a college course will deepen your understanding of counselling and the benefits of it. However, not all qualifications ensure you're able to practice as a professional.
A three-stage approach is recommended for those who are considering this route. The stages increase in depth as you progress so you're continuously building on your knowledge.
Stage 1: Introduction to counselling
An introduction to counselling gives you insight into what the career entails. You'll then be able to make an educated decision on what area or specialism interests you. Plus, you'll also gain basic counselling skills without committing to years of study.
Courses at this level could be Counselling Children and Adolescents, Drug, Solvent & Alcohol Abuse Counselling or Dysfunctional Family Counselling.
Stage 2: Diploma/Certificate in counselling
Following on from stage 1 would be to study a recognised counselling diploma or certificate. This will build on the skills you have already established. As well as covering counselling theories and ethics in more depth.
Courses you could study include Mental Health and Counselling Level 3 Diploma or Level 3 Diploma in Counselling Skills.
These courses alone won't qualify you as a counsellor. However, they are essential to meet entry requirements for the next level of study.
Stage 3: Core practitioner training of a counsellor
Core practitioner training needs to be at least level 4 study in counselling or psychotherapy. The course will usually last around one year and include theory and practical learning. As well as a supervised placement of at least 100 hours.
This gives you the hands-on experience to demonstrate your ability as a counsellor. And learn first-hand from leading industry professionals. Throughout the course, you'll advance your knowledge of counselling to meet international standards of quality and competence.
Upon completion of this qualification you'll be able to practice lawfully as a counsellor.
Volunteering as a counsellor
Volunteer work can be a solid way to break into this profession without committing to study. You'll be able to get a feel of the work you'll do and decide if it's the right choice for you.
Volunteer work can offer plenty of opportunities to trial different areas of counselling. Some agencies even offer to train volunteers for free. This is generally paid back by providing voluntary counselling within the organisation.
To secure a volunteer position you'll need to understand basic counselling skills. As well as demonstrate an interest in developing your skills and helping people. Plus, should you choose to study further and become fully qualified you'll already have experience to add to your CV.
Training with a Counselling Organisation
If you've already got some relevant experience or related qualifications then you could train with an organisation. Relate, for instance, provide courses in Relationship, Family and Young Peoples Counselling as well as Relational Training and Psychosexual Therapy.
You'll need to meet specific entry requirements to be able to enrol onto these courses. Depending on what your background is you can start with a level 3/4 certificate or go straight into a level 4/5 diploma.
What's more, when you complete your training through an organisation you're more likely to be employed once qualified. Allowing you to start working professionally straight away.
If you're an aspiring counsellor then Stonebridge Associated Colleges can help you get started. As the leading UK distance learning provider, we offer a broad range of online courses in counselling.
From basic counselling skills to combined mental health and counselling diplomas and industry specific Access to Higher Education Diplomas.
Studying an online course means you're able to study wherever suits you best. Without impacting on your current schedule.
What's more, we have flexible payment options and dedicated tutors to support your learning.
To better prepare for your online learning experience visit our blog here.
If you're ready to get back into education get in touch today or browse our courses below.