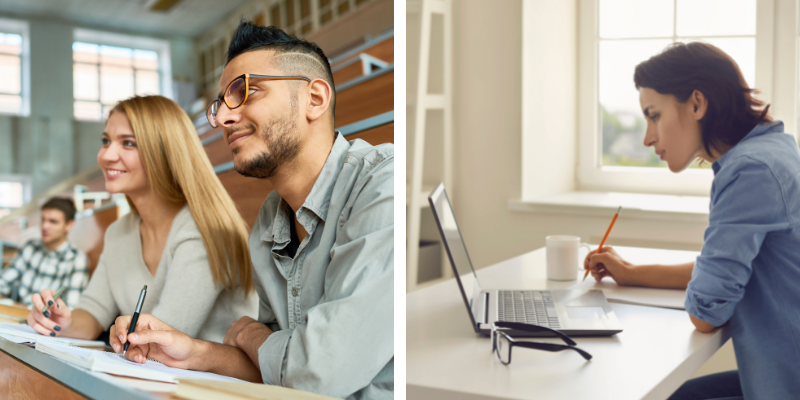 University is a great way to continue your education, develop your knowledge and access certain professional careers. These are all desirable benefits of choosing this type of study, but they certainly don't come cheap.
Tuition fees have always been expensive, and with them increasing generally year on year, they aren't getting any more affordable. This is even before you consider the associated costs of going to university. When they are factored in, it's easy to see why many people look for other ways to reach their career goals.
A common alternative many go for is studying an online course instead. This is because there are a lot of distance learning courses available that help you enter the same line of work. And they're a fraction of the price of a degree.
If you're trying to decide between online study and a university degree, breaking down the associated costs is a great way to start.
How Much Will University Cost Me?
Generally, the first thing that springs to mind when you think of the cost of university is the tuition fees. While these are a large portion of your expenses, there's a lot more to be considered than just the cost of your course.
University Open Days
This is an important part of the university process. It's hard to know which is the best university for you unless you go and visit it. That's why attending open days is recommended to get a feel for the campus, the facilities and the surrounding area.
Open days are a big expense that many students don't think about. Not only will you have to pay to travel to the campus, you might have to pay for accommodation if you need to stay over. So, in as much as there aren't any fees to attend open days, the hidden expenses surrounding them can add up quickly.
Rent and Living Expenses
Most university degrees last for at least three years so you'll need to consider the costs of your living expenses while you're there. Which mount up for students living at home as well as those who move away.
If you're moving away to university, you need to think about how much you'll be paying on rent. This is clearly going to be one of your more substantial costs. However, you will also need to consider the cost of utility bills, food, household supplies and even laundry as these all add up.
If your halls of residence or rented house isn't walking distance from campus, you will also have to factor in travel expenses. Both rent and travel costs will vary depending on your location. For instance, London is typically a more expensive city to live in.
You may escape some of these if you choose to live at home throughout university. However, it's probably going to be more expensive for you to travel to campus as you will be further away. Socialising is another hidden cost you need to prepare for if you want to meet other students and make friends. Which is thankfully made more affordable with the student discounts offered in cities and student areas.
Course Materials and Study Supplies
When you turn up to your lectures and classes, you will need to be armed with notepads, pens and any other supplies you need to take notes. These are relatively inexpensive, however, the textbooks you need to purchase for wider reading can cost you upwards of £50. And that's per book!
Sometimes you can avoid this expense by getting a hold of them via the university library, but you won't be the only one looking. There is a limited supply of books to go around, so you may find the one you need is reserved by other students.
Meaning you'll have to wait to get your hands on it. Then when you do, you'll only have it for a short amount of time. You could always shop around for second-hand options instead. This is a great way to save on the cost of a full-price book, however, bear in mind it might not be the latest edition.
Certain degree courses would also require you to buy additional supplies. You might need special equipment for medical courses, or particular supplies to complete projects in accounting courses for instance.
Submitting your coursework can also get rather expensive. Granted many assignments are submitted online now, but printing may still be required for certain pieces of work.
Student Loans
UK students can apply for a tuition fee loan to help them pay for their course fees. The amount you receive depends on the course you are studying. Though most universities charge the maximum of £9,250 a year. With this loan, the money is paid directly to the university rather than you.
International students will pay much higher tuition fees. Depending on your course, you could be looking at anything from £10,000 to £38,000 a year.
UK students can also apply for a maintenance loan to help them with their living expenses. This is paid directly into your bank account in instalments throughout the year. You can use it as you please and the amount you'll get is based on your household income.
Most students get enough to cover their rent but have to fund the rest of their expenses with part-time work. Like many others, you could become a bartender, waiter or retail worker in the numerous bars, restaurants and shops in your universities city. These can be a great way to meet new people. Otherwise, there are many other opportunities you could pursue.
A great benefit of these loans is you don't have to pay them back until you're earning over £25,725 a year. If you never earn that much in your career, you don't pay it back. If you do, you pay 9% each year on what you earn over that amount.
Aside from this, there are other ways you can fund your university education. Bursaries, grants and scholarships are offered by universities, companies, professional associations and some charities. These can be a great alternative to applying for loans or self-funding. However, you would need to research these options and apply directly to see if you would be considered.
How Much Does it Cost to Study with Stonebridge?
Depending on the career you're working towards, an online course could be the quicker and cheaper way into it.
Reduced Course Fees
By providing courses online, distance learning providers like Stonebridge Associated Colleges don't need as much to run a course.
In a classroom, you'd have a teacher on hand for the duration to deliver lessons. Not to mention the facilities that allow classes to run in the first place. The cost of wages, rent and utilities all add up and affect what you pay for your course.
Online learning providers don't have physical premises. And though we don't have teachers delivering lessons, you still get the support of a dedicated professional tutor. So you benefit from a less expensive course while still receiving support and advice from someone who is an expert in your subject.
What's more, online courses are designed with the online learning experience in mind. The courses have been thoughtfully put together using a combination of written, audio and visual techniques. So you have as interesting and immersive an experience as possible. They haven't just been thrown together like some courses that quickly adapt their materials to provide an online alternative.
Also, with students solely learning from home, there is only an online platform to maintain. And while this is regularly invested in and updated, it's far less costly than running a college.
All of which is reflected in the lower price you will typically pay when you opt for the online version of your desired course.
Fewer Add-ons
To complete an online course, you need a computer or laptop and an internet connection. Other than that, there isn't much else to consider unless you want to read extensively around the subject. Or if your course is one of the few that requires you to have a kit, like our nail tech courses.
Otherwise, you don't need to travel or arrange new accommodation since you can learn from wherever you like. And your work is submitted online so there isn't even a need for pens or notepads unless that's how you prefer to learn.
Achieve the Same Goals
While university used to be the only way to get into many careers, now more online courses can help you reach the same goal.
What's more, the online version of the course can be studied at your pace. So the course isn't just cheaper, it can be completed quicker too.
For instance, if you wanted to become a web developer, our online Web Design and Development Certificate (RQF) Level 3 can get you into the profession much faster than a three-year degree. Alternatively, you could indulge your love for animals by becoming a zookeeper through our Level 3 (RQF) Zookeeping Diploma. Which also enables the opportunity to gain hands on practical experience in a zoo.
The cost of these courses is a fraction of what you'd pay for a degree in the same subject. There are often seasonal discounts on online courses too, so your education could be even cheaper!
For exact prices on our courses, view the individual course pages.
Start Your Learning Online Today
These are just a couple of the courses Stonebridge Associated Colleges provide that can help you enter your ideal career without a degree. With so many costs involved in attending university, it's not hard to see why many people look for an alternative.
You just need to make sure the online course you're looking at is the right one to achieve your goal. If you're not sure, that's where our team can help.
Our student support advisors are on hand to discuss your options. They know exactly what each online course leads into. So, they can provide the certainty you're looking for when planning the route to your career.
Find out more about the many courses we have available by clicking below. Or speak to our advisors directly by calling 0121 392 8288 or by contacting them online here.