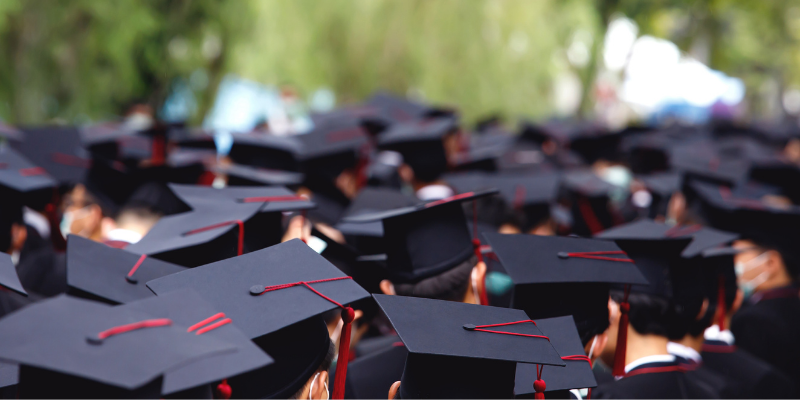 For some people, university is the next logical step in their learning journey. It allows them to keep building their knowledge, develop their skills, access particular careers and immerse themselves in the student experience.
For others, university just isn't for them. And this could be for many reasons. Perhaps they don't like the idea of spending additional years studying, or maybe the student life just isn't their thing.
Whatever the case, you're generally either suited to university or you're not. And ideally, you'll have this figured out before you submit a UCAS application.
If you're not sure, you need to consider everything from how much university costs to the time it'll take to get your degree. And the main thing you need to remember while making your decision is university isn't your only option. There are other ways to achieve your career goal.
How Much Does It Cost?
University isn't cheap. Besides tuition fees, you have to pay for other lifestyle costs like rent, utilities, food and laundry. Even if you stay at home to avoid these, you'll still have to pay for transport which can get expensive depending on where you study.
Other unavoidable costs are those associated with your course. Textbooks can quickly rack up a hefty bill, then you may have to factor in other elements like course supplies and printing.
Tuition fee and maintenance loans are available to help, but many students have to work part-time to cover the costs of everything they need.

Find out more about the costs of university in our blog.
How Long Will It Take?
The costs of university aren't just financial. You will have to sacrifice a lot of time to gain your degree. Depending on what you study, you could be at university for anything from three years to five. And that's without looking at postgraduate qualifications.
If you're not prepared to sacrifice this much time, or you're not able to, you may have no choice but to look for an alternative.
The main issue with spending this long at university is it's a lot of time to commit to structured learning. Sticking to a set schedule for so long can be a big hindrance if you're juggling work or childcare with your studies. So bear this in mind when deciding if university is right for you.
How Do I Learn Best?
Another thing many people don't consider ahead of applying to university is whether they will enjoy or take to the style of learning.
Degrees are typically heavily focused on theory. Which is great if you want to develop an advanced understanding of your subject before you put what you've learnt to use.
But if you're a practical learner, it will typically be some time until you get hands-on or apply your skills in a real-world situation. Thankfully, there is an alternate option for those that learn better by doing.
What Other Options Do I Have?
If university doesn't sound right for you, there are other options you can consider that will give you the same outcome.
Complete an Apprenticeship
Apprenticeships are perfect for hands-on learners and those who know the exact career they want to get into. Rather than becoming a full-time student, you go straight into employment and spend usually one day a week studying.
This turns the tables around and allows you to gain the majority of your knowledge in industry. Enabling you to earn while you learn and providing you with that all-important workplace experience.
After you successfully complete your apprenticeship, you will have a nationally recognised qualification. Plus, you'll be employed in the role you wanted. What's more, your tuition fees are covered by your employer, so you won't have any student debt.
Study an Online Course
If you don't mind theory-based learning, but the thought of spending years studying doesn't appeal to you, there is another way. Online learning is a flexible way to study that allows you to shave time off the duration of your studies.
Many of the courses provide the same outcome as gaining a degree. So it's a learning method that's quickly becoming increasingly popular. Especially with time poor or simply impatient learners.
For example, if you wanted to become a zookeeper, our Zookeeping Level 3 Diploma can help you get there much faster than a degree. Granted you'll have to put in the hours and hard work to complete your course quickly. But the ability to study at your pace makes this possible.
This flexible approach also allows you to organise your studies around your work schedule and other commitments. So if you need to work or look after the kids after school, you can without worry.
Study Online Today
Choosing whether to go to university or not is a decision that shouldn't be rushed. You need to take time to carefully consider the pros and cons of studying a degree and the alternatives available.
If an online course sounds more up your street, Stonebridge Associated Colleges can help you find the one you need. Our Course Executives know exactly what you can do career-wise with each of our qualifications. So if you're not sure, they can provide the clarification you need.
We also offer flexible payment methods to help you manage the cost. Find out more about this on our payments page.
Otherwise, if you're ready to take the next step call our team on 01202 392 8288. You can also contact them directly online, or browse the range of courses we have below.