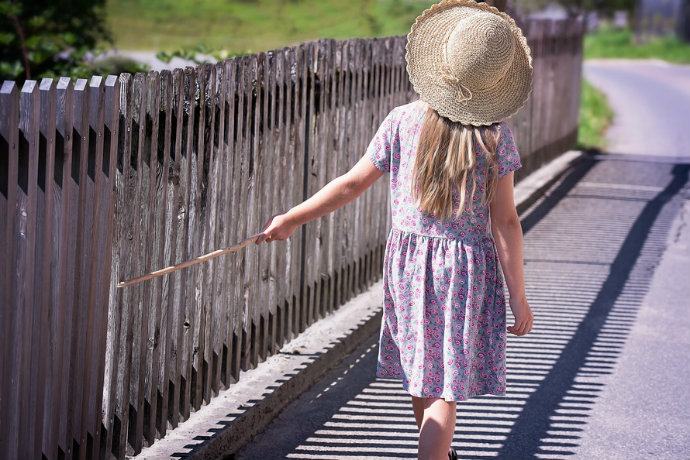 The last verse of a poem called "Just Playing" is a gentle reminder to all parents about the importance of play in child development:
"When you ask me what I did at school today, and I say "I just played', please don't misunderstand me. For, you see, I'm learning as I play. I'm learning to enjoy and be successful in my work. I'm preparing for tomorrow. Today, I am a child and my work is play."
My work is play. In today's fast-paced, consumer-driven, goal-oriented world, this is a statement that doesn't hold much water. How can anyone's work be play? Shouldn't children be spending the hours that they are awake on cognitive development lessons, organised sports, and other "enrichment activities"?
How will young people ever get ahead in life if they spend their time poking sticks in muddy puddles and playing hide-and-seek? What about early mathematics, vocabulary building, and improving their handwriting?
In an era when getting into certain early childhood programs can be as tough as getting into Harvard, many parents choose structured early academics over unstructured, creative, physical, free play.
Why is play important to a child's development?
Play is a grossly under-appreciated but essential element of child development. It isn't some convenient, marketable product geared towards certain "developmental milestones", so you won't see any hype for play.
The kind of play that those of us old enough can remember, the kind where we built fairy houses with sticks and moss, the kind where we played hopscotch out on the sidewalk until our parents called us in for dinner.
Real play is about wonder, creativity, exploration, discovery, and spontaneity. Dozens of scientific studies have already shown that play is crucial to child development and that children benefit most when parents can close the laptops and put the smartphones away and spend some quality play time with the little ones.
What are the benefits of play for child development?
Play stimulates a child's imagination.
Every time a child takes a scarf and declares it a witch's cape or says "I am the Mum, you're the Dad, and you're the Baby" as she sets out teacups and saucers for her stuffed animals or floats a popsicle-stick boat down a stream, he or she is learning.
Play, especially the kinds that involve make-believe, stretches a child's imagination. Whenever a child creates stories around the roles he or she creates for them self or their playmate, they're learning to think and create in abstract methods, in ways beyond their world.
Play enhances learning.
Role-playing, fantasy, and imaginative play help develop cognitive ability and stimulate the multiple types of intelligences. Studies have found that play "rewires" the brain by changing the connections of the neurons in the pre-frontal cortex. Without experiences of free play, these connections aren't changed.
Play develops communication and social skills
Play allows for many opportunities to develop language, speech, and vocabulary. Whether they play alone, making up characters or pretending to be a superhero, or play with others, children do a lot of talking and listening while playing.
Play also provides opportunities for social interactions and social skills. The more children are engaged in play, the more interactions they form and the better the quality of these interactions become.
During play, children learn how to be part of a group, to lead, to follow instructions, to negotiate, and to share – essential skills that will determine future academic performance and life satisfaction.
You can find a full list of our child care courses here. What were your favourite things to do or play at? Let us know below…