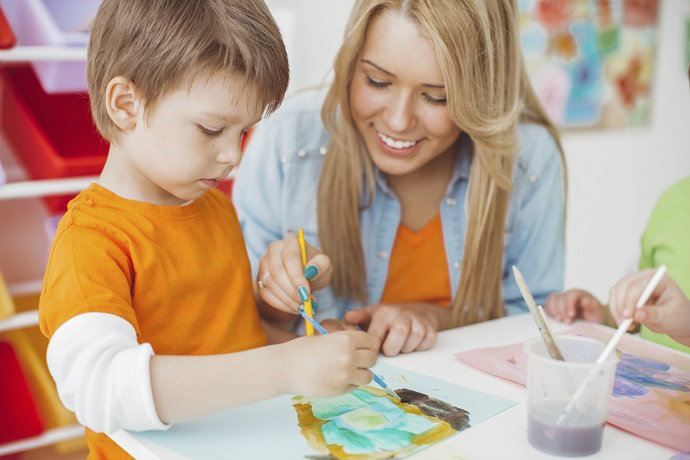 What exactly are Early Years and what does someone who practises Early Years do?
Early years are the first 0 to 5 years of a child's development. Of course there are many people that are involved with this age group, but the word practitioner normally indicates a person who has studied, and gained recognised qualifications, to teach or work with them.
A recognised qualification in the UK means that it is listed on an official GVT framework such as the QCF (Qualifications and Credit Framework) or the NQF (National Qualifications Framework).
Government funding is available for this childcare course 
A brief history of Early Years education
In the past, it was primarily mothers, fathers, grandparents and other family members, who provided support for their own family's babies and young children's development.
Others may have contributed to learning and development as well; household employees such as servants and maids were possibly the very first nannies, nursery nurses or Early Year's practitioners. However, as a group it is doubtful that any of them had any official training.
Friedrich Fröbel laid the foundation for modern education
Perhaps the first professionals who could lay claim to the title Early Years practitioner were the kindergarten teachers (the name kindergarten was coined by Friedrich Fröbel), who worked at Fröbel's kindergartens with babies and young children, aged from 0 to 7 years.
Fröbel believed that people who wanted to work with children in the Early Years should be appropriately qualified and should therefore study relevant topics.
This would enable them to support young children through play, in a safe, challenging and exciting environment.
The Fröbel Educational Institute is a college that started by offering training to girls wishing to work as kindergarten teachers. It opened in London in 1894. It specifically taught the Fröbel philosophy regarding young children's learning and development.
The college is still in existence today and continues to offer training, although it has moved from London to Roehampton. Fröbel's philosophy and curriculum are still valid and have influenced the English Early Years Foundation Stage Curriculum.
Italian physician and educator, Maria Montessori
Maria Montessori is best known for her philosophy of education which bears her surname. She opened her first training school for Early Year's practitioners (Montessori teachers) in 1899.
It was only open for two years until 1901, but she was able to develop and test a range of didactic (teaching) materials that are still used in Montessori schools today.
Montessori continued to open training schools in countries such as Italy, Spain, India and England over the years, until her death in Holland in 1952.
There are still Montessori training schools and qualifications available today, for students who wish to specialise in the Montessori approach.
Her approach believes that children learn best by doing and using their hands. She developed resources for teachers to use with the children, designed to foster independence and a love of learning.
Emily Ward recognised the need for Early Years childcare
Meanwhile in England, a woman called Emily Ward decided in 1892 to open a college for young girls who wished to work as nannies caring for young children.
She had been impressed with the principles of Fröbel in his kindergartens in Germany and decided to open a college for young ladies that taught them how to care for and nurture young children.
Ward's college was originally known as The Training School for Ladies as Children's Nurses. It offered a curriculum based on Fröbel's philosophy, but made some adaptations.
It became more relevant for the needs of young children and their families, rather than young children in an Early Years setting.
The college soon became known as The Norland Institute, due to it being located in Norland Place, London. It is now called Norland College.
Graduates of the institute, Norland Nannies, as they became known, soon became highly sought after by families all over the world.
The first recognised qualification in England – the Nursery Nursing Examining Board (NNEB)
In 1945 the Ministry of Health decided that the UK needed a qualified workforce of people to work with young children between the ages of 0 and 7 years.
They set up the Nursery Nursing Examining Board, wrote a syllabus and created the NNEB qualification. The very first NNEB examination took place in 1947. For many years this qualification was the gold standard for any person wanting to work with this age group. Norland College was one of the first to offer this new qualification.
The NNEB merged with the Council for Early Years Awards in 1994 to form CACHE which stands for Council for Awards in Care, Health and Education. In 2001, they also incorporated the National Association for Maternal and Child Welfare. Her Majesty the Queen then became the patron.
Original early years education curriculum
The original NNEB (now known as CACHE) curriculum included topics such as how to care for children's clothes (laundry, darning, ironing), plus other practical skills such as knitting, sewing, toy making, cooking and baking.
These first Early Years educators were well-equipped to work as nannies for private families, as well as in kindergartens or nurseries.
So, what about Early Years education today?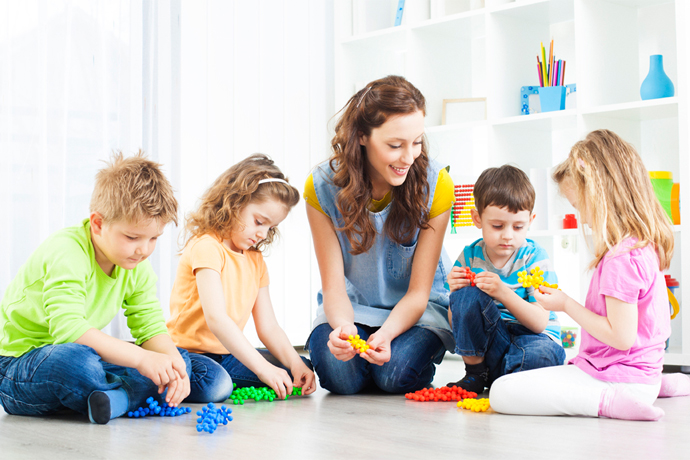 People who worked with young children often had a title that described their job role, so we had childminder, nursery manager, classroom assistant, nursery nurse, room leader, assistant nursery nurse, crèche worker, nanny, and so on.
There was no one over-arching term to describe professional (i.e. qualified) people working with this age group of children.
The term Early Years practitioner began to be used with the advent of the Early Years Professional Status (EYPS) in 2007 (now replaced by the Early Years Educator and Early Years Teacher qualifications) and the Early Years Foundation Stage Curriculum (2008).
The official definition according to the Early Years Qualifications List is someone who holds a full and relevant qualification that enables them to be included in the specified ratios at levels 2 and 3 of the EYFS.
From September 2014, a new set of qualifications were launched for people who want to work with this age group of children, called the Early Years Educator (EYE) qualifications.
In order to count in the ratios at level 3, staff holding an Early Years Educator qualification must also have achieved GCSEs in English and Maths at grade C or above.
A qualification that has 'Early Years Educator' in its title, or offers an 'Early Years Educator' pathway is considered full and relevant.
Do you want to become an Early Years practitioner, or perhaps update your current childcare qualification? Stonebridge can help you achieve a full and relevant Early Years Educator qualification.