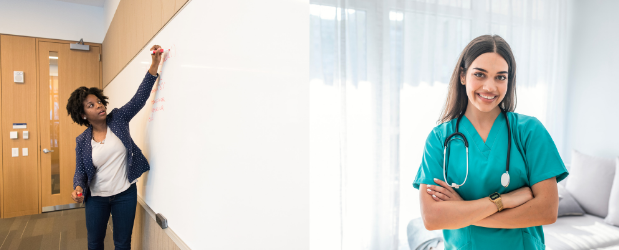 Both teachers and nurses are an asset to and play major roles within society. As a teacher, you're inspiring the next generation to become the next Oscar winning actors, machine learning engineers and medical researchers.
As a nurse, you are providing care for patients as they overcome challenges with their health. Helping them return to wellness – physically, mentally and emotionally – and supporting their family members throughout the process.
In either role, you are able to positively affect the lives of everyone you meet. Which is why both are considered rewarding professions with an ample number of graduates vying for roles every year. Thankfully, there is high demand for professionals in both areas, so there are often lots of opportunities available.
Many people are tempted by the thought of these careers, and if that's you, you may be wondering which to choose.
The answer to this largely depends on your skills, interests and the line of work you may naturally be aligned to. Which can be hard to determine if you haven't had much personal experience with either professional before.
To help, we've provided more detail on what each role involves and the skills you'll need. So you can have a better idea of which one is best for you.
Teacher
As a teacher, your job is focused on helping your pupils learn and develop. While you will be teaching a particular subject, you will also encourage them to improve in other ways.
This can be through tests and experiments that encourage creativity and open their eyes to new possibilities. By acting out scenes and scenarios that help them see things from other perspectives. Or allocating group and individual projects teach them how to work effectively in a team and independently.
Your average day would be made up of educating students, tracking their progress, and shaping how they view their education. You would need to plan, prepare, and deliver lessons based on national curriculum guidelines. Then take home your pupils work for marking, so you can constructively help them to improve.
Besides working closely with students, you will also work with the wider faculty. Forming positive relationships with parents and carers is also important to build trust and determine ways they can continue to help their children develop at home.
So it is as much a teaching role as it is a sociable one. Allowing you to meet interesting people and pupils from all walks of life.
You would also be working closely with the school's leadership team to help affect changes within the school. This could include implementing new policies and procedures, or new methods and styles of teaching. All of which helps facilitate a better classroom and learning experience for teachers and pupils.
With experience you could progress into senior roles such as:
Head of Year
Deputy or Assistant Head Teacher
Head Teacher
Nurse
Nursing is a field with a huge variety of areas to work in and, as such, your duties depend on the kind of nurse you decide to become. Though, in any nursing capacity, your focus is on providing person-centred care that puts the needs of the individual above all else.
While there are many nursing specialisms, you must first study a degree in one of four main sectors. These are Adult Nursing, Paediatric Nursing, Mental Health Nursing and Special Educational Needs (SEN) Disability Nursing.
In adult nursing, your day would mainly be made up of supporting patient recovery. You would do so by using care plans, carrying out certain procedures and evaluating the needs of the patient rather than the illness or conditions.
This includes everything from monitoring someone's blood pressure to their heart rate or bodily functions. As well as helping patients to wash, dress and move about. It includes keeping a close eye on patients to assess how unwell they are being able to respond to changes in their condition quickly.
Paediatric nursing involves working with children who have minor illnesses through to those with serious, or life-limiting conditions. Where in most cases, your job is as much about looking after the family as it is caring for the patient.
As a mental health nurse, you work with patients, their caregivers and their support network in a diverse range of settings. Some work in 'in-patient' settings, such as hospitals or psychiatric units, aiding the recovery of those who require a period of constant care. Whereas others help people living with mental health conditions out in the community. Providing them with support and guidance that enables them to better manage their condition and reduce the impact it has on their lives.
Special educational needs nurses work in a multi-disciplinary team of professionals to safeguard and support some of the most at-risk individuals. Improving and maintaining their physical and mental health, as well as reducing barriers to them living as fully an independent life as possible. They work with a range of people with diverse needs, from children to the elderly.
What skills do I need to become a Teacher or a Nurse?
While both jobs necessitate specific knowledge and abilities, there are similarities in the roles that require the same skills and character traits.
These include:
Patience and confidence
Instruction and problem solving skills
Effective communication
A caring and intuitive nature
Course Requirements
Both professions require an in-depth period of study at degree level. And as with any degree, there are certain entry requirements you'd need to meet to enrol.
Traditionally, to be accepted onto either programme you would need to have GCSE Maths and English at grade 4 (grade C) or above. As well as a minimum of 3 A Levels or equivalent.
Thankfully, now, what is accepted to meet entry requirements is more varied. And the NHS and education sector especially encourage applications from people with a wide range of academic and vocational qualifications. Some examples of qualifications that may be considered broadly equivalent to *five GCSEs include:
Five CSEs
Five SCE (Scotland)
GNVQ intermediate level plus one GCSE/GCS O Level
*Functional Skills are also widely accepted in place of Maths and English GCSEs
Examples of qualifications that may be considered broadly equivalent to two A Levels include:
GNVQ advanced level or NVQ Level 3
SVQ Level 3
GSVQ Level 3 (Scotland)
Edexcel Foundation (BTEC) National or Higher National Diploma
OCR Cambridge Technical – Health and Social Care at Level 3
Study Online
Access to Higher Education Diplomas are a popular route for anyone who doesn't hold relevant A Levels. They are vocation specific courses that provide you with such detailed knowledge that they can go in place of up to three A Levels.
An Access to Higher Education Diploma (Nursing) provides you with adequate preparation for any nursing degree. Whereas an Access to Higher Education Diploma (Education) gives you the fundamental knowledge required to study teaching at university.
Get Started Now
The fact these courses are studied completely online is a huge benefit for time poor learners who need to work towards requalifying outside of their current schedule. So if you already have a full-time job, or family care commitments, you can complete the course around these as you see fit.
If you're ready to move towards either career, we can help you get started.
Our online courses can help you progress to where you want to be, no matter what qualifications you currently hold. We can help you get what you need to meet the entry requirements for your degree and subsequent carer.
Find out more about how our Access to HE Diplomas can help you become a teacher or a nurse by clicking below. Or you can speak to our advisors directly by calling 0121 392 8288 or by contacting us online.  
Alternatively, you can read more about becoming a teacher or a nurse on our blog.