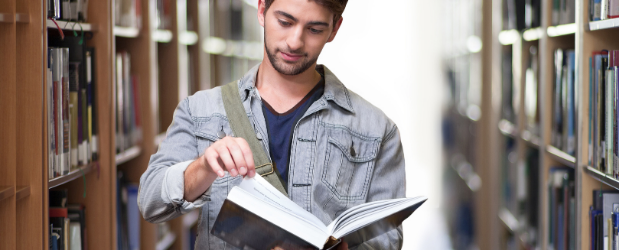 By choosing to study English at university, you're invited to study language, modern and classic literature, film and theatre. Perhaps even turning your hand to some creative writing.
You'll move on from what you already know of literature, writing and communication. By studying the deeper complexities of the English language. Throughout your degree, you'll be given the opportunity to read and discuss some of the finest writing in existence. Devising and delivering arguments surrounding their purpose, deciphering underlying meaning and constructing your own written work.
But aside from going further into the subject, there are other benefits you'll receive through university level study. English may not be a vocational degree that lines you up for a specific profession. But that's one of the biggest parts of its appeal.
The skills you'll gain by deciding to study English at university equip you for a range of career opportunities. Not only that, it also allows you to come into your own and explore your thoughts and theories. Giving you the platform to express them to like-minded academics and individuals.
Read on for more reasons you may want to consider a degree in English. Plus, some of the alternate ways you can study the subject.
It encourages Individuality and Personal Opinion
At GCSE and A Level study, expressing your own opinion was limited to the conclusion of your essays. Previously, you drew on the opinions of academics and your essays focussed on demonstrating that you've understood your reading material.
Whereas, at university, you're encouraged to write what you believe. University lecturers want to see your arguments and ability to make a critical judgement. Rather than just be assured you've done the required reading. You'll then need to back up each argument with evidence taken from credible sources.
The more original your viewpoint is, the more likely they are to be impressed. Giving you complete creative freedom in expressing yourself through your work.
You'll learn about Plagiarism and appropriate Referencing
Plagiarism is a very important aspect of university level study that is not really explored at A Level. For English professionals who are likely to use external sources of information, this is crucial for your career.
And this isn't just related to copying another person's work, you'll be assessed on self-plagiarism too. Meaning you can't re-use anything you've previously written in other coursework, exams or presentations used at university.
Another important aspect you'll learn is appropriate referencing standards. To ensure you're effectively acknowledging the contribution of others work in your own. Each university and perhaps lecturer will have their preferred format. But once you're taught which it is, you'll be deducted marks if you get it wrong.
In addition, you'll also be assessed on your bibliography, which indicates the level of extra reading you've completed. This is also an effective way of giving credit to other authors and pointing external parties to the correct resources. A skill which, alongside the others, can be extremely valuable in your career.
There are a diverse Range of English related Degrees Available
Aside from English Literature and Language, there are other branches of English that may interest you. Many UK universities offer courses in English and creative writing, comparative literary studies, and linguistics.
There's also the option to complete a joint honours degree, where you combine English with another subject of interest. This can be another language or subjects such as history, biology, psychology, theatre and film.
As well as having single, joint, and multiple subject combinations available, you can also study full or part-time. You could choose a distance learning course as well as courses that offer placement years to gain experience in industry. Which can help you gain hands on skills that will benefit you in your search for employment.
Postgraduate qualifications are also available. 
You'll develop a host of Transferrable Skills
English graduates are highly desirable because of their high level of communication skills. However, your degree studies will also equip you with others that will benefit you personally and professionally. These include:
IT skills
Analytical ability
Creative thinking
Independent working
Research and planning
Critical reasoning and analysis
Ability to construct an argument
Time management and organisation
Articulating knowledge, ideas and understanding
Leading and participating in discussions and debates
Negotiation and team working to present ideas and information
Effective use of judgement when weighing up alternate perspectives
Your ability to think with clarity, acuity and versatility, among many other things, are skills highly valued by employers. And as such, an English degree allows you to keep your options open to many diverse and interesting careers.
Though, as a non-vocational course, it's also wise to develop your skillset with volunteer opportunities and extracurricular activities. So you can build a well-rounded CV and evidence applicable skills to job opportunities of interest.  
Become employable in Multiple Fields
English degrees unlock opportunities in a myriad of different professions. There's no single industry that takes precedence. But graduates of English degrees are generally found where strong communication and written English skills are required.
Journalism for instance, is a fascinating occupation that necessitates appropriate and effective use of language. Creative writing roles also typically require English to have been studied at a higher level. Other avenues like scripting, article writing and editing all rely heavily on advanced level English.
Job titles which English graduates commonly assume include author, publisher, teacher (UK and overseas), librarian, marketer and PR executive. Though many other fields are available to explore.
Get the qualifications to study English at university
If you're interested in pursuing English as a subject at university, our online courses can help you get started. Stonebridge Associated Colleges is a leading UK distance learning provider. With many quality English courses that enable you to explore your interests.
Our online Access to Higher Education Diploma (English Studies) combines the teaching of both English language and literature. Giving you a foundational knowledge of language constructs and literary analysis that you can take into an English degree. What's more, an Access to HE Diploma is a Level 3 qualification. So with a high enough mark, you'll have all that you need to apply to accepting universities.
This course is also studied completely online and has no set structure. So you can work through the course materials at your pace. Giving you the freedom to choose when you learn and fitting your education comfortably around your schedule.
Find out more by viewing the details for our Access to Higher Education Diploma (English Studies) by clicking below.