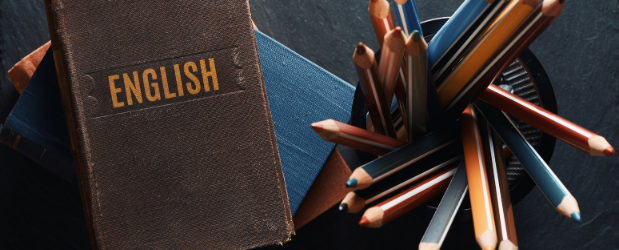 Many millions of people speak English worldwide and it has become the primary language used in business across the globe. If you learn English, you can communicate with other cultures, secure employment opportunities, live, travel and work comfortably overseas.
For these reasons among others, it's clearly a valuable language to learn. But to study the history and evolution of the English language is also incredibly important.
By looking back at its origins, you understand its unique development. How it has arisen from a conglomeration of words taken from other languages. And the influences that have shaped it over time.
You realise there is more to words than what is written or spoken. Plus, the power and practical importance of effective communication in an increasingly interconnected world.
Overall, studying English takes you from being a passive reader to an active one. You'll learn to question text, listen to it's underlying narrative and look at things through a critical lens. These reasons, among others, are why English studies continue to be a popular subject choice for students each year.
Understand society and the changing norm
Literature is no doubt a form of expression for authors. It provides them with an avenue to explore thoughts and feelings. But also, a way of detailing and dealing with what's going on around them.
Written works of the past allow us to look into our history and get a better understanding of it. They act as a timestamp to different eras where people acted in line with changing cultural norms. The people before us were a product of their own time. And the literature of that period helps us understand that stage of cultural normalisation. Why it occurred, why it died out and how to learn from it.
From the impact of World Wars to changes in Britain's industrialisation, public health and imperialism. English literature can give us a greater appreciation of our culture and the life lessons that have already occurred. Our history can be suggestive of our future. Without these historical records, we would fail to learn from previous mistakes and potentially repeat less desirable actions.
Become an effective communicator
Our ability to communicate underpins how we function and operate in almost every aspect of our lives. Consider how politicians, businesses and world leaders use language. It helps to evoke feelings, sway opinions and encourage action. Without understanding the deeper layers of the English language, your words have less power and meaning.
Communication skills – oral, written, interpersonal and teamwork – are some of the most desirable skills employers look for in candidates. So, by making the decision to learn English, you set yourself up for great success.
You'll learn to communicate complex information, ideas and arguments effectively. Using styles of language appropriate for different subjects, purposes and audiences. Plus be able to find, critically evaluate and use information and data correctly in complex contexts.
The mode in which we communicate is becoming more digital than hand-written. But the underlying principles of the English language remain the same. No matter if you're pitching to a client over a video call, crafting an email to management or delivering a presentation. The ability to listen and express your thoughts effectively, whether verbally or in writing are extremely important.
Sharp communication skills can save time and help people make fewer mistakes by keeping everyone involved on the same page. Which is increasingly valued in an economy that is based on information and knowledge.
Learn to read between the lines
We all know there can be a difference between what people say and what they mean. But deciphering true meaning can be difficult unless you know how. In terms of language and literature, this gap is known as subtext. Which is the underlying theme behind what was said or written.
It can be used in many ways to add depth and complexity to a story. And often is a way to imply controversial subjects and be safe from any backlash. But effective use of subtext can take dialog and text from boring and obvious to creative, dynamic and suspenseful. Helping the reader or listener to engage and feel at an advantage that they know something others don't.
By studying English you'll learn to look past what is written on the page and understand what isn't being said. Such as what details the author is omitting but wants you to know. The information living in the space between facts and how much of that information is key to the overall story.
This can be an excellent skill in everyday life. Deconstructing information is essential in many aspects of business and for personal awareness. From negotiating terms for a business contract to identifying misleading information and establishing facts from multiple sources on one topic.
Your shrewd eye for detail can decipher the meaning of written or verbal communications. Exposing the real points of view, values and biases that are either intentionally or unintentionally included. Enabling you to go into things with your eyes open and avoiding disingenuous situations.
Study English Online
English is a living, breathing language that is constantly adapting and changing as society evolves. By choosing to learn English, you'll start to analyse each method of communication to discover its deeper meaning. Becoming hyper aware of the hidden constructs that form our conversations, provide us with information and influence our decisions.
You'll explore text critical theories and be educated to a level that you can begin to form your own. Taking the knowledge you've gained into further studies or putting them to use in the workplace.
An online Access to Higher Education Diploma (English Studies) gives you a detailed introduction to both language and literature. Which you can take forward to university level study as the course provides you with a Level 3 qualification.
Then you can learn English at university. Or pursue degrees in relevant fields like History, Marketing, Journalism or Public Relations.
After which you could work towards many dynamic careers. More common professions include content writing, editing and teaching.
If you'd like to take your passion for language and literature to the next level, consider our online course. Stonebridge Associated Colleges are a leading UK distance learning provider. With many quality English courses that allow you to explore your interests.
Take your education to university through our Access to Higher Education Diploma (English Studies) by clicking below.