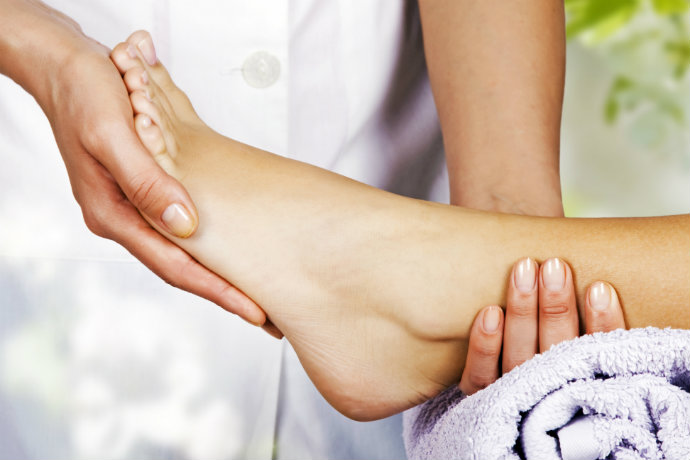 As many of our students have demonstrated, there is a definite place for foot health practitioners in the foot care market.
The Stonebridge foot health practitioner course was fairly new when Sharon Richards spotted it and she immediately recognised the potential of offering such services in the surrounding community.
As Sharon expressed:
"I needed a career that allowed me to be near to my home and one that provided a good income – the check-out at Tesco was not an option!"
Sharon now runs a very successful mobile foot health practice in Swansea and will soon have five foot health practitioners helping her to keep up with the demand for her services. So how do you go about establishing such a business?
Training
It's important to get professional training and this should include gaining the necessary knowledge and understanding via a theoretical course. The practical side is of course just as important and Sharon chose a course from Stonebridge College as these two aspects were covered in the one course. The theory part of the course is by distance learning which makes it so convenient whilst all the practical aspects are completed in one to two weeks from one of the Stonebridge campuses.
Qualifications
The first question many will ask is . . .
"Are you qualified?"
. . and it's good to be able to show the certificates that clearly indicate the type of qualification and it's level.
Stonebridge run several courses all with accredited qualifications from independent national accreditation bodies.
Business basics
Make sure that you get an accountants advice as to how to keep your books for easy year end accounting and what you can and cannot claim for expenses. Be sure to put your expected tax payments away each month as the money comes in, otherwise you will incur year end blues and be scratching around to find the cash to pay HMRC.
Insurance
It's just as important to get insured as a foot health practitioner with a reputable insurance company. If you have been properly trained and take care with your work it's unlikely that you will ever have claims made against you. Insurance gives you peace of mind as well as protection if something untoward does happen.
Marketing
This will be dealt with in the next blog but lets's finish this one with another quote from Sharon . . .
"If you like feet and want a rewarding career get trained and qualified with Stonebridge and go for it!"